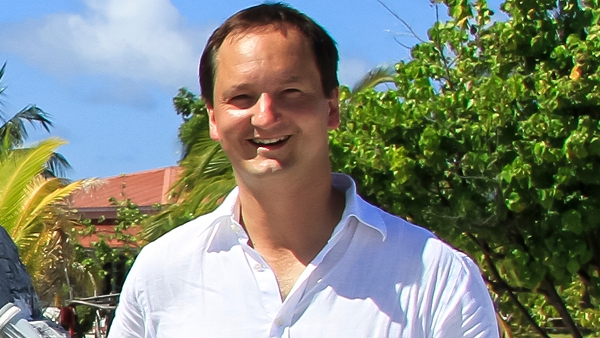 Abercrombie & Kent, the world's leading luxury travel company, has recently launched its venture, Abercrombie & Kent International Estates marking its new business to market and sell exclusive residential properties from around the world, including private homes and resort residences. We spoke to Robert Green, General Manager, Abercrombie & Kent International Estates on the Asian markets they have shortlisted, why they have chosen these locations and most importantly what it means for buyers to be buying a holiday home here.
The interview…
Please tell our readers about your organization and your work.
A&K International Estates is a specialist real estate division of Abercrombie & Kent Ltd., the world's foremost luxury travel company. A&K International Estates utilises A&K's exemplary reputation, global network and extensive database to market and sell high end luxury homes around the world. We pride ourselves on delivering a professional and personal service at all times, focusing on attention to detail, quality and client and customer service. For this reason we operate a highly selective policy, listing only a limited number of the finest residential developments and resale properties on the market, ensuring our level of service is never compromised.
We have a dedicated and experienced team that specializes in the sale of luxury residential properties, from new build and resale opportunities to off-plan developments and the finest 5* branded resort residences. We cover all residential property types from apartments, villas and fincas to ranches, chalets and chateaux around the world. We also sell land, estates and vineyards.

Given the synergies between luxury travel and prime holiday home ownership, we believe we are uniquely positioned to reach discerning buyers thorough fresh and innovative means of promoting and marketing high end properties.
You are aggressively marketing and selling holiday home properties in Asian locations. Which are the markets where your organization is marketing and selling properties in Asia?
We are presently marketing in Thailand, Sri Lanka and the Maldives. Within Asia we are also currently exploring opportunities in Cambodia, Vietnam, Indonesia and the Philippines. Asia is an exciting market for us and with our growing presence in China and Hong Kong it's also an important market for us to target. In the future I hope to explore opportunities in Myanmar too but that might be a few years away yet. The key checklist for us when selecting properties includes quality of location and product, accessibility, political stability and safety/security.
Can you name a couple of destinations in Asia to look out for in the next couple of years where buyers can buy property? Why?
As mentioned above, Myanmar is a very exciting destination that is showing promising signs of opening up to foreign investment. It has a way to go before I'd feel comfortable selling properties there but the signs are that development is now imminent. The other interesting destination for me is Sri Lanka – a destination that A&K is keen to develop as it is a popular holiday destination with beaches, safaris and tea plantations, etc. Locations around Galle and Kandy are especially suited to quality development, especially with the new highway now almost complete. I also believe it will prove successful amongst Sri Lankans, expats and NRIs as well as other foreigners.
While Thailand is a relatively a mature market when you compare with those of Sri Lanka. Can you give a brief introduction to Sri Lanka's property market vis-à-vis where buyers can buy and what they can buy and the average price bracket?
Thailand is a very different market from Sri Lanka. It is very established and prices in prime locations have exceeded $ 6,000 per square meter. In some locations, too much development took place, often low-end quality. This produced overcrowding and swamped some markets with an oversupply of property. Some of the best properties and resort developments are found on separate islands off Phuket or on more secondary locations around Koh Samui and even Koh Kood near the Cambodian border.
Sri Lanka is still emerging, but the end of a 26-year civil war in 2009 has driven investment in roads and ports and brought gains in tourism, supporting expansion. The country's GDP is looking good, hitting 6.4% in 2012. Economists believe Sri Lanka is well positioned to achieve slightly faster growth in 2013 given that the policy bias is shifting towards supporting expansion. Travel times from Bandaranaike International Airport to Colombo and down the coast to Galle and beyond have been significantly improved and it is this type of investment that is paving the way for further investment and development in the country. At present, the majority of properties are individual homes, but branded resort residences are arriving and will be popular. Prices will be comparatively lower to Thailand.

You must have been following the real estate markets of these locations very closely before you decided to enter them. What makes you feel that these locations are the best?
They are easily accessible, generally regarded as safe and they show positive signs in generating rental income and capital appreciation. The three most important things for our buyers to consider when buying are (1) safety, (2) security of capital – minimal risk of losing their asset value and (3) lifestyle. We choose our destinations accordingly.

Can you give us a small comparison of the markets where your organization is working in? What according to you is the top location amongst these?
Abercrombie & Kent is a global company with offices in seven continents, providing experiences in over 100 countries. We are therefore not geographically limited in selecting our properties, however, the destinations have to fit the criteria mentioned in my answer to your earlier question and they should be destinations that appeal to the general A&K traveler. In Asia, Thailand is still the number one destination, but others, such as Vietnam, Sri Lanka and potentially Cambodia are catching up. People are always looking for "the next hot destination".
Is there anything people should be wary of before purchasing property in Asia.
Always get proper professional and legal advice before buying and look at the structure of ownership. In all of the above destinations foreigners can only buy property on leasehold terms. These terms vary between the countries from 30 years (Thailand – although many resorts are able to offer 3 or 4 consecutive terms) to 50 years in the Maldives and 99 years in Sri Lanka. In some cases it may be best to purchase through a company structure and a tax advisor will be able to advise on the best option depending on the buyer's domicile, etc.
Construction warranties and guarantees are also important elements to look at before buying; if a structural defect is detected within a reasonable period after construction the builder or developer should be responsible. Adequate insurance cover against fire or "Acts of God", such as cyclones and tsunamis, etc. should be provided. If buying in a branded resort, buyers should look at additional annual costs (service charges), taxes and revenue share. With leaseholds, how easy is it to extend, renew or sell on towards the end of the initial term?
What kind of lifestyles do you see people choosing when they purchase property in these locations?
Most choose branded residences. They pay a premium, anywhere between 20 and 40% depending on the brand, location, orientation/ views and facilities, but most feel it's worth it for added peace of mind that the brand adds. Beach access and sea views is the number one choice for many, but other aspects such as spa, golf, concierge and fine dining are also important. Many buyers are becoming more adventurous today and they therefore want more than just resort facilities; they want experiences outside the resort.
What advice would you give someone who wants to invest in these locations.
Carry out your due diligence. Look at your options – the competition. It's often worth spending a little more to get a prime location with views that cannot be ruined and a property that has a "wow" factor that makes it different and more appealing than the rest. At the same time, buyers need to get proper advice from experienced lawyers, tax advisors and their property agent. It's also vital to understand the real cost of ownership and have the means to cover additional costs when needed. The rental income may not always cover the running costs and/or mortgage costs (assuming you can get a mortgage – they are not easy to get in these destinations so buyers are either cash buyers or they use assets at home to borrow against).

What kind of people are choosing to purchase property in the Asian locations?
There's a full range of buyers. At the upper end of the market it tends to be successful business people, bankers and entrepreneurs, wealthy families and investors. Hong Kong and Singapore are prime sources of investors in such locations but demand from mainland China and India is also growing.
What advice would give a new property owner who is looking at renting out their investment?
Ideally, choose a branded resort residence or one with a very good management company that has a proven track record. There's a lot of competition out there and owners need the means to source customers. The larger brands and companies have the resources to ensure higher occupancy levels and generate higher returns.
It's also important to know that the property is being looked after properly and that damaged property is repaired or replaced. Are there restrictions on personal use? In most cases owners require less than 30 days personal use per year, but if they only want to go at peak season, e.g., Christmas and New Year, Russian or Chinese New Year, Easter and October Half Term for example then it's important to know there aren't blackout periods preventing use over these times. It's also important to realise that the majority of rental income is generated over these periods, affecting both the hotel/ management company's performance and the owners return on investment. If a guaranteed yield is offered then restrictions will usually apply.
What about appreciation on one's investment in the Asian holiday home locations.
It's impossible to know how the markets will fare in future. Hopefully lessons have been learned from the 2008 crash. Those investing in prime property in prime locations and especially those that are branded, show the best chance of their property holding their value over time and in many cases appreciating too. Potentially less growth than in non-branded and less prime locations but with considerably less risk of depreciation.
In most cases at the high end of the market, it's a lifestyle purchase first and foremost. However, Sri Lanka is an emerging market and prices are and should be considerably lower than in Thailand and the Maldives. Buyers of property in Sri Lanka today should expect the highest level of capital appreciation over time. It's important to have an exit strategy; to know or understand how to sell after a period of time. In the current market it's advisable to hold on to the property for at least 5 to 10 years. It's also equally important to know how easy it is to sell at any moment should financial conditions change for an owner.
Can you tell our readers what the property market looks like in the next couple of years in these locations?
Thailand is experiencing a steady growth in demand once again. It suffered badly during the global financial crisis, but interest has returned and we expect prime property in the right location to improve over the coming years with prices rising slowly and sales volumes increasing.
Sri Lanka should see significant growth so now is a great time to invest. Branded resorts are looking to develop a number of 5 star resorts along the coast and many of them will offer private residences to buy.
The Maldives is purely a lifestyle destination and there are only a few resorts offering private residences. The Government has already raised the maximum lease term from 25 years to 50 years and there are reports that leases of up to 99 years may be granted in the future. The country is experiencing some political instability at the moment, but so far any protests that have taken place have targeting the Government and not tourism – their main source of revenue. Property prices here are high, but this can also be contributed to the rarity factor of the location and the quality of the brands behind the developments. Expect prices to remain fairly stable over the next few years.
Can you name a couple of good developments where a buyer can invest in:
(i) Thailand?
(ii) Sri Lanka?
(iii) Maldives?
Thailand – SonevaKiri (Koh Kood); Samujana (Koh Samui); Trisara (Phuket).
Sri Lanka – awaiting the arrival of the first 5 star developments with private residences on offer.
Maldives – Soneva Fushi; Six Senses Laamu; Viceroy
Abercrombie & Kent International Estates seems to go beyond just selling and marketing property, what other services do you offer?
We offer a number of services including:
a. Property searches
b. Consultancy (advising developers)
c. Research and analysis
Together with A&K Travel, A&K Villas and A&K Lifestyle Club we can offer a full range of additional services from organising viewings and itineraries to private villa rentals (Europe only for now) and concierge through the newly launched Lifestyle Club which includes travel benefits and assistance and Medical SoS to assist travellers with any medical emergency whilst travelling.
For someone to know about your work in Asia, where can he find more information?
In case someone wants to know about our work and the properties we are marketing and selling, she/ he can visit our website, www.akinternationalestates.com
To get more information & assistance, please submit the form below and our specialist will get in touch with you at the earliest.