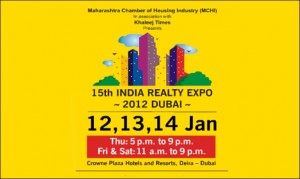 Coinciding with the 15th edition of India Realty Expo, a three-day property show that started on Thursday evening at the Crowne Plaza Hotel, Deira, Dubai, realty experts discussed property related legal issues such as wills, succession, capital gains tax and repatriation procedures for NRIs.
Earlier, speakers at the interactive knowledge seminar, India Happening, organised by Maharashtra Chamber of Housing Industry (MCHI) in connection with the exhibition gave valuable advice to NRIs wanting to invest in India properties.
The seminar was presided over by one of the most respected businessman in Dubai Dr Ram Buxani, president of Cosmos-ITL Group, and India's two top legal experts share their insights on key legal issues that concern many NRIs.
Dr Buxani, in his inaugural speech, dwelled on his over 50 years experience in Dubai and said housing industry is very important everywhere in the world. Its dream of every person in the world to have a home in his own country, he said, adding rich people have more than one and call it holiday home or etc. In his speech, he urged Indians to pay taxes honestly, avoid corruption and plan for death to avoid legal issues.
"People plan everything but not their death and also avoid taxation," he said adding that it's better to pay taxes to be part of the country's development. He mentioned that 98 percent of people create corruption by bribing and blame two per cent of bureaucrats for corruption. Then look at Anna Hazare to fight against corruption, headded. Regarding the seminar, Dr Buxani said: "There is a lot of ignorance about vital issues in our lives and it's a really admirable effort of MCHI to provide free advice by legal experts to NRIs to avoid litigation."
"I must appreciate it and it's a great service to the community that gives more knowledge to people," Dr Buxani said on the sidelines of the seminar. Advocate K.K. Ramani talked about important terms used in the drafting of a 'Will', reasons for making a 'will', precautions, law of succession and etc. 'Will' means the legal declaration of the intention of a testator (one who makes a will) with respect to his property which he desires to be carried into effect after his death. He mentioned that now its globalisation time and people have properties in so many countries as one person has properties in UK, USA, Dubai and Mumbai. He recommended that it's better to have 'will' for each country.
OTHER TOP STORIES OF THE DAY:
Tips to pick the right real estate agent to buy your home

What type of property should I buy for holiday home rental?
To get more information & assistance, please submit the form below and our specialist will get in touch with you at the earliest.