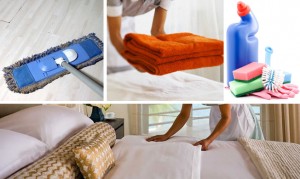 Proper maintenance of a holiday home goes a long way in preserving the property and retaining its essence. This in turn attracts new bookings. So for a holiday home owner it's imperative that you pay sufficient attention towards your home's upkeep.
Here are some tips to keep your property in tip-top shape:
After every stay, ensure a thorough inspection covering all important aspects of the house. Check whether the doors, gates, windows and other possible entry ways are locked or bolted properly. Oil the hinges of doors and windows regularly.

Make sure that the plumbing system is good and safe from leaks. Check the faucets and other fittings from time to time to eliminate any kind of leaks. The old proverb, 'a stitch in time saves nine' applies here. So it is better to attend to it before the situation becomes uncomfortable for your guests.

Electrical sources and fittings must be examined to prevent fire and any untoward mishaps.

Look for cracks on the walls – both inside and on the exterior; if you find any, attend to it immediately without further delay. If the cracks have been plastered, do paint the wall. Nothing puts off guests more than an unpainted wall or a wall with cracks.

Check the roofs of the house regularly. Remove dry leaves accumulated on the roofs to prevent clogging in the rainy season.

Kitchens of holiday homes require extra attention because they are frequently used by guests. Check whether the appliances are working in their best condition. Look for stains and other marks on the floor and walls. If any, have them removed or cleaned immediately. Also check the crockery and cutlery. Those with cracks need to be removed and replaced. Missing cutlery should also be replaced.

Living room sofas should be dry-cleaned regularly. When the holiday home is not occupied it's good to keep the furniture covered with sheets to protect them from dust.

Dirty mattresses and pillows in bedrooms are a major turn-off. So ensure that they are clean and regularly dry-cleaned. Also the linen and towels should be replaced after a period of time.

If you have a lawn or garden, prune the trees and hedges regularly. Get the grass mowed and dry leaves removed.

If you have a swimming pool, make sure it is emptied when not in use. Today there are swimming pool enclosures in the market. Installing one can lessen your time required for maintaining your pool.

To keep all existing amenities functional, it would be wise to schedule a regular maintenance drive. The frequency of one's maintenance drive may depend on the size of the property or the amount of maintenance required. Special focus should be on the roofing and flooring.
To get more information & assistance, please submit the form below and our specialist will get in touch with you at the earliest.