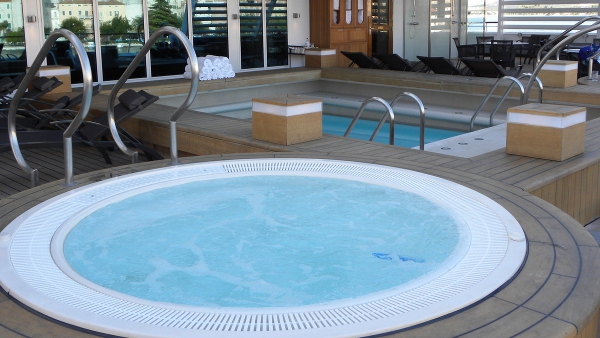 Without doubt an outdoor hot tub in your vacation rental can create quite a buzz amongst travelers wanting to rent a holiday home accommodation. Easy though it seems if not maintained properly, the hot tub can be the seed for negative reviews from guests.
In this article we will discuss how you can effectively maintain your hot tub and use it as a focal object to market your property.
But before that some basics:
An outdoor hot tub big enough for five persons will incur an average yearly maintenance of about $300-$400 in repair costs

Draining, refilling and keeping the water chemistry right are chores which are inevitable

It will add an average extra $25 per month to your electricity bill

You do not need drain the water between each set of guests

Draining and refilling takes about 45 minutes to an hour

It takes about six hours or so to reheat the water to the comfortable level

Just like swimming pools, hot tubs have extremely efficient filter and chemical systems

Always adjust the pH to 7.6-8.2 and alkalinity to 100.
OUTDOOR HOT TUB WATER TREATMENT:
Unless the water is really old, you need not I don't drain and fill your hot tub every time somebody uses it. A good quality tub with good filtering & disinfecting device and using the prescribed chemicals every 4 to 5 days can ensure that the water remains clean and germ-free.
However if your tub is dirty after just a couple of days of use, either your tub is not filtering enough or you are not adding chemicals after each use. It is recommended to use one tablespoon of non-chlorine shock and one teaspoon of chlorine after every use. Also ensure that the filter is set high enough.
Ideally bromine tabs and an ozone-generating disinfecting device work well and can keep the tub clean and sanitary for longer periods. Having said that, after enough use, say 5 to 7 weeks, the chemicals start to lose their effectiveness and that is when you need to change the water.
CLEANING THE OUTDOOR HOT TUB:
Simply draining the hot tub and wiping surfaces won't kill the microbes. So it is important that when you drain the hot tub, you clean it thoroughly before you refill it.
Add not more than 1/2 cup bleach to 3 gallons of water and sponge clean the acrylic shell. Rinse with fresh water and dry it with large towels. If you are hesitant using bleach, use a mild bathroom cleaner, and wipe the acrylic with a damp sponge or cloth. However, don't use an abrasive cleaner or applicator.
The filter of the outdoor hot tub should be cleaned every month or more frequently if many sets of guest have used it. Soak the filters in spa filter cleaner overnight and spray it with a garden hose to remove any residual dirt. Also rinse off the scum bags with fresh water and wring out.
If case you want to clean the acrylic above the water line while the water is still in the hot tub, use only a natural enzyme product. Be careful of household soaps and cleaners because these will change the water chemistry.
Because an outdoor hot tub is exposed to the elements, it is essential to not only have a vinyl cover, but also to clean it regularly along with the filters – at least once a month. Why I recommend having a vinyl covers is because it will go a long way in extending the life and look of the hot tub. However when you are cleaning the cover make sure that you clean only on the top of the cover. If you want to clean the cover's inner side, make sure you use do so carefully, otherwise the chemicals of the cleaner will interfere with your water chemistry. To clean the underside, spray with a garden hose and air-dry the cover.
INSTRUCTIONS FOR GUESTS:
GENERAL INSTRUCTIONS: Make sure that you have a list of hot tub etiquette placed in places which guests can read before they enter. Also put these instructions on your rental agreement. Make is a point to tell your guests that they don't take beverages around the tub or lit candles on the hot tub. Additionally make smoking a complete NO in or around the hot tub.
CHARGING GUESTS: Ideally it's best to include the charge of using the hot tub in your rental. However charge them extra if they insist on changing the water for them. Also insert a clause in your rental agreement that they would be charged if they are found to be flouting the instructions and if they leave the hot tub in a filthy condition.