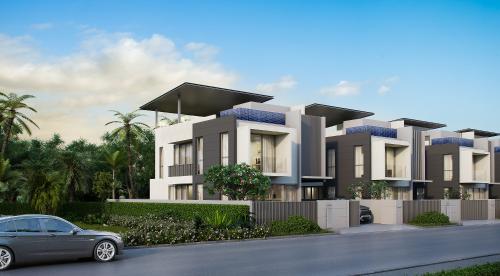 Laguna Resorts & Hotels Plc (LRH), part of the Laguna Resorts and Hotels and the Banyan Tree Group, has recently unveiled its latest project, Laguna Park, a development worth THB 17 billion (USD 5,28,754,400) and will be a collection of 2,000 condo units, townhouses and single houses at the Laguna Phuket mainly targeting middle-upper income buyers.
The project to be completed in the next five years will be the island's largest residential community, comprising up to 2,000 homes when fully completed. Located adjacent to Laguna Phuket and overlooking the golf course, the launch of Laguna Park coincides with growing demands of the market.
Positioned to provide primary homes to residents, Laguna Park offers all the appealing facilities, amenities, and services that collectively make up what is referred to as the 'Laguna Lifestyle'.
The first phase will comprise approximately 500 units, including 240 townhomes and villas, and 280 condominiums. The condominiums, will be one-bedroom in configuration, designed to cater to singles or couples and will be launched in the latter part of 2013. Construction for phase 1 is expected to commence in early 2014.
Location:


The Laguna Park development is located adjacent to Laguna Phuket, a well-known integrated resort destination comprising five star resorts, a golf course, residences, a shopping village, spas, restaurants and bars.
Offerings and Pricing:
The townhomes will measure 173 square meters of built-up area and feature two bedrooms and four bathrooms, with an option to add a third bedroom and private rooftop Jacuzzi. The three-story residences, suitable for couples or small families, are priced from 6.7 million baht (USD208391.44).
Meanwhile, the villas will offer 340 square meters of built-up area and feature four bedrooms and five bathrooms, with an option to add a fifth bedroom and private rooftop swimming pool. The three-story standalone homes are suitable for families, and are priced from 12.4 million baht (USD 385627.60).
Amenities/ facilities:
Facilities and Laguna Park include a beach club area, with a clubhouse to be built as part of phase 2 of the development. Homeowners will also receive a resident's card which offers privileges and discounts at Laguna Phuket.
Contact:
For more information, you can call their sales team at +66 (0)76 362 333 or email them at info@lagunaproperty.com. You can also visit their website, www.lagunaproperty.com for the latest construction status and offers.
Project status
This article was last updated on 23 October 2020. The updated phone number is This article was last updated on 6676362333 and the updated email is info@lagunaphuket.com
To get more information & assistance, please submit the form below and our specialist will get in touch with you at the earliest.