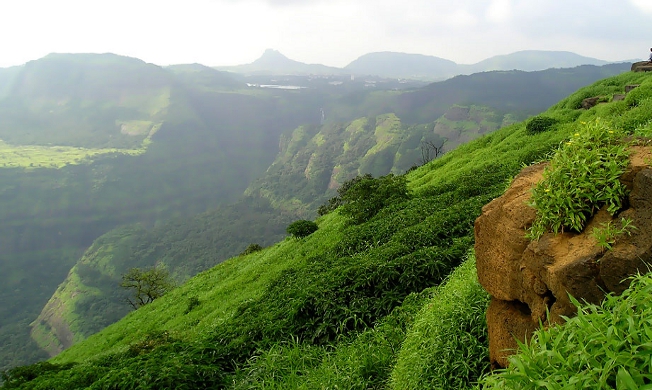 Unlike other upcoming holiday home destinations in the vicinity of Mumbai and Pune, Lonavala has always been considered as one of the best holiday home destinations to invest. Why we recommend Lonavala to our readers is because of the fact that this picturesque hill station is located in the Sahyadri range and is only 2 and half hour's drive from Mumbai has everything you can ask for when you are on a vacation. It is at a distance of just 96 km from Mumbai and just 64 km from Pune, making it easily motorable and accessible from both these cities. Lonavala also has a major railway station on the Mumbai-Pune line and hence, can be easily accessed by taking a train too.
The Lonavala property market is booming due to several reasons, the foremost reason being the hill station's proximity to Pune and Mumbai. The hill station sees a great flow of tourist traffic throughout the year which has led to considerable development of the real estate market with considerable demand for holiday homes, private bungalows, villas and apartments.
Why You should Seriously Consider Buying a Holiday Home in Lonavala:
So, imagine owning a holiday home in this hill station! You can take a trip to this weekend getaway, with minimal expense and without the headache of having to make any hotel booking.
Plus, if you're a holiday home owner, has the thought crossed your mind that the hundreds of visitors who come to Lonavala can be your prospective customers? And that's not all! You can get your holiday home to pay your monthly home loan EMI too! In a nutshell, owning your own holiday home in Lonavala gives you freedom as well as extra income. Wondering how? Read on…
Due to the proximity of Lonavala to cities like Pune and Mumbai, there is a booming rental property market in Lonavala, with many people looking for rental homes to come and spend holidays here instead of staying in a hotel. Today Lonavala villas or bungalows as well as 1BHK to 3BHK apartments are commonly available for short-term rent for tourists who come to spend their weekend here.
While, on one hand after the initial investment of buying and furnishing your property, you and your family can enjoy breaks all the year round, on the other hand when you are not staying in your house, you can let guests come and stay. Since Lonavala witness huge number of visitors the year around, getting guests is not difficult at all.
Today some of the best developers/builders dealing in holiday homes in Lonavala are designing properties which are contemporary, relaxing and replete with cushy comforts, allowing you to provide your guests the opportunity to rejuvenate their senses in a serene, green environment.
In the current scenario, the time is right for genuine buyers to acquire a second home in Lonavala because there is a wide choice of properties to choose from, depending on one's budget. Moreover, there is a booming demand for holiday homes in Lonavala owing to the fact that it makes for a viable economic investment for the buyer as well as the developer.
Buyers who have bought holiday homes in Lonavala have seen handsome returns on their investment by letting out their properties to guests. The prices of properties are pretty competitive compared to other hill stations in the country due to low construction costs, easy availability of labour and construction material. Plus in many other hill stations in India, there are many restrictions for outsiders buying property, unlike in Lonavala where the restrictions are not many. Today there are several bungalows on rent in Lonavala which are being rented by guests for holidaying here.
Property Prices in Lonavala:
Prices of Lonavala second home properties vary depending on location, size and amenities available. Typical Lonavala villas (four bedroom) can cost from Rs 3700 to 5000 per square feet. Meanwhile a large farm house in Lonavala near Tungarli Lake can be priced at Rs 4.5 crore upwards. Independent bungalows will cost something between Rs 2 to 5 crores while under construction serviced apartment like in Rhythm Realty Pvt. Ltd's Rhythm Residences will come at a price tag of Rs. 3,700 per square feet onwards.
---
Looking to buy a holiday home in Lonavala? Browse the top holiday home projects we have reviewed and contact the developer directly to avail some good offers. And don't forget to tell them that you heard about the project from us!
To get more information & assistance, please submit the form below and our specialist will get in touch with you at the earliest.