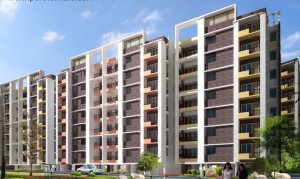 Despite a drop in property registration numbers in the commercial city of Mumbai and hike in interest rates, real estate players are saying that the current situation has seen a marked increase in the number of second home buyers in the city and its adjoining areas.
Mr. Sandeep Reddy, Co-founder and Director, Groffr, says there is considerable interest in second home buying and that too in the outskirts of the city such as Thane and Panel.
Mr. Reddy said most buyers were individual investors who find value in investing in projects of reputed builders. There is no intent to reside in the apartment and it is being bought solely for resale at a later stage when rates appreciate.
"We are getting queries from Non-Resident Indians who want to cash in on the rupee depreciation, which alone offers them 15-18 percent discount on the quoted rates."
"Further, the discounts from 15 to 20 percent negotiated by us bring down the price by between 35 to 38 percent," Mr. Reddy added.
Moreover, some developers such as Mantri Realty, which participate in overseas real estate exhibitions, also see significant interest for their properties from NRIs. Mr Sunil Mantri, Chairman, Sunil Mantri Group, said NRI enquiries have improved 50 percent since the rupee slide against the dollar over the last few months. Last year, enquiries received were 800-1000.
The Lodha Group's recent launch, New Cuffe Parade, appears to have elicited good response with the company stating that it has received over 400 bookings.
With apartments priced upwards of Rs 2 crore, the sale is estimated at Rs 1,000 crore. Mr Abhishek Lodha, Managing Director, said, "We have not seen too many launches of the right product in the recent past and that has clearly reflected in the overwhelming response that we received."
Mr Anand Gupta of the Builders Association of India said it is sentiment that is working against developers rather than the price, already impacted by high home loan rates. Not all projects were over-priced and there was value for money products in the market, he added.
OTHER TOP STORIES OF THE DAY:
Why a property manager is imperative to a home-owner

Choosing the best property ownership that suits your needs
To get more information & assistance, please submit the form below and our specialist will get in touch with you at the earliest.