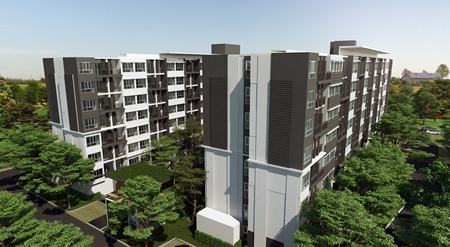 After a huge success of its first phase where every unit were sold out even before the official project launch, N.C. Group this month has launched the second phase of its four-phase Natureza Condominium development. The 22-rai development will offer a total 406 unit in two eight-story buildings.

Taking a cue from its last success, the company has raised its full-year pre-sales target from Bt 3.2 billion to Bt 5 billion (USD 161,046,000), having achieved Bt 2 billion (USD 64,418,400) in just the first five months of the year spread over all their interests.
Meanwhile, construction on the first building is slated to begin soon and in addition to other common amenities will feature a common park and 1,600 square meters of open greenery. This Chaiyapornwitti Road development to be built in a modern art park style will be built in four phases: Natural Courtyard, Landscape Courtyard, Floating Courtyard and Seaside Courtyard. 
Like Phase 1, the Bt 500 million (USD 16,104,600) second phase will have two buildings with 406 units.  Meanwhile art plays a central role of Natureza Condos with decorations following a bird and berm theme, including bird sculptures among the landscaping. This is aimed at building value and confidence with buyers and to create a difference from other projects.
Location:
The project is located in North Pattaya on Soi Chaiyaporn Withi just 100 meters from Sukhumvit Road and a couple of hundred meters from another of NC Group villa project Baan Fah Greenery. Most new condominiums in Pattaya are being built in the area between the beach and Sukhumvit Road where one will find mostly villa developments.
Offerings:
Condos at Natureza Condominium come in a range of sizes of 28.6 square meter (one-bedroom) up to 68.3 square meter (two bedroom). 
About the developer:
NC Group has over 40 real estate projects across Thailand, the Natureza Condominium being their latest project in Pattaya. The company has been a leader in the residential real estate development business. Active throughout the greater Bangkok area, the company currently has around 25 projects located in the most desirable suburban areas of Bangkok. It has developed five other projects in the Pattaya area, including the Ban Suan Lolna single-family house development, Ban Suan Lolna Condominium, Ban Fah Rim Haad Jomtien, Greenpar Jomtien, and Ban Fah Greenery on Chaiyapornwitti Road.

Pricing:
Condos at Natureza starts at Bt 1.1 million (USD 35430.12).
Contact:
For more information you can call their sales team at 081-634-0395, 081-931-7079 or 083-177-0013 or email them at info@ ncgroup.co.th. You can also visit their website www.ncgroup.co.th for update on the development.
Project status
This article was updated on 23 October 2020.
To get more information & assistance on Natureza Condiminuims, please submit the form below and our specialist will get in touch with you at the earliest.