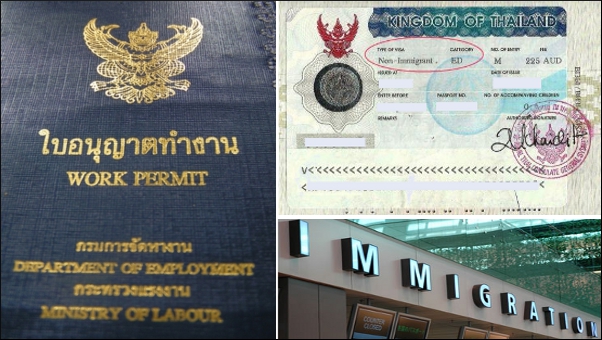 Contrary to what most people assume, Thailand does not issue a Work Visa. What it issues is a business visa or "B" visa. While this visa does not give you the right to work in the country, it however gives you the option to apply for a work permit. So basically, before you can apply or be issued with a work permit you must first have a non-immigrant visa, which should be acquired prior to your arrival in Thailand. The Thai work permit allows you to work and operate business in Thailand as a skilled professional or even as an employer. The work permit is required in order to be able to work legally in the Kingdom of Thailand. In general, the success of a work permit application depends on your or the hiring company's registered capitalization. Here are some of the requirements:
(i) The minimum amount of registered capital required per work permit in the company is dependent upon the status of the company and the work permit applicant. If your company requires one work permit and the applicant is married with a Thai national, then the required amount of registered capital is 1,000,000 Baht.
(ii) If your company is registered with BOI (Board of Investment), you can obtain multiple work permits without needing to increase the registered capital, depending upon the agreement reached with BOI. However, it is important to note that BOI companies need to be set up with a minimum of 1,000,000 Baht of registered capital.
(iii) If your company does not have BOI approval and your foreign employees are not married with Thai nationals then you will require 2,000,000 Baht of registered capital per work permit holder.
(iv) The company should have a good track record of paying all taxes. If the company is registered in Bangkok, you will also need to ensure that you have paid the first month's social fund for your Thai employees, keeping the receipt as evidence of this. In other locations around Thailand, you may be required to show more than one month's social fund receipts, dependent upon the regulations in your province.
(v) There are also requirements for minimum numbers of Thai employees per Work Permit for foreigners working in Thailand. Ideally a company will require 4 Thai employees for every work permit. It is important to note that there is an exception to this rule. If the company was formed less than one year prior to submitting the work permit application, the officer will accept 2 Thai employees per work permit. However, when coming to renew the work permit, the usual regulations will be enforced and the company will therefore require at least 4 Thai employees per work permit.
GETTING A NON-IMMIGRANT (B) VISA:
So, the first step to get a work permit in Thailand will be to obtain a Non-Immigrant Visa. You should apply for this visa within 30 days before you plan to depart your country. The Consulate or consular officer of your country will ask for copies of the registration documents and financial statements from the company. Ideally the requirements for getting a Non-Immigrant Visa can be summarized as:
The applicant has been offered a job or starts a Thai company to employ himself/ herself.

The company requests that the applicant be given a non-immigrant visa so the company may apply for a Thai work permit for him/ her

The company knows the person to be dependable, upstanding, and law abiding and that they will respect the laws and customs of the Kingdom of Thailand.
Once the Non-Immigrant (B) Visa is issued, now, you need to apply for your Thailand work permit. To obtain the permit, you need to provide a couple of documents. The Thai government officials may require these documents to be certified by your country's embassy and you are required to pay an authentication fee to your embassy. Carry your original degrees, resume, license or certificates to your embassy to declare they are true and original documents. Here's the list of documents you will need to submit:
Passport – copies of every page. Each copy must be signed by employee.

Non-Immigrant Visa

Departure Card TM.6

Signed copies of your educational qualifications

Signed copy of the transcript

Signed copies of certificates or licenses held by applicant

CV or Resume

Three photographs of 5 x 6 centimeter dimensions with full face and taken wearing business attire (no hat and some jurisdictions require suit and tie).

Marriage Certificate (if married to Thai National). This includes the original and signed photocopies. Also include wife's Thai ID card, birth certificates of children, and household registration.
The company too will need to provide certain documents including:
Commercial Registration Department Certificate showing that the organization for which the applicant is going to work has been duly registered as a juristic person

Shareholders list certified by the Commercial Registration Department

Factory License (optional) issued by Factory Department, Ministry of Industry

VAT Certificate – Phor Phor 20

Withholding Tax – Phor Ngor Dor 1 (if renewing work permit)
Always remember that after you have submitted your application for a work permit, your visa shouldn't expire. The Labor Department's system links your non-immigrant visa (extension of stay) listed on your application to the work permit paperwork.
APPROVAL OF THAI WORK PERMIT:
Once the Thai work permit is approved you will need to appear in person at the Labor Department with your passport. You will need to sign the Thai work permit book in the presence of the Labor Department staff, who will put a stamp on the back of your passport at the time of receipt.
CERTAIN RULES AND RESTRICTIONS OF THE THAI WORK PERMIT:
(i) The Thai work permit once approved allows you to work at the noted company and location. If you change employers or place of work, you must make a new application
(ii) If you resign or if you are terminated, within 10 days, you must return your work permit to the Labor Department
(iii) Your Work Permit expires when your Extension of Stay does. As such, you will need to renew your stay in Thailand before you can renew your Thai work permit.
(iv) You will have to report to Immigration Police every 90 days.
To get more information & assistance, please submit the form below and our specialist will get in touch with you at the earliest.