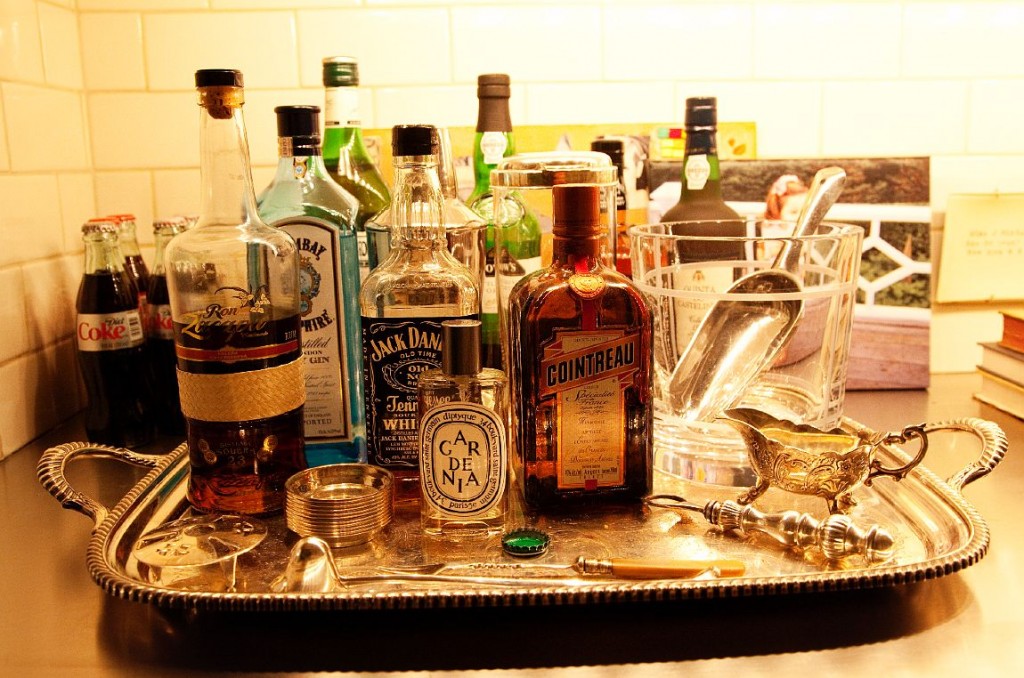 Having a well-stocked bar has always been you dream. Need not be stressed, it takes a little effort and some planning. By having a plan and slowly adding elements to your bar, you can expect hours of entertaining for your guests. A well-stocked bar not only sets the tone to your party or evening, but also adds sophistication to your place.
Serving a well-made elaborate drink or a cocktail is same as cooking home-cooked meal for your guest. The art of mixology is alive and a well-stocked bar will be a boon to your home.
Here's how, by stocking upon some basic ingredients and minimum specialized tools , you can start building you bar. While it may be expensive to buy a whole liquor cabinet at once, the best way is to first buy your personal favourites and then slowly, strategically add to your collection.
Everyone has different tastes or priorities, here are some basic to start building your dream bar.
 Alcohol:
Gin
Rum
Vodka
Whiskey
Tequila
Brandy
Wine (red and white)
Beer
One or two of your favourite liqueurs can bring in variety to your bar.
Cocktail Ingredients – Juices
Orange
Pineapple
Lime
Cranberry
Seasonal fresh fruit juices can enhance your cocktail
Cocktail Ingredients – Mixers
Club soda
Tonic water
Ginger ale
Cola of choice
From your kitchen – Garnishes

Fresh lime or lemons
Seasonal fruits
Sugar or simple sugar (mixture of water and sugar heated to get a thick consistency)
Salt
Fresh herbs –  mint, basil
Ice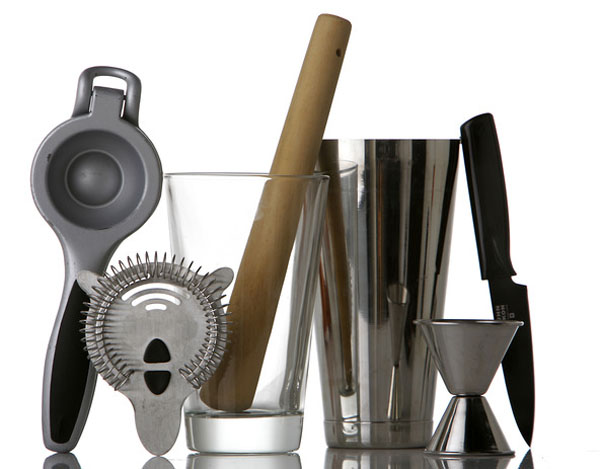 Bar tools:
Cocktail shakers – is a must for cocktail lovers
Muddler – to make cocktails like mojito or caipiroska
Corkscrew
Bottle opener
Jigger or Shot glasses for measuring
Paring knife – cutting fruits for garnish
Lemon squeezer – they are convenient to use. You get them in plastic and steel finish
Blender – making fresh juices or crushing ice
Hawthorne strainer – The Hawthorne Strainer is a flat-topped, perforated metal device with a continuous coil of wire around its perimeter. It is used for drinks that are shaken or stirred with ice and served neat or any fruits, herbs or other solid ingredients from the liquid
Bar spoon – is longer than the usual spoon and is used for stirring or layering
Ice accessories – ice buckets, crusher, tongs and scoops are essential
You could also buy yourself a full fledged basic cocktail making tool kit, easily available in the market.
I've listed some of the basic ingredients and tools. It all depends on the cocktail, followed by the type of ingredients and the tools required. You can also stock your bar with some good quality straws or with fancy cocktail umbrellas and stirrers.
Basics to remember:
First start with stocking your bar with your personal favourites and slowly graduate to fancy ones.
Start building your bar slowly.
Never compromise on the quality over quantity.
Make cocktails only if you're comfortable with. I've known people who have a collection of whiskey and prefer to only stock the same.
And don't forget to watch Tom Cruise for some cool cocktail mixing 🙂
To get more information & assistance, please submit the form below and our specialist will get in touch with you at the earliest.