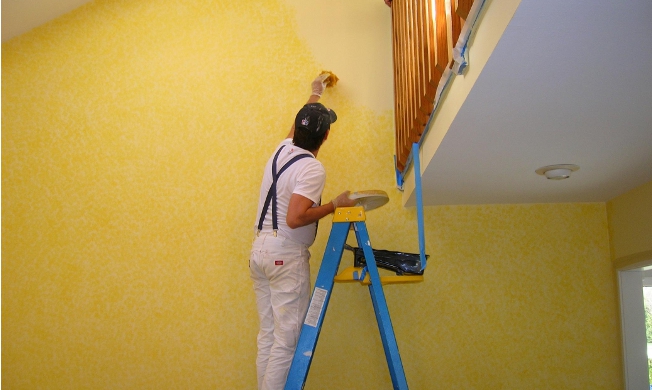 It goes without saying that if you want to give your home a bit of extra sparkle, the best way to do it is with a new paint job. It is amazing what a coat of paint can do; it can lighten an old place up, making it look new and bright. Not only that, putting a new coat of paint also makes good sense as it will help to preserve the structural integrity of your home.
No matter whether you want to put your home on the holiday home rental market or you just want to use it as your private holiday home, getting a new coat of paint – both the exteriors and interiors – is one of the simplest and most cost-effective methods of adding value to your home.
BENEFITS OF PAINTING YOUR HOME:
Painting is one of the easiest, cheapest and fastest ways to add value to your home

A good paint job does more than just add color and it affects your mood and productivity

Painting your house can lower your monthly utility/ maintenance bills.
Having said that, painting a home requires great intelligence and professional help if you really want to make the most of it. Here are some areas to ponder before your pick up that brush:
GETTING STARTED: Painting your home can be completely hassle-free with the right planning. Make sure that you have budget for your painting project. Most reputed paint companies have online calculators where you can easily calculate how much it's going to cost according to the area of your property. Follow these simple steps while getting started:
Select products as per your tentative budget

Calculate cost and quantity of paint for your house

Choose colors, textures or patterns for your walls

Find out where you can buy paint.
PAINTING PROCESS: The process of painting can be divided into three steps – pre-painting work, surface preparation and painting. For painting purpose the surfaces of any property should be categorized into interior walls, exterior walls, metal surfaces and wooden surfaces. Since each of these surfaces require different treatment, it is a must to first calculate the square feet area of the different surfaces before you go shopping for paints, brushes and other related accessories and equipment. Calculating them separately will also give you a fair idea of how much paint would be required and how much it is going to cost you.
POST-PAINTING CARE: The post-painting care is considered the make or break step of a painting job. From cleaning to dos and don'ts, following up your painting with post-painting care will ensure that your walls look as good as new, for longer. Here are some tips:
Most wall paints (like emulsions and washable distempers) can be cleaned with a mild soap water solution from time to time. Cleaning can be done at least two weeks after application of finished coat for removing the dust collected on the surface.

Special care should be taken for the passages, kitchens and children's rooms.

Every month, keep a day aside to clean the walls. Use a sponge and mild soap solution and lightly scrub the areas that have stains. Heavy scrubbing may result in permanent damage to the paint film.

In case of severe staining (like spilled food) clean the walls immediately before the stain dries up.

Children's rooms are likely to get dirty far more quickly than the rest of the house. Hence it is advisable to get a single coat of paint done every two years or so. However one must ensure a mild sanding of the surface with emery paper 400 to make the surface conducive for fresh paint application.

Also check your walls periodically for signs of paint flaking or peeling. This could be the first sign of water leakage or seepage problems. The moment such problems are noticed, get a contractor to look at the problem area. If the problem is localised (only occurring in specific areas) and the source of water seepage is detected, have it rectified immediately to prevent the water seepage from spreading further. This might require repainting one or two walls. Ignoring the problem however will aggravate the matter and will turn out to be much more expensive later.

Enamel paint on the doors and windows exposed to sunlight loses its gloss over time. It is a good practice to apply a single coat every two years to keep them looking fresh. However one must ensure a mild sanding of the surface with emery paper 400 to make the surface conducive for fresh paint application.
If you feel that you require professional help and would like to hire a painting contractor, read our article: Tips to hiring the right painting contractor for your home

To get more information & assistance, please submit the form below and our specialist will get in touch with you at the earliest.