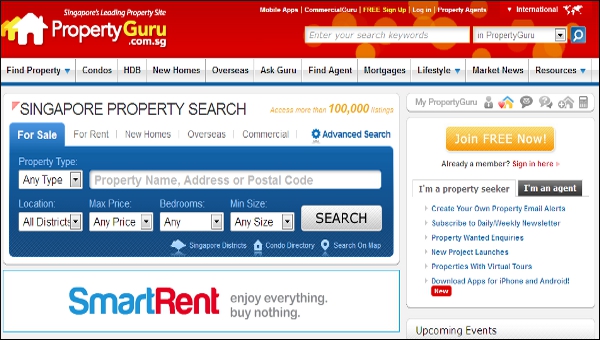 Propertyguru.com.sg is a leading property website based in Singapore. Apart from providing information on the real estate trends for property hunters, the website predominantly works towards connecting the prospective buyer/ seller with the agents listed in its website. The website claims to have tens of thousands of properties across Singapore for the buyer and renter to choose from including, condominiums, apartments, HDB flats, Serviced apartments, houses and commercial property.
This week we are reviewing the Propertyguru.com.sg website to see whether it is as useful to buyers and renters as it claims to be. Here are our findings:
OVERALL LOOK: Except for the red color scheme, the website gives the same look and feel of the iproperty.com.sg website. Having said that, the search of Property Guru is more user-friendly. One has the option of searching properties by their property name, address or postal code or by districts by clicking on the Singapore Districts icon inside the search box. Apart from the search and a couple of property listings just below that, most part of the homepage has links to articles, real estate trends and forum postings.
PROPERTY SEARCH PAGE: Properties in the listing page are listed with premium listings first, which are paid listings. My issue here is that any free listing which has been posted recently will appear at the last page. I have noticed some of the good properties meeting my search criteria on the 273rd page – surprisingly even after the premium listings that had no images or descriptions. Because properties are posted by agents, you will invariably see a lot of multiple listings of the same property.
SUBSCRIPTION PACKAGES: Property Guru offers four subscription packages for agents to post their properties, starting from a free 60-day trial package to a Platinum Package of $ 1600 for a year. However the company seems to be vying for the Premium Package which is priced at $ 550 for the year.
AGENTS: Property Guru is in actuality a property listing website by agent where they can list their properties and individual buyers can contact them. The website boasts of having more than 20,000 agents listed in its website. Individual sellers need to post an inquiry to which agents respond.
INDIVIDUALS: Individual buyers, sellers and renters, can create an account for free and post your inquiry. When your inquiry is approved you start receiving inquiries from agents. However don't be surprised if your inbox is flooded with emails from agents, some of them even selling properties that do not match your criteria.
TIE-UPS: The company has partnered with a couple of websites like Immobilien in Germany, Square Foot in Hong Kong and 99acres in India amongst others. However the partnership criteria of Property Guru seem odd. For instance, similar to the website, Immobilien and Square Foot are property listing websites for agents. But then 99acres is a property listing website with a good presence of listings from individual buyers and sellers.
Overall propertyguru.com.sg is a good website for buyers who do not mind going through a property agent. Individual sellers however will not be able to surpass the agent, display his property and get inquiries from buyers directly, which means he invariably have to pay the agent a commission which he could have avoided if he could post his property in the website.
To get more information & assistance, please submit the form below and our specialist will get in touch with you at the earliest.