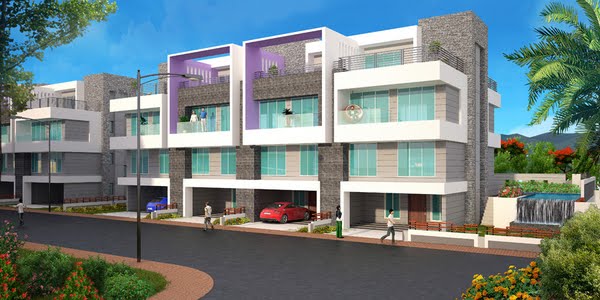 Lonavala near Mumbai offers a combination of urban and countryside lifestyle that allows one to enjoy the luxury lifestyle without missing the serenity and calmness of nature. It is due to these reasons that number of luxury residential projects have come up in Lonavala, which has further strengthened the identity of the location as a perfect weekend getaway for not only just Mumbaikers, but also for those staying in Pune.
So if living a perfect weekend in calm and serene conditions without compromising on style is in your mind then Puranik Builders' premium row villa project – 'Puraniks Sayama' – spread on an area of 10 acres of land is a perfect development to opt for.
With last Saturday's launch of Puraniks Sayama in Lonavala, Puranik Builders a leading real estate company in western India has entered the sphere of villas and will be carrying out total construction of 3.5 Lakh square feet featuring row villas in a location surrounded by lush green hills. The villas offering flawless caretaking services with every inch of it designed for nothing else but for pure relaxation will truly be relaxing weekend residences once completed.
Location:
Just 3.5 kilometers from the Mumbai Pune Express Highway, the project is easily connected to Mumbai city. The location of Puraniks Sayama allows anyone to zip through the hustle bustle of the city through the express highway and enter the calm and serene atmosphere of the development. Besides, the project is located at 2 kilometers from Lonavala railway station and 60 kilometers from Pune. The project also enjoys proximity to prime infrastructure such as hospitals and shopping complex.
About the developer:
Puranik Builders have been present in the real estate industry for over 4 decades and has constructed over 4.5 million square feet till date. They have some signature projects to their credit such as Rumah Bali in Thane and Aldea Espanola in Pune. The company has its presence in Nasik, Pune, Mumbai and Thane.
Offerings:
The project located at Sahyadri Nagar comprises 145 contemporary style row villas of 3 BHK and 4 BHK which are spacious and include an array of features. The luxury villas offered in Puranik Sayama will have ground + 2 floors and are available in sizes ranging from 1776 square feet to 2485 square feet. The elegant spaces have been designed by Taib Landscape Studio Ltd of Singapore.
Amenities:
Along with a magnificent structure of the row villa, the various amenities that add radiance to the project are presence of vast green lawns, trellis walkway, reflexology lawn, open air lounge, timber lounge, yoga meditation lawn, a tennis court, barbeque corner, swimming pool with Jacuzzi and others.
The project also features amenities like a plunge pool, a private garden, space for swing-in one of the bedrooms, space for hobby room and cabana at the terrace.
The project also boasts of automated interiors and luxurious facilities which are easily available for the residents. Various services before and after the stay like housekeeping and gardening, electrical and mechanical, pest management and others will be offered by the company.
Developer's views:
According to Mr. Shailesh Puranik, Managing Director, Puranik Builders, "The project is a perfect solution for the aspiration of the modern buyer who wishes to invest in a place that he can look forward to visit for relaxation after every week's hard work. The design of the structure, the amenities and services offered at the project are aimed at providing relaxation and pampering the buyer during their stay over weekend. The project has been executed after an in-depth study and research of the demand from the buyer in order to get a perfect answer to it."
Pricing:
The price of Puranik Sayama villas have been fixed at Rs.1.45 crores onward.
Contact:
For more information on can contact their sales team at +91-20-25666188/ 77, +91-22-25988888 or send an email to purchase@puranikbuilders.com
Project Status:
This article was last updated on 4-11-2020
To get more information & assistance on Puraniks Sayama, Lonavala, please submit the form below and our specialist will get in touch with you at the earliest.