This week, we'll explore storage options in the kitchen and in bathrooms, in the context of homestays. When you have a kitchen that's meant to be used by your guests, you would obviously be expected to provide an adequate supply of crockery, cutlery, and cooking utensils. We've covered the list of essential kitchen utensils previously, but here our focus is on storage.
A homestay kitchen has to take into account issues that normal home kitchens don't – things like easy stocktaking, breakages, and ease of washing up. Well-planned storage can help you quickly take inventory when servicing the room, by having clearly designated locations for each item. It's not really necessary that you have a modular kitchen, though your guests will appreciate one. There are many kitchen accessories available that simplify storage.
For example, one of the most useful things in my kitchen is a magnetic knife holder.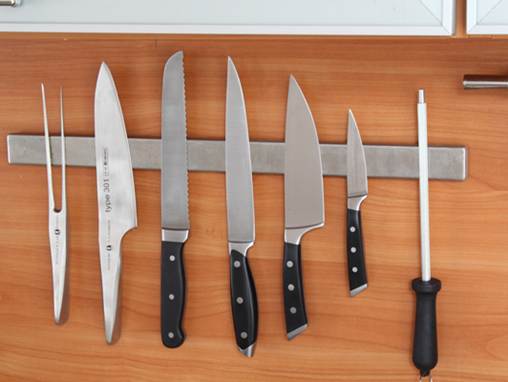 This strip lets knives (and other utensils) drain after washing, while holding them safely in a clearly designated, and visually demarcated, area. Similarly, cup holders like the one below can hold all your cups in a very presentable display, yet allow you to easily inventory them.
You can extend this idea infinitely. A singular favourite of mine, from the perspective of both good design and excellent functionality in tight spaces, is the entire dry kitchen in one cupboard, as below.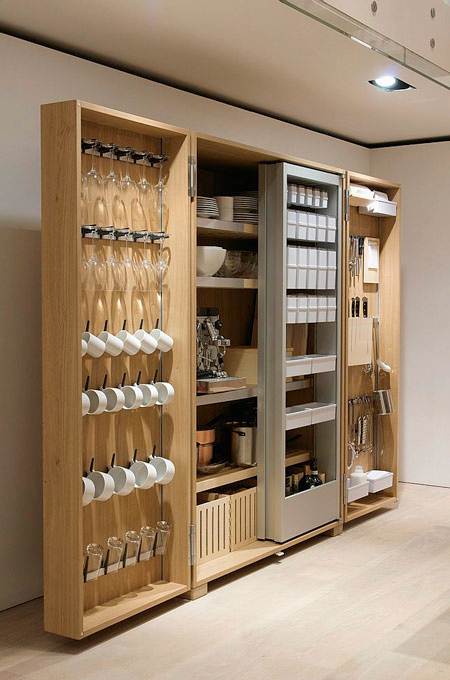 While you plan storage for your kitchen, don't forget the drain rack. The space above the sink is wasted in most kitchens. The ideal unit to put there is a drain rack that can store plates and dishes, allowing them to drain and dry after rinsing.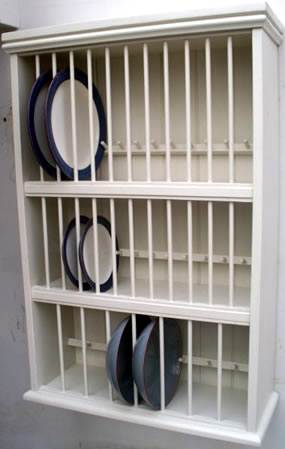 Also, most kitchen counters have awkward corners that aren't very usable. Use those for storage with a dish rack. This is another easy-inventory solution, if you store all your plates there.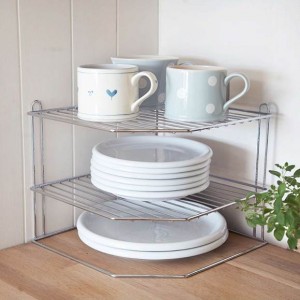 While you stock up your kitchen, remember that breakages will be frequent, and incomplete sets of crockery are very annoying. The way to deal with this is to buy your crockery from a hotel supplier rather than a home store. Hotel suppliers will be able to supply you single pieces of crockery over a longer period of time, so that you can keep replacing your breakages and offer your guests full sets. Stores like Ikea also do this, and it does appear as if Ikea will be in India soon.
Moving on to the bathroom, all items that your guests expect to use regularly (dental kit, shaving kit, soaps, cream, shampoo and conditioner, combs and so on) should ideally be presented neatly on the counter.
If your bathroom has inadequate counter space, it's easy to create a thin long counter that'll hold all the essentials. Please do not use the cheap plastic corner units one find everywhere. They are badly made, don't last long, and don't look good. An acceptable alternative would be as below.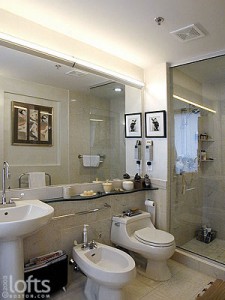 A six-inch deep shelf of 12mm tempered glass, supported by D-clamps on both sides and the back, is sufficient. You can put this sort of glass shelf elsewhere in the bathroom as well, such as in a niche behind the WC.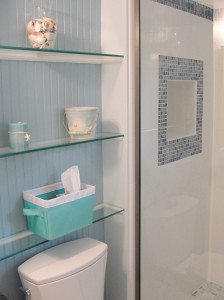 Or running the full width (up to 6 feet) of a small bathroom, next to the shower…
If you do this, you should follow some safety precautions. Use 12mm tempered glass, and use D-clamps on both side walls as well as on the back wall. Place the shelf at shoulder height – at least 5 feet from the ground – to avoid the risk of someone knocking into it when standing up.
In case you need more storage space, you could get a neat wall-mounted medicine cabinet like the ones below. You could also use these cabinets for extra supplies if you would like to offer them to your guests.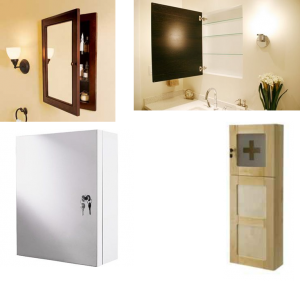 To get more information & assistance, please submit the form below and our specialist will get in touch with you at the earliest.