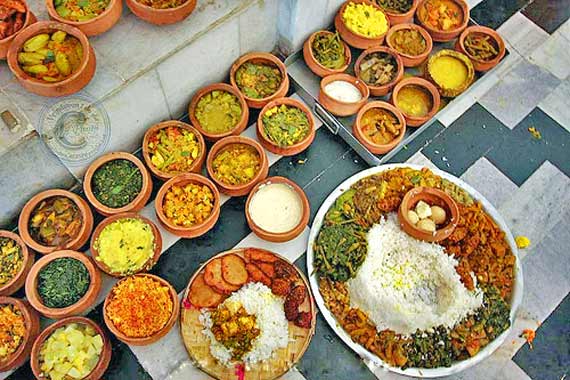 Cuisine of Orissa is simple and delicious. Food preparations in the state are almost the same as that of its neighboring states Bihar and West Bengal due to the similar geographical conditions.
Rice is the major food crops and the staple food for the people of Orissa. Vegetables which are grown in plenty too form and integral part of the meal in the state. A large number of people practice vegetarianism because of their deep religious nature. But a significant proportion of people relish fish and other sea food delicacies like prawns, crabs and lobsters as these are found in plenty in the vast coastline of the state. Oriya food is spicy and has less calorific value as it is cooked with little or no oil. Mustard oil is used for cooking and ghee is used during festivals.Curd and coconut milk find great use in the diet of the people. 'Pancha-phutana' a magic mix of cumin, mustard, fennel, fenugreek and kala zeera (black cumin) is used for tempering vegetables and dals.
What is rich and plentiful is the diverse selection of seafood, with crabs and lobsters steeped in the ever present ingredients of – Orissan cuisine- curd (yoghurt) and coconut milk. The curd here is rich and creamy and gives the succulent flesh an additional flavor. It is not only the seafood which is traditionally cooked in curd and coconut milk but also yams, brinjals and pumpkins are liberally used in curd with mustard seeds.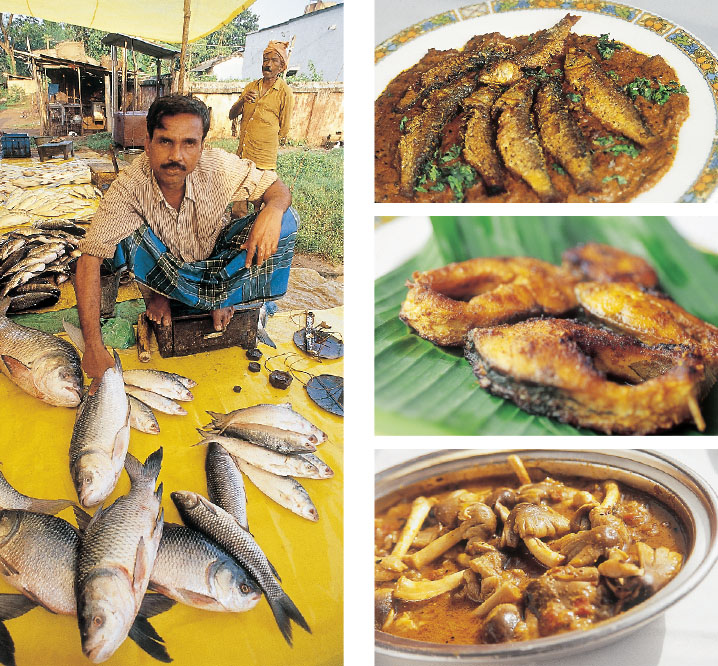 Some of the must have dishes of Orissa are:
Mahaprasad: or the sacred food offered as 'Bhog' to Lord Jagannath. The temple kitchen is believed to be the largest kitchen in the world. Created on a cooking facility which is highly efficient despite its age, 400 'supkars' (cooks) work around 200 hearths daily to feed over 10,000 people. There is an elaborate menu for different occasions. The food cooked is traditional dishes from rice to sweets and sometimes may reach a variety of 50+ dishes.  After offering the food to the lord, it is made available for sale in the Anand Bazar, the food market, in the premises of the temple.
Pithas: are both sweet and savory are extremely popular in Orissa. Types of pithas are – aarisa (made with rice, sugar and oil), manda pitha (made with crushed rice & coconut), poda pitha (sweet pitha made with black gram), Kakara pitha (savory pitha made with wheat flour and spices) and potoli pitha (made with wheat flour and cottage cheese which is best know in India as paneer ).
Oriya seafood: Fresh and delicately flavored fish is a must try in Orissa. Chhencheda (lightly spiced fish head with vegetables), chungdi malai (prawns cooked in coconut milk and spices), chugdi jhola (prawns cooked in spicy gravy), crab kalia (spicy crab curry) are some delicious dishes.
Desserts: People of Orissa are also very much fond of sweets. Milk preparations like Rasgulla, Rasmalai, Khirmohan, Rasabali, Kalakand are just irresistible. Chhenapodapitha, the caramelized custard-like dessert is another popular dish amongst the locals.
Oriya food is all about experiencing local cuisine. Local masalas and sweets are good to carry some home.
To get more information & assistance, please submit the form below and our specialist will get in touch with you at the earliest.