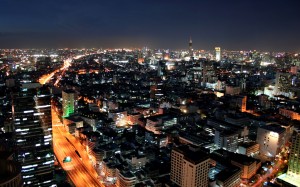 Right in the center of bustling Bangkok you can soon own a quality apartment that suits your lifestyle. From compact Studio apartments to loft suites, The Lofts Ekkamai has all the facilities you would expect from a quality development with the convenience of being located in the middle of the action.
Just 150 meters from BS Ekkamai Station and in the trendy Sukhumvit-Thonglor-Ekkamai area, The Lofts Ekkamai is designed for urban living in one of Asia's most dynamic cities, Bangkok.
About The Development
Recently launched in February 2013, The Lofts Ekkamai is expected to be completed by the end of 2015. Built on a land area of 3,132 sq m, this 28-storey project will include 264 apartments, with a mix of Studio apartments, 1, 2 and 3 bedroom apartments and even luxury duplexes.
Designed to give a feeling a space, the apartments will be characterized with high ceilings of up to 2.8 meters in living spaces, and promise to be fitted with the finest interior appointments. Apartment sizes vary, offering a wide range of choice for buyers to choose what suits their needs. You can find Studio apartment from 28 square meter for Studio or a luxury 2 bedroom apartment of 74.5 square meter. There will also be over 150 car park spaces available in the development.
The Lofts Ekkamai includes many facilities for residents to enjoy and also to provide peace of mind. For security there will be 24 hour security with CCTV, floor specific access card system and a 24 hour reception. For leisure, the development will include a two separate gardens for residents, a salt water infinity pool, jacuzzi, sauna and lounge.
Prices for the development will start at just over US$130,000 (THB 3.9 million). It is estimated that a monthly maintenance fee will be payable at a rate of US$1.35 (THB 40) per sq m per month, and an additional sinking fund will be payable upon transfer of ownership at a rate of US$20 (THB 600) per sq m).
The Developer:
Raimon Land is one of Thailand's premier developers. Between 2004 and 2010 they completed eight properties in Bangkok, Pattaya and Phuket and won accolades including 'Best Condominium Development' at the South East Asia Property Awards, and 'Best Luxury Condominium Development (Bangkok)'. They are also currently developing several other projects including the nearby The River in Bangkok which was reviewed here. Raimon Land focuses on developing high end condominiums and niche villa projects, with quality being the key to their developments.
Contact Information:
If you would like more information on The Lofts Ekkamai:
Website: http://theloftsekkamai.com/
Telephone: +66 2651 9600
Email: direct.marketing@raimonland.com
To get more information & assistance on The Lofts Ekkamai, Bangkok, please submit the form below and our specialist will get in touch with you at the earliest.