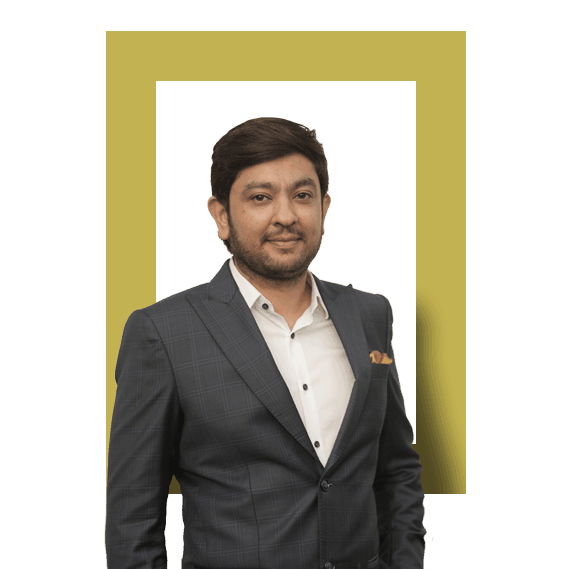 During this interview, we were joined by Abhishek Dalal, who is the founder and partner of Dalal Gruh and Infra Projects – the developers of Mangalyam Meadows.
Giving an introduction to Gujarat, Abhishek says that it is is a very prominent state that is located in the western part of the country. It is also one of the fastest-growing states in India and contributes about 8% of the country's GDP. It is home to about 64 million people. It has the longest coastline of any state in India which gives it the benefit of having multiple ports that serve Western India. Also, a few fun facts about the state says Abhishek, is that it is the only state and region in India and the world that houses the Asiatic lion in the wild. It is also the birthplace of the father of India, Mahatma Gandhi. Needless to say, it is also the constituency of India's current leader, Narendra Modi. The state is in close to proximity to Rajasthan in the north and Maharashtra in the south.
It is also a hotbed of entrepreneurial spirit and industry in India. Whenever investing in real estate, one of the most important criteria which one should keep in mind is the level of infrastructure development that is already existing and also, being planned in the next few years. Another factor that should be kept in mind, says Abhishek, is the kind of industrial development which is taking place. On both these fronts, Gujarat is steaming ahead. In terms of industries, Gujarat has been receiving some of the largest investment from across the globe through the vibrant platforms that Prime Minister Modi had started while there are also single-window clearances which have been given to multiple industries which enables large organisations to set up things faster. Coming to the infrastructure projects, there are 2 projects that stand out. The first is the Mumbai – Delhi Expressway which is part of the Delhi – Mumbai Industrial Corridor (DMIC). It is a 1250 km expressway which can get you from Mumbai to Delhi in around 13 hours. The expressway connects Mumbai to Ahmedabad and then connects Ahmedabad to Delhi. This expressway will reduce travel time drastically. The second is the bullet train project which is was envisioned by the Honorable Prime Minister. The project will consist of a high-speed train connecting Mumbai and Ahmedabad. It will be the first-ever high-speed rail project in India. It will cut the travel time between the 2 cities down to about 2 hours.
Currently, the 600 km distance takes around 9-10 hours by road. The expressway is scheduled to open by January, 2023. The progress until now has been amazing. The project will be an expansion of the already operational expressway between Ahmedabad and Baroda till Mumbai in the south and Delhi in the north. It will run in parallel to the current Mumbai – Ahmedabad Highway. One will be able to travel from Mumbai to Valsad in less than an hour of the time which it currently takes.
Taking about Industrial hubs between Mumbai and Gujarat, Abhishek tells us a few things about the state. The capital city is Gandhinagar and the largest city is Ahmedabad. The current areas of growth in Gujarat are Vapi, Valsad, Surat, Baroda and Rajkot. These are the main economic drivers in Gujarat. There are also union territories which lie in the area of Gujarat which are Daman and Silvassa. Silvassa is in very close proximity to the Maharashtra border so a lot of industries from Maharashtra have been shifting there due to tax benefits and other financial incentives which the government has been offering. If one is familiar with the layout of Mumbai, they would have heard of an area called Vasai which in on the outskirts of Gujarat. Most of the industries from this area have migrated into Gujarat due to a variety of factors like cheaper electricity, easier availability of labour, single-window clearances, etc. All these factors should be responsible for providing a lot of economic boost to Gujarat.
Next, Abhishek tells us about how and why he got into real estate. This project is passion over business for everyone in the family, says Abhishek, with a big grin on his face. The entire family including Abhishek, his father, his mother, his sister have all played very important roles in different aspects of the project. The family has been in the business of shipping and logistics for the past 70 years now and Abhishek is the 5th generation of that legacy. All that experience has moulded them to be customer-centric as they have been dealing with customers for the past 70 years. They got into real estate in 2015 with a vision to create one of the finest community living experiences at affordable prices at the doorstep of the city. Mangalyam Meadows is the flagship project and 150 units have already been built and sold which is part of phase 1. Post the pandemic, more people have wanted to move base from Mumbai to Valsad because office, school and everything is else is at home and home will always be home sweet home. It is wonderful living and working in that kind of environment as compared to Bombay, where as soon as one gets out of their big, fancy apartments, everyone complains about the traffic and crowds.
While talking about the inspiration and thought behind creating the infrastructure of Mangalyam Meadows, Abhishek says that is was always his vision to create something outstanding and gives the viewer or user a global experience. Hence the theme of the entire property has a Mediterranean touch. The clubhouse looks like a blown-up Swiss Chalet which is why it has appropriately been named The Woods. It has taken a lot of effort to design and build everything which is why there have been 3 architects, 3 structural engineers, and of course, a great designer within the family. The entire property stretches to around 40,000 sq ft and is built over an area of 1.5 acres. It also has everything a customer might want or need starting from 2 theatres out of which one is a one can seat 46 people and has all reclining seats. There is a separate theatre just for kids which has 26 seats. There is also a pool room and card room which is designed in a gothic style that took inspiration from Spanish architecture. There is also a disco tech that has been designed by one of the finest lighting designers in the country, Mr. Shailesh Gopalan who has done shows for AR Rehman. There is also a fully-equipped spa that has got a Moroccan theme and is suitably called Marrakech. There is a multi-cuisine restaurant that has got an industrial theme and hence has been named The Binge Factory. There is also a library with a very fine collection of books which has a colonial theme and hence has been named the Oxford Corner. In addition to all these facilities, there is also a banquet hall with huge lawns that can accommodate up to 10,000 people. Each space inside the clubhouse has been designed in a way that would make you want to whip out your phone and take pictures. Abhishek says he feels flattered at the reaction of the guests seeing the property for the first time.
Post COVID has seen an extensive rise in occupancy rates among villa owners which is in excess of 60%. This due to the fact that a lot of buyers are from Mumbai and the pandemic has made people do everything from the comfort of their own homes. There seems to be no better place than to be put up in your villa, says Abhishek. It is an isolated space where one is kept away from the whole COVID situation. The property has also taken strict precautions to provide a safe experience during the pandemic like making masks mandatory and sanitizing everyone who enters. When you wake up, you can hear the birds chirping and the noise of water flowing which contributes to the stress-free environment that is maintained.
The property is very well connected to Mumbai by road and rail with trains running hourly. And it will just get even more convenient with the addition of the upcoming expressway and bullet train projects. It could be possible to travel from Mumbai to Mangalyam Meadows in half an hour in the next 5-7 years. It could be possible to reach Valsad faster from Mumbai Airport than Nariman Point. Time is very important to Mumbaikars and most prospective buyers to that is a major advantage. Another big advantage is that people who have purchased or are thinking of purchasing a property at Mangalyam Meadows is the appreciation in the value of property over time because of the infrastructure projects and industrial development which is happening in the area. The strategic location between Mumbai and Surat, which is one of the fastest-growing cities in India will also help in this regard.
The past 4-5 years have not been great in terms of real estate in India whether it's the prices, demand or sales. However, Mangalyam Meadows has managed to sell 100% of its properties while achieving a 65 – 75% appreciation in prices in the same time period. The difference in price between Mumbai and Valsad is another reason to look to invest outside of Mumbai. While prices in a very low-end apartment in one of the cheapest suburbs in Mumbai range from Rs. 6000 – 7000 per square foot, the high-end areas in Mumbai would demand a premium of Rs. 1,00,000 – 1,20,000 per square foot. This in sharp contrast to Mangalyam Meadows in Valsad where properties are selling at around Rs. 4000 a square foot with the finest amenities and infrastructure on offer. There is also abundant space which can be used for gardens, water bodies, clubhouses etc.
The project has also been developed keeping the environment in mind. Facilities such as water pumping stations, rainwater harvesting, stormwater drains and a sewage treatment plant have been implemented to have as little impact on the environment as possible.
Phase 2 has taken it a step even further. The villas are bigger and better, with more parking spaces, open spaces and sit out spaces, with the density of the number of villas halved in Phase 2 as compared to Phase 1. Each and every villa has a garden and are alternated so that every villa has 3 sides of open space and are roomy, airy and bright at all times. The villas are ideal for city dwellers who want space, sunlight, water and want to unwind and relax in nature, potter in the garden and do yoga and meditation in an ideal environment. The finest fittings have been used uniformly throughout all the categories of villas in terms of brands and each and every villa has been designed internally, with a lot of attention to detail.
Abhishek explains the different types of villas available. There are 3 categories of villas:
Spring villas – This is the introductory category. Each villa has a plot size of 2265 sq feet, ground plus one, 2 car parks, a servants room and bathroom, 4 bedrooms, a spacious living area and open, modular kitchen and a 650 sq ft garden. The master bedroom has a sloping roof, ceiling height of 16 feet in the centre and a sit out and balcony of 350 sq ft.
Orchard Villas – This is the middle category and an upgrade on the Spring villa, with a ground plus one structure, a plot size of 3150 sq ft and usable area of 5600 sq ft, 4 bedrooms, a private swimming pool and garden, 2 car parks and a servants room and bathroom.
Fern villas – There are 18 in number, each with a plot size of 4345 sq ft and a built up area of 7800 sq feet, a ground plus 2 structure, with elevators, 5 bedrooms, 3 car parks, a large servants room and bathroom that can accommodate 4-5 servants, a private pool and a garden of 1300 sq ft. These villas are ideal for large families looking for a touch of class, a sprawling space and entertainment zones.
The villas are priced aggressively because it has always been the vision of the company to create something fantastic with an affordable price tag. Priced at Rs. 4000/- a sq foot, the cost of a Spring Villa is Rs.1.25 crores, an Orchard Villa Rs.1.75 crores and a Fern Villa Rs.2.45 crores. Approximately Rs. 60 crores has been spent on common amenities such as the clubhouse and world-class systems that include stormwater drains, sewage treatment plants, water pumping systems and FTTH cables across the whole property. Compared to similar properties within a 2 or 3 year drive from Mumbai in Lonavala or Alibagh for example that are priced at rs. Rs. 7000/- to 8000/- a sq ft, Mangalyam Meadows with its competitive pricing is a buyers dream.
Post COVID, the trend will be for buyers to seek these kind of properties as their first home rather than a holiday home, where they can live, work, be creative and innovative in the right kind of environment and the right balance in life. With infrastructure projects that will reduce the commute between Mumbai and Gujarat, people will gravitate towards such places. Post COVID, Mangalyam Meadows has new developments under consideration that include a business centre equipped with state of the art technology and everything one would need to work from the property, as well as a designated school space for children.
An added bonus is the rich art and cultural heritage of Gujarat that makes it attractive not just for Gujarathi's, but for any Indian. Seven special curated tours have been designed to give visitors the pulse of the state, that a regular tourist would not get to experience. Some of these are :
Farm to Table Tour – This includes a visit to mango, chickoo and vegetable farms, where clients can learn about the different varieties of fruits and vegetables in the area. Valsan has 57 varieties of mangoes, eaten in different forms, cut differently and prepared differently. Besides getting to taste and buy the farm-grown products, clients are also given local recipes to cook them.
Zorashtrian Culture Tour – This involves an introduction to Parsi culture in Ujwada, 18 kms from Valsan. A visit to the Parsi Museum, to the 2nd largest fire temple in the world, to multiple Parsi eateries specialising in different Parsi dishes from Sali Boti to Dhansak, and finally a visit to the home of one of the first Parsi immigrants from Persia are all offered on this tour. A walk through the town of Ujwada takes one back in time, 60 or 70 years.
In view of the natural beauty, location and quality of Mangalyam Meadows, Tripvillas offers a 7% guaranteed rental yield for this property. Abhishek Dalal takes pride in the smiling, happy faces of his clients and feels the satisfaction of a job well done.
To see more great content like this, you can like our Facebook page or check out our Youtube channel. To learn more about our different real estate investing opportunities, please contact us using the form below.
To get more information & assistance, please submit the form below and our specialist will get in touch with you at the earliest.