The thriving metropolis of Bangkok is not just one of the Asia's biggest business centres, but also a coveted tourist destination. With some of the best shopping, entertainment and cultural sights in the world, Bangkok is a great place to visit or to live.
About The River Bangkok:
The River promises to be one of the finest waterfront condominium complexes in Bangkok. That is no easy feat for a city that prides itself on having some of the best properties in South East Asia. Located in the centre of Bangkok, this property has stunning views across the city yet creates privacy and a feeling of space, with each apartment having unobstructed views, a rarity in modern day Bangkok.
Based on a design concept by Hans Brouwer and located on the Chao Phraya river near the Taksin Bridge, with over 100 metres of absolute river frontage, the property offers not only a great location in the heart of the city, but also easy access to the CBD and nearby shopping and entertainment districts. With some of the best hotels nearby, there are also plenty of five star dining opportunities nearby including Le Normandie at th Oriental, Jesters at The Peninsula and Sirocco, the world's highest outdoor restaurant. There is even an exclusive pier with a direct service to Taksin BTS station. This is a great location to enjoy a cosmopolitan city lifestyle on par with London, New York and Paris.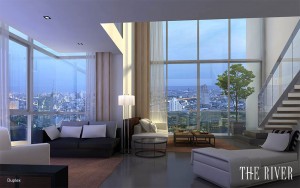 The Property:
At almost 250 metres high, this development towers over Bangkok and will become a new feature in its iconic skyline. With two towers, the property has been carefully designed with curved glass facades to resemble a glass curtain that lights up the riverfront at night. With its unrivalled position on the riverfront, living areas, bedrooms and studies will have unobstructed views. Open plan living areas, also means that there is plenty of light in the kitchen and bathrooms.
This sophisticated development in Bangkok has a range of freehold condominiums, lofts and penthouses available for purchase. The South Tower has the following available properties for purchase:
– 2 One Bedroom Units priced from THB 6 million for 62.79 square meters
– 7 Two Bedroom Units from THB 9.3 to 29 million for between 75.37 square meters to 131.26 square meters

– 3 Three Bedroom Units starting at THB 36.7 million for 229.92 square meters

– 1 Loft Duplex available on the 19th floor at THB 96.2 million for 384.86 square meters

The North Tower has a wider choice of properties for purchase:
– 5 Studio Apartments starting at THB 5.9 million for 44.20 square meters

– 15 One Bedroom Units priced from THB 7.5 million for 68.84 square meters

– 12 Two Bedroom Units ranging from THB 10.3 million to THB 20.8 million for 75.93 square meters to 138.32 square meters

– 2 Two Bedroom Duplex Apartments starting from THB 26.6 million for 137.02 square meters

– 2 Three Bedroom Units priced from THB 24.6 million for 145.17 square meters

– 2 Loft Duplexes starting from THB 49.7 million for 247.55 square meters

– 4 Home Offices starting from THB 16.3 million for 181.91 square meters

There is a booking fee of THB 100,00 and a deposit of 10% of the selling price is required upon signing the contract. A sinking fund of THB 950 per square meter is also payable as a one type fee.
Each unit will be fitted with the finest appointments, including solid timber and Italian stone flooring, frameless glass shower enclosures and concealed water heaters. Lighting control systems, alarm security, wireless broadband and smart living systems by Siemens will ensure you are both secure and comfortable.
The River Bangkok includes a wide range of facilities for owners and visitors to enjoy, including a state of the art fitness centre and sky gardens. There is a riverfront infinity pool and an Olympic length lap pool and ample parking is also available.
The Developer
Raimon Land Plc is the developer of The River, and are well known for their niche condominium and villa developments in Bangkok and the holiday locations in Thailand. They have won the award for Best Developer at the Thailand Property Awards several times and were also recognised for Best Condo Development 2010 for their Northpoint development in Pattaya.
Timelines and Contact Details
The property has now been completed and is ready for you to move in.
You can contact Raimon Land Plc in Bangkok at:
Phone: +66 2651 9600 4
Email: direct.marketing@raimonland.com

To get more information & assistance on The River, Bangkok, please submit the form below and our specialist will get in touch with you at the earliest.