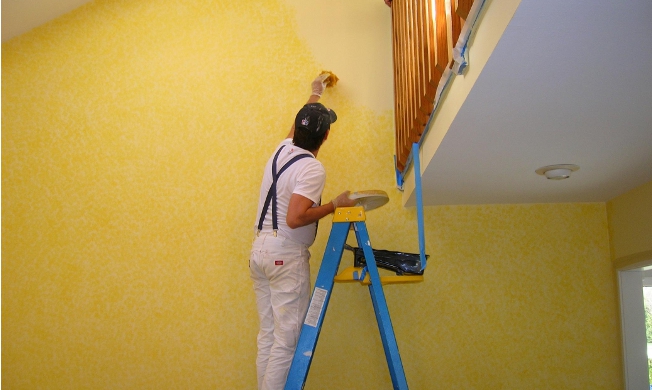 Painting your home is one of the most important and exciting areas of home improvement. Having said that whether you are planning to paint your interiors or exteriors, it can be a daunting task and thus requires professional help. While several homeowners successfully do the job themselves, they however opine that it's best left to the experts.
Letting professional painters do the job saves you a lot of time, takes the stress out and also gives a better finish to the job. Plus the equipment involved like brushes, rollers, ladders, etc. is an added expenditure if you do it yourself. So hiring a painting contractor can be the best option, because they are not only more experienced, but the equipment involved is also readily available with them.
Before you hire a painting contractor, here are some things you should take into consideration:
1. Be sure to hire someone who has been operating for at least two to three years. So find out how long the contractor has been in business.
2. Sometimes the contractor may be qualified, but are his employees experienced painters too? Make sure the company has skilled workers. Don't shy away from asking what training or qualifications the painters have.
3. Be sure that the contractor has insurance because it is absolutely critical that they have one. A licensed, reputed painting contractor will always have an insurance coverage. Remember, it protects him and his workers on site, as well as saves you from a lot of hassles.
4. Ask the contractor to provide you a list of references. Once you have the references in hand, call at least a couple of them.
5. Ask in detail how he plans to go about the preparation work. A good contractor will not skimp on the prep work to cut corners and instead take the time to do everything the way it should be done.
6. See if the painting contractor can recommend what materials will work best based on your budget and likes and dislikes. A professional painting contractor not only keeps himself up-to-date on the latest products and techniques, but is also knowledgeable about latest trends and can suggest options for colors and finishes.
7. Make sure the painting contractor gives everything in writing, be it the contract or any other specifications. Also see if he is offering a maintenance program. Probably he will not tell you this, but it is best to ask him.
Before taking your final decision, select three or more good painting contractors, get quotes from them and see how they compare. The trick to getting the right painting contractor is to have a clear mind of what you expect from him and in conveying the same to him.
To get more information & assistance, please submit the form below and our specialist will get in touch with you at the earliest.