When I spoke to the developer today I was a little surprised. Karjat, the picturesque town in Maharashtra's Konkan coast, is situated in the foothills of Matheran and is a well-known hill station in Maharashtra. The easy accessibility to Karjat from Mumbai has made it a prime weekend getaway.
However it's been almost a year since I first reviewed this development and the prices of the plots have not appreciated enough to boost the confidence  of buyers in Karjat. If we look at the prices of plots in Ushawoods there has been no change in its inaugural price even after many owners have actually started building their bungalows.
The developer however said that "currently Karjat has a lot of Non-agricultural land to offer. But in a couple of years, say 5 years from now, the residential real estate market will have no new plots to offer. It will be then that prices will see a marked appreciation."
"Buyers in Karjat has to be a little patient and have to wait for another 5-6 years if they are solely buying to profit on their investments. However if they are looking to buy to build a weekend or holiday home then they will not be disappointed. Where else can you find so much of greenery near Mumbai like Karjat," the developer added.
Karjat no doubt has recently seen a sea change in infrastructure development and tourist facilities. It has secured a place in the tourist map due to its cross proximity to the international airport, railheads and many large developments of special economic zones (SEZs) like Reliance and Navi Mumbai.
Now, back to the development we are featuring in this article – UshaWoods – offering non-agricultural (NA) plots for bungalows. The project has been cited to be a high-end developed gated community and is situated strategically on the Old Bombay-Pune Highway in Raigad District at Kashele. The project is 20-minute drive from Karjat railway station.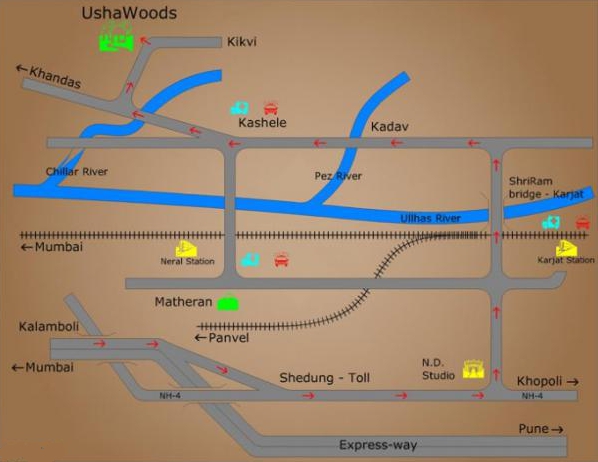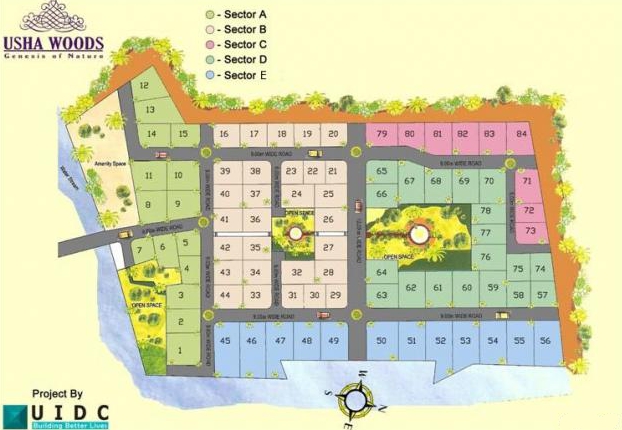 Spread over 13 acres of land with a total of about 84 plots, ranging in size from 2,500 square feet to 6,500 square feet, the USP of the project, as mentioned by the developers themselves, is that: it isn't so large that you would feel lost, yet ensures that you have enough neighbours for a friendly chat on those weekends away from home.
CURRENT STATUS:
Several owners who have bought plots since the project's launch in 2011, have started building their bungalows. Currently only a handful of plots are available for sale.
PLOT SIZES:
Sizes of the Plots in UshaWoods are: 2600, 3300 and 3500 square feet. The FSI of these non-agricultural plots is much higher at 1 (100%), i.e on a land of 100 square meters the buyer can utilise the entire 100 square meter for constructing a house. Each plot will have its own boundary wall and gate with 24×7 security plan for the entire development.
LEGAL:
The developer of UshaWoods, Usha Infrastructure Development Corporation, is also offering services to buyers, including transferring the 7/12 extract to the buyer's name.
AMENITIES:
Apart from a complete infrastructure with utilities like internal roads, lighting, water supply and drainage coupled with little pleasures like landscaped theme gardens and riverside lawns, Usha Infrastructure Development Corporation is also providing architectural and landscape designing, and construction of bungalows to buyers. UshaWoods will also have club houses, gymnasiums, swimming pools, and restaurants.
PRICING:
The plots are priced at Rs. 377 and Rs. 399 per square feet onwards depending on plot location.
For more information contact:
Usha Infrastructure Development Corporation:

In Thane:
Address: 407, Dev Milan Tower, LBS Road, Thane (W), Maharashtra, 400603
Mobile: +91 – 99 752299 12
Mobile: +91 – 96 898436 10
In Karjat:
Address: 202, Swapnadeep Apts, Karjat-Raigad, Maharashtra, 410201
Phone: +91-2148-686666, 696666
To get more information & assistance on Ushawoods, Karjat, please submit the form below and our specialist will get in touch with you at the earliest.