The Irani Zorastrians are well known for their bakeries in and around Mumbai or Pune – the fresh bread, delicious pastries, rolls and melt-in-the-mouth pavs – are unmatched by any other mass bread manufacturers. Karjatkars too have the opportunity to enjoy some of these bakes, courtesy, Meherzad Afagh, the 33-year old entrepreneur who has been running a popular chain called Meher Bakery for the last 11 years.
After pursuing a degree in hotel management from Rizvi College, Meherzad joined his family profession, operating a bakery in Mumbai – New Persian Bakery. Soon after, he entered Karjat to set up Meher in 2002. In this exclusive interview with Holiday Home Times, Meherzad speaks about the gradual expansion of Meher, his life in Karjat, the competitive real estate market and much more.
The interview…
Why did you decide to open a bakery in Karjat? How much did you invest in this venture?
My ancestors ran a bakery in Mumbai, the New Persian Bakery in Parel. I was one of the four brothers who was running it. Then my wife persuaded me to start a bakery of my own since we already had ancestral land in Posari – which is around 4 kms away from Karjat station. So Karjat was the first choice to set up Meher. I started with Rs 5 to Rs 10 lakhs on 600 square feet and now it spans across 4500 square feet, and has the capacity to produce 400 kgs a day. Karjat is a beautiful place to live in, especially in the rains; it turns into a scenic wonder.   
What were the problems you faced while starting a shop in Karjat?
Initially, it was difficult to expand my business, because I had to make stuff in Posari and take it to the other outlets. Labour also can be an issue. It is very difficult to get a dedicated group of people to run the bakery. The labour cost has gone up from Rs 150 a day to Rs 300. Now a day it has become extremely tough to get bhaiyas to bake. Although getting the required permission to set up a commercial establishment was easy from Alibaug. Besides, one has to keep the cost of the items reasonable, hence margins could be low. It's challenging to run business in Karjat, several factors have to be considered and studied.
How many shops do you have here?
I have four outlets – in Dahivali, Patilali, one just opposite to the Police grounds and one bakery in Posari. I also supply bakery products to other general stores in Karjat and have franchise outlets in few villages.
What are the food items available at Meher? Any specialty?
Meher sells a mix of bakery products – kharis, mithai, farsaan, biscuits, nankaties, toasts, cookies, samosas, sandwiches and much more. Fresh fruit cakes would be the specialty here. Swiss truffle, chocolate truffle, pineapple cake, black magic, etc – all are prepared using quality ingredients. Some of our produce is taken to Mumbai to be sold as well, mostly cookies, kahris, biscuits, mithai and farsaan.
What are the activities you engage in apart from work?
We have two-and-a-half acre plot which is used only for agricultural purpose. I enjoy farming; we grow different vegetables and fruits like pineapples, coconut, mangoes, etc. It helps me take my mind off work and it's good to grow your own produce. Although this year, due to lack of water since the canal work is underway, three borings have dried up, and there has been less number of mangoes.
What is the general budget one should keep in mind when looking to buy a property in Karjat and what can they expect to get for that?
The rates have gone up significantly over the past five years. The 2 acre land I was talking about earlier, I had bought for Rs 7 lakhs, and now the value is around one and a half crore. A gunta would cost Rs 6 lakh for NA plot, and near the market its Rs 17 lakhs a gunta for NA. I would suggest the best thing would be to buy land and keep it, and five to 10 years down the line, rates are going to shoot up even more.
What is the present level of activity in the real estate sector of Karjat?
Companies like Reliance, Tata, Hiranandani are looking to construct housing or entertainment projects. Many low-cost buildings have come up as well, but one should check the reliability of the project/ developer before purchasing. Karjat is also a green zone, so companies can't start industries here. Once the local train operates from Panvel to Karjat, it will further boost development. The future certainly looks good. In the next 10 years, Karjat will be like Mumbai.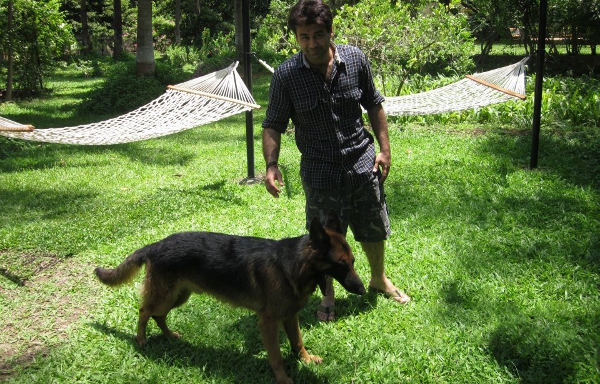 What about your social life? Do you have friends you hang out with and what do they do?
Since there are no movie theatres in Karjat to kill time, I either call friends from Mumbai or meet up with few people like Mistry, Rustam Tarapore or Roxanne, who live here permanently.
Are there good choices of restaurants available around?
I like the food at Lucky's Korner and the buffet at Rivergate resort is good as well.