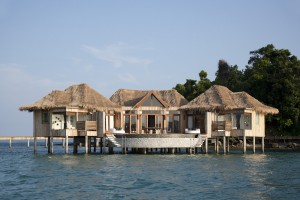 Cambodia is a relative newcomer to the concept of luxury villas and resorts. One of the few resorts that has been developed on two Cambodian islands is Song Saa Private Island, but here no expense has been spared to make this development simply spectacular. The name Song Saa is a local phrase meaning "Sweet Hearts" and describes the two islands that are joined by a footbridge to form this resort.
Song Saa is located in the Gulf of Thailand, just 35 minutes by boat from the port of Sihanoukville. The island has been relatively untouched and is surrounded by tropical rainforests looks over a beautiful reef that is home to colorful fishes, turtles and other sea life – just perfect for snorkeling. To reach the island from Phnom Penh, Sihanoukville Port is a three-hour drive. Alternatively you can fly directly into Sihanoukville International Airport and the port is just a 15-minute drive from there. The boat ride to the island departs the port twice a day.
About Song Saa Private Island:
This resort development has 27 intimate villas which have been designed to make the most of the natural beauty surrounding them. With plenty of windows and light, no expense has been spared on their appointments. Some of the villas are available for sale, and include both one and two bedroom villas. They are offered on a 99 year leasehold, with an 8% return guaranteed for the first 5 years. Pricing of the villas starts at US$600,000.
There are three types of villas available, Over Water, Jungle and Ocean View, all with plunge pools and their own unique outlook. Each has been built with sustainable materials and are furnished with local items. Blending nature as part of the design – think driftwood, bamboo roots, seed pods and discarded fishing boats, all being used to decorate the interior in handcrafted features. Modern touches such as a Bose stereo systems are also available so you can relax in comfort.
The resort includes a large infinity swimming pool, yoga and mediation centre and a spa sanctuary that is in the middle of the rainforest and looks over this tranquil place. Plenty of facilities are available for the more adventurous, including kayaking, snorkelling and boating. The resort also offers an ecological program to learn more about the region's flora and fauna or perhaps even go bird watching. If you enjoy some retail therapy, there is a boutique that showcases local crafts and designers as well.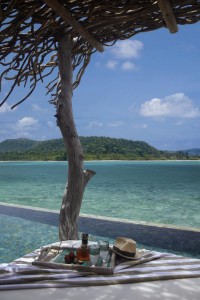 The resort's cuisine is a fusion between traditional Cambodian specialties with a modern Western influence. There is a restaurant that is surrounded by the sea and serves contemporary Cambodian cuisines, the Driftwood Bar has more casual pizza and tapas washed down with a cool beverage. Dining is also available poolside, in-villa or at a special destination of your choice around the island.
The brainchild of Rory and Melita Hunter, this luxury resort has been developed with love. Melita is an experienced interior designer and artist, who has used her love of organic sculpture to help design the architecture and interior design of the resort. The focus has been on blending the resort into the environment, and making the beautiful surroundings a natural part of the development. Rory is an experienced property developer, who is responsible for the strategic vision of the resort, and has a keen interest in ensuring its sustainability and environmental integrity.
With a focus on sustainability, Song Saa Private Island also has a range of conservation and community programs that it is involved in. The reef that fringes the islands are part of Cambodia's first marine protected area, and cover 1 million square meters. A staff marine biologist undertakes education programs with local fisherman to develop sustainable fishing methods. The local water is also closely monitored to ensure that the reef remains healthy for the local wildlife. On land, the resort is also involved in conservation projects with the local villages, including treatment systems for grey water.
Song Saa Private Island has won a multitude of awards including the Best Resorts in the Hospitality Design Awards 2013, the Global Vision Award for Sustainability from Travel and Leisure and Best Hotel Interior, Asia Pacific at the International Hotel Awards in 2012.
Contact Details:
For more information on how to purchase your little slice of heaven, contact:
Edward Gibbons
Email: Edward@songsaa.com
Phone: +855 89 777 015
Leaving you with some of the amazing images of Song Saa Private Island – Cambodia:
[wzslider]
To get more information & assistance on Song Saa Private Island, Cambodia, please submit the form below and our specialist will get in touch with you at the earliest.