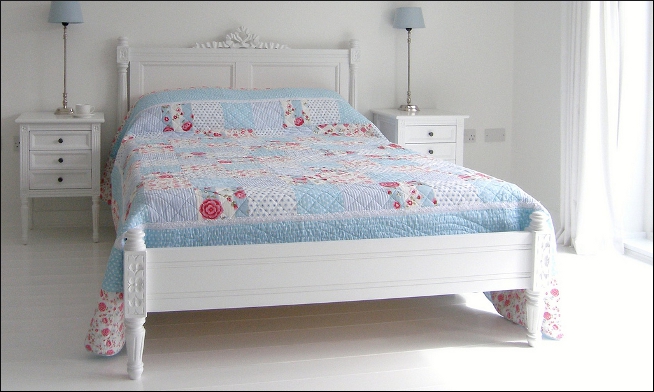 Do you have a small room in your property, which you would like to transform into a bedroom to deal with extra guests during the peak season?
Usually, the study room, which is smaller than your bedrooms of your holiday home, is the least used room. Even when you are taking a vacation in your holiday home, you tend to use the study room very sparingly. So why not covert the study into another bedroom, which will help you to accommodate another guest if required!
Here are some ideas to make it look more spacious so that guests so not feel claustrophobic:
1. Indoor Paint: Use soft colors like white and cream on the walls and ceilings; these give a feeling of spaciousness as they reflect the light. Dark colors like mauve, blue, purple or green may look attractive and warm, but they absorb light and make the room look small.
2. Flooring: Even the floor could be light-colored vitrified tiles or light laminated wood. Small colored rugs can be used to make the room bright. The entrance door of the room could be a sliding type to save space when it is to be opened or closed.
3. Lighting: Any room will look brighter if it's well lit, either by natural light or artificial illumination. Make way in the walls to open up a window or two to let the light of outdoors into the space. Also add more lamps or install recessed fixtures.
4. Wardrobes: Make sure you don't make floor-to-ceiling wardrobes. The storage could be at a higher level. If you do need a wardrobe, give them sliding shutters to save space. Paint the shutters in the same color as the wall. Creating open shelves for some storage will be fine as they will not make the room look small.
5. Furniture: The bed could be queen-size, platform-type or futon. Box beds have a bulky look, and will eat into the area. If at all you decide on a box bed, go for the one that has enough storage space – many box beds come with drawers. If you have a table in the room, give it a glass top. The television can be mounted on the wall to save on floor space.
6. Mirrors: Hang a couple of mirrors to add depth. The space and light will be reflected for a more open feeling.
7.Curtains and upholstery: The color of curtains should be similar to that of the walls to reflect the light, and they should preferably be made of a sheer fabric. Other upholstery like the bed spread and the sofa should also be plain or with a small pattern. Most importantly, the room décor should be kept monochrome, minimalist and clutter-free.
Follow the tips given above and your guests will surely have a comfortable visit and love the time they spend in your holiday home.
To get more information & assistance, please submit the form below and our specialist will get in touch with you at the earliest.