Decorating the garden of your home or holiday home and converting it to a wonderful outdoor space will add tremendous value to your property. Given a chance, guests would always prefer spending time outdoors and a nicely manicured and planned garden can be that ideal space to spend some time with their friends or family.
However most home owners feel that maintaining a garden or outdoor space takes a great deal of effort, time and money. What they fail to understand is that small and simple additions can effectively transform the look and feel of that space. Today there are a number of accessories such as garden ornaments that can be used to enhance one's garden, create a focal point or simply make the area more relaxing.
A garden invariably should be an extension of your home reflecting your own personal taste and individual style. And what better way can it be than by using garden ornaments to lighten up the area! Garden ornaments are a fabulous way of adding some of your personality to your garden design and the vast choice of garden statues means that you can create your own personalised haven. The most popular garden ornaments are garden animals, garden statues and garden gnomes to bring your garden to life.
Garden Fountains: A popular garden ornament can be a garden fountain, preferably one with built-in solar panels and lights. Water fountains are either battery operated or run on electricity. So if you feel that running cords and constantly changing or charging batteries is not what you want, you can also install a solar water fountain. It should always be featured in an area that is well lit for most of the day and where there are no other garden ornaments. You want the fountain to stand out and not be overcrowded. Fountains come in a variety of sizes, styles and shapes. However holiday home owners must be careful while choosing a fountain. The size of the fountain should be in proportion to the size of your garden or outdoor area. If the fountain is too small it will not be able to draw the attention of your guests and if the fountain is too large, it will overpower the area and look like an eyesore.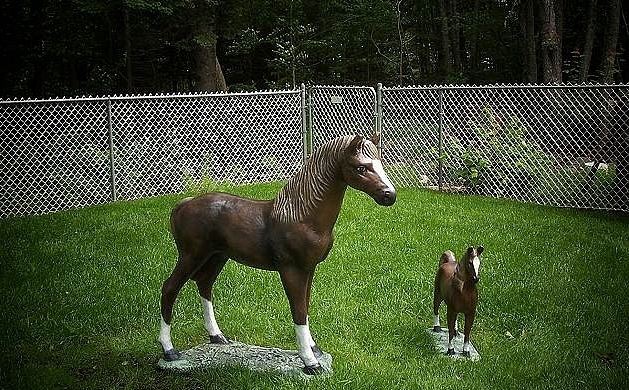 Garden Statues: One can also create a whimsical garden theme with cherub garden statues and sleeping pixies delicately crafted out of stone. Garden statues can be a reflection of your personality or your garden theme and there is no better way to decorate your garden and add character than with garden statues. Choose from a wide variety of garden statues: stone carvings, bronze replicas, or resin figurines; every material offers hundreds of choices. From animals to fairies, from children to famous faces, there are garden statues to suit everyone's style, budget and taste. Garden statues can also be used to create an atmosphere in your garden. For instance, a deer or bear statue can give your garden an outdoor feel, while a replica of a famous work of art will give your garden a formal feel.
Bird Feeders and Bird Baths: Bird feeders and bird baths are now available as garden ornaments and are a wonderful way to decorate your garden. They can add a unique touch of whimsy to your property while attracting beautiful birds that bring your yard and garden to life with splashes of color and nature's music. Today there is a wide variety of bird feeders and bird baths available in the market. So if you prefer your garden to be a hub for nature with birds visiting alongside other garden creatures, bird baths are the perfect accompaniment to any nature focused garden and will have birds flocking to visit.
Plant Stands: If gardening is your hobby and you enjoy decorating your home with plants and flowers, decorative plant stands in the garden can enable you to put them on display conveniently in almost any part. Flowers and plants in your garden can make a terrific addition to your outdoor decor because they add color, fragrance and beauty. Plant stands are available in various shapes, sizes and material. If you want to give a rustic touch to your garden you can also go for stone plant stands which can add value to your outdoor space.
Garden Gnomes and Stones: Meanwhile garden gnomes and garden stones can add an element of fun to your garden and even a single gnome can help brighten your guests' day. Garden stones are a delightful and natural way to decorate your garden. And with a variety of shapes, sizes and themes, it is easy to find garden stones that fit the look you want to achieve. Today the market is flooded with garden stones with figurines or engravings. Delightful animal carvings can invariably add to the beauty of your garden.
To get more information & assistance, please submit the form below and our specialist will get in touch with you at the earliest.