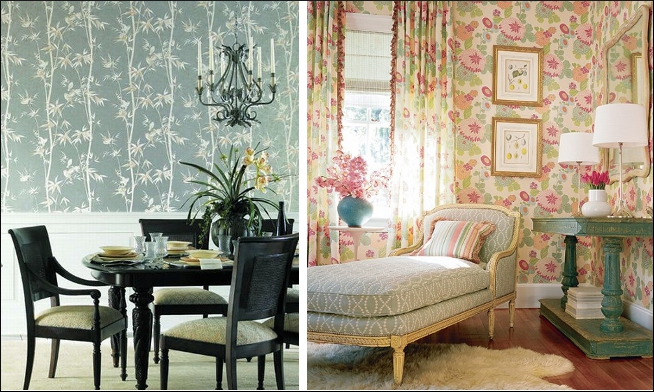 A few years ago, homeowners used to paint their entire house in one or a couple of shades. But now they want to have specific walls, some portion of the room or some rooms done differently with theme motifs, patterns, textures and contrasting colors, which not only match one's tastes but also accompany seasonal changes as well.
And invariably, wallpaper is increasingly making its presence felt. Whether redecorating an entire room or creating a featured wall, wallpapers offer a whole gamut for the owner to choose from.
Wallpaper Vs. Paint:
One challenge that homeowners face, is deciding whether to use paint or wallpaper. There are advantages and disadvantages for both, but the thing to remember is that when either product has been applied correctly the end result can be absolutely breathtaking.
Here are some of the advantages of using wallpaper:
Variety of patterns and

textures

More stylish

Stays with a theme

Adds character

Adds value to the home

Easy to install

Easy to maintain

Durable

Economical

Easily changes the ambience in a room and helps to brighten a dull room
Another advantage of using wallpaper, is that it can conceal flaws or unevenness in your walls. Older homes often suffer from this, and it's a lot less expensive to apply a good wallpaper than completely re-plastering the walls.
Wallpaper can help change the impression in a room, it can reduce the apparent height of a tall room, or increase the perceived height of a low ceiling.
The final advantage of using wallpaper is that it can easily maintain its good looks for 10-15 years. However it is important to keep that in mind when selecting a style and design of wallpaper, as it could be a very long-term decision.
Disadvantages of using wallpaper:
In humid conditions, the glue may loosen and can actually cause the wallpaper to peel from the wall. This may also get soiled or damaged.

Over time it's almost impossible to match the color or pattern of your existing wallpaper, with that of a damaged one that needs replacing.

However this can be overcome by keeping a few spare rolls of the wallpaper you have used. But be aware that the wallpaper already on the wall may have lost its colour in the sun and may look faded in comparison to the new rolls.
Having said that, wallpaper is one of the easiest and quickest ways to create a new mood and unique style for your room.
To get more information & assistance, please submit the form below and our specialist will get in touch with you at the earliest.