This week we have interviewed Gita Choksi, the third generation owner of Maidstone, the almost century-old family home of the Virjees in Panchgani, as she talks about her childhood days, her attachment to this cozy homestay on the edge of the hillside overlooking the Krishna river, and why she decided to leave the corporate world to dedicate her time in restoring Maidstone to its old glory and become a proud and discerning homestay owner.
The interview…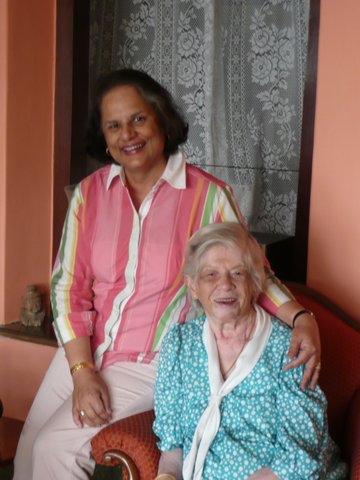 Please tell us something about your background – personal and professional.
I was brought up in Panchgani, went to school there, so that's where the roots start from actually. My mother was widowed at a very young age, when I was an infant in her arms. So she returned to her parents' home in Panchgani. I was enrolled at the same school she went to. I had a wonderful childhood for fifteen years – the schooling that I did there, enjoying being with the family, as well as enjoying the benefits of a boarding school and being a day scholar' and there were always children around in my grandparents' home so, one never lacked company as such. It was way back in the 50s when my grandparents, my Mum and her sister (my very talented aunt) started running Maidstone as a guesthouse. These were very different times. Guests came for longer holidays resulting in making a lot of very nice friends. After I finished my school, I came back to Bombay to the university. Mum returned with me, while my grandparents continued running Maidstone as a guesthouse. While we had the main bungalow where the family stayed and so did the guests, we also had an annexe building which was erected in the 1940s and the rent it generated helped run the estate and sustain the monthly expenditures.
In the 70s, Mum's brother and his wife, who had come from Burma; and her eldest brother along with his wife continued with the tradition of running the guesthouse through the 70s, 80s and 90s. And in 2003, I took the very tough decision of leaving the corporate world and to go and look after the property and the guesthouse in Panchgani, not realising what a daunting task it was to be to handle it single-handedly. Most of my working life/ career of over thirty-one years was in the travel and tourism industry. I started my career with Cox & Kings. Later, after the birth of our son, I joined Thomas Cook where I had a wide and varied experience in tourism, conferences, public relations & foreign exchange. The latter was incredible – all I knew was how to spell the two words 'FOREIGN EXCHANGE' and take the same for my umpteen overseas trips. The department knew little of management skills and corporate etiquette. Together we shared and learnt – an experience I have never forgotten. In the mid 90s, I got an offer from Travel Corporation (India) – TCI to be posted in Germany as Vice President Sales & Marketing to oversee their seven offices in Europe. At the turn of the century, I returned to India and worked in their head office for four years. Recent visits to Panchgani and the failing health of my Uncle as well as the condition of the bungalow, made me decide to leave the corporate world to look after Maidstone full time in early 2004. The Tourism Industry afforded me a lot of my professional experience which has stood me in good stead over these past nine years to refurbish and restore Maidstone to its old glory.
How did you acquire this property?
I inherited the property. My Mum was one of the shareholders of the property and after she died, her share was split between my brother and myself. My brother had lived overseas all his life, so was not interested at all in the property, nor has any sentiments attached to it. The other two share-holders are my two amazing aunts, aged 91 and 101. Yes, that's correct! Longevity does reign in the family genes! So the entire responsibility of taking care of Maidstone is mine, which I do enjoy, but it takes its toll as well.
Can you tell us a bit about the property and its history?
The property is at least 150 or 160 years old. My Papa (grandfather) acquired it for his family way back in 1920. Maidstone is a home away from home. It is a heritage home, dating back to the middle of the 19th century, built by an Englishman, Mr Crisp, who hailed from Maidstone in Kent (UK). He later left it to his niece who leased it to my Grand Papa, Jal Pestonji Virjee. Years later, he purchased this 7 ¾ acre estate outright for the princely sum of Rs 17,000. Papa came to Panchgani in search of a health and education haven for his sickly brood of six. He brought them over with Mama for what was to have been a six weeks of "change of air" and since 92 years have passed into history.
When and why did you decide to turn your property into a holiday home? How did you start out? What are the small changes you made to change from a home to a holiday home?
It has been a homestay right from the 1950s till 2004, when I acquired it. Over the years Papa and Uncle effected many repairs and built extensions. A lot of the interiors were patchwork and economising in various areas; the thinking was different. On my arrival I saw that there was lot to be done. I turned my life 360 degrees and started reading books on paints, cements, re-structural changes, and a little bit of interior decor – books I would never have dreamed of reading until a year ago. My first job was to change the complete roof to ensure that the head of the house is secured. We spent, what I then thought, was a very large amount. This was a contribution made by the existing family shareholders. And I changed very sheet! After I was done with the roof, I started off with the guest rooms on top. And I took them up one by one. Started painting and in some cases plastering them too, using new anti-fungus paints, to avert the damp and fungus that is created in the monsoons. Then I went into our storehouse and I pulled out lots of old furniture. Tables, chairs, beds cupboards, chests of drawers, teapoys; all were scraped of their paint or the old black polish, re-polished and all refurbished to reveal the beautiful pattern of the wood grain and make them as good as new. I also unearthed Papa's paintings, cleaned them with a lot of TLC. They now adorn the walls of the guest rooms. While the rooms were usable, they were still not in the condition I would love them to be. As the house earned from the homestay and a few rents I would set it aside and carry out one major refurbishment. This happened over 2005, 06 and 07. I was being highly optimistic when I thought that the entire refurbishing should have taken two or three years. But because of the cash crunch and doing one task at a time, it took me eight years to complete. I am now finished with it all except my own room and bathroom – probably one day!
As of this year everything is ready. Most of the rooms are named with some sentiments behind them. The floral names are usually named because of the trees that were planted or are planted outside the rooms. All the rooms have an old-world charm. The bathrooms are very functional. In short, all big issues have been taken care of.
After I had done up the guests rooms, I came down to the ground floor where the family resides. The living room and front veranda are painted in welcoming colours of melon and sunny yellow. The exteriors of the house have been painted in a combination of mushroom and white, which goes very well with the red earth of Panchgani.
I am now concentrating on the garden with the aid of a good 'mali" – I do hope he stays. The desire is to revive it and make it into the prize-winning garden that it used to be in 1950s.
You have been in the business of holiday home rental for quite some time now. Could you tell us how much involvement is required from you (as the owner) to successfully run this business?
Involvement, I would say one hundred and fifty percent. It is absolutely exhausting, but rewarding. Except for just one lot of unhappy guests, this is my ninth year with the place and we have never had any unhappy guests.
What is the present level of activity in the real estate sector of Panchgani? Would you recommend it as a location for holiday home buyers and homestays?
Yes, there is a lot of building activity in Panchgani. People from Bombay and Pune or other nearby towns are building their own homes here—some rather nice ones, mostly modern designs. But unfortunately there is a lot of indiscriminate construction- the ruination of so many such places in our country. A lot of hotels of varying standards and amenities have also sprung up, but it is the old one that continue to be the favourites. There are a few other homestays as well. In fact there are a couple of them whom we recommended to guests when we are full or when we feel the profile of the clientele does not fall in line with our type. People are not into buying homes here, as they are into renting existing homes; the rental period varies from a week, fortnight, to three weeks. And whatever is being built is in the downtown or which is the 'gaonthan' area as we know, the less said the better.
You must have been interacting with several kinds of visitors who had stayed in your home. What kinds of guests, according to you, are suitable for staying in your holiday home?
Definitely not huge groups. I prefer couples or families of four to six members. I did experiment unknowingly with a few large groups of 16 and 18 at one time. But they were very demanding and too much of a strain on the entire infrastructure. I do a certain amount of screening of guests, which I think is necessary. You need certain PLU's (People like Us), after all, our home is being opened out to them.
What is your philosophy that drives how you to run things in your property? Do you have any set rules or ideals that as a holiday home owner you must follow?
I don't think I have any philosophy. Everything is by gut and luck. And of course my professional background comes to my aid. The only set of rules I have is 'Don't smoke in the rooms' and I no longer allow pets because most guests were not sensitive to not taking pets onto the bed. But no pets, no smoking in the rooms, that's about it.
Unlike hotels, in a homestay, you are opening up your home to guests, many of whom you have just interacted with or have never met before. How do you ensure or how do you build the trust that makes you believe that a particular guest is best for your holiday home.
That's why I mentioned earlier that we try and screen the guests. Sometimes it's difficult to do so over the phone. But I must say I have been very fortunate. Most guests, especially the younger generation, have turned out to be extremely nice. It's delightful to talk to them and to know them. Except for losing one coffee table book and a few very pretty wooden flowers, so far we have not lost anything.
Have you had any high profile guests? What are important things to keep in mind while handling them?
I can't say we have had very high profile guests like actors or actresses. But we do have a list of very affluent guests who are very happy to experience the home stay. Many of them have in fact often asked for advice on how they can convert their holiday home into a homestay. Many of our guests at Maidstone are repeat guests who come to enjoy a break away from the hustle bustle of the cities.
With regard to the important things to keep in mind while handling guests, I don't have a set of rules. This is our home and guests are welcome to join the hospitality. Special requests are to be informed before hand and one does one's best to cater to them. Everyone is made to feel welcome and gets the same treatment at Maidstone, which exudes warmth and a familial spirit. There is no exceptional luxury in the rooms. The overall old-world charm of Maidstone is a unique experience by itself.
Have you added any amenities on the luxury side? What are ones that you are eying?
No, I don't intend to make Maidstone into a hotel leave alone a 5-star hotel. It is perfect the way it is today. Yes, I have changed a couple of things to add to the "delight feel" of the rooms and bathrooms. The walls are painted in different hues, the soaps have been upgraded – made by an NGO, changed all the furnishings and mattresses, etc. Bed and bath linen we change every third day. Sometimes people want additional bath linen every alternate day, which we do provide.
What are present rates that you charge? Where would you like to see this go in the near term and what do you think we as an industry can do to get better rates?
I don't want to join the industry. Let me be very honest I am the only one to take the responsibility of running Maidstone. I did have some high floating ideas when I first came here of building a spa or a small leadership centre; but having seen the reality at the grassroots level I no longer want to be a part of it. I do not have the energy to expand and I am very happy the way Maidstone is today, where I see the reflection of my childhood memories on the walls of every room and I want our guests to be a part of it; that's all.
At the moment how big is your staff?
Normally we have a staff of five to six – the cook, two or three house-boys/ maids, a maali (gardener) and the driver.
What percentage of your business comes from travel agencies? Social Media? Friends? Regular clients?
From travel agencies I don't get any business. They want to book with us then they have to add their commissions over and above. I keep my rates competitive. I would say now 30-40 percent of our bookings are from TripAdvisor (thanks to a guest introducing us to the website), 30 percent from friends and their referrals and regular clients are 30-40 percent.
What are your top tips for other homestay owners?
One hundred percent personal involvement, not only for the caring of the place physically, but also to extend the hospitality at every moment of their stay is a must. A good staff and a high level of cleanliness and overall maintenance are also important. The maintenance level must be very high. And don't get into it if your heart is not in it.
Leaving you with some of the images of Maidstone:
[wzslider]

To get more information & assistance, please submit the form below and our specialist will get in touch with you at the earliest.