When you had built your holiday home website or had listed your property in a vacation rental website, the main reason for doing so was to make sure that travelers find you when they search in the various search engines and eventually book their stay. But, is your website or listing being seen by travelers? Are you getting enough inquiries? If not, then read on…
First of all just making a website of your holiday home/ homestay or entering the details in the property listing page of a vacation rental website in not enough. Here's what you should do:
1. Domain name: The domain name of your website can have a huge impact in the way both search engines and people perceive it. Always choose a domain name that people can remember easily, to increase the chances of people coming back to visit the website again. Next, keep it short and easy to spell. If possible, make use of keywords or popular search terms that you feel best define your holiday home.
2. Meta details: When you are searching for something on the internet, you go to a search engine and type in a few keywords. Then you probably select the first website or page in the search engine listing that you feel will give you the information you want. Now the position of these websites or webpages in this list depends on its ranking given by the search engine which is determined by the meta details used by these websites. In short, websites or webpages are ranked based on the location and frequency on the page of the keywords that you had typed in the search box.
The three components that search engines generally look at the placement of keywords in the webpage are: the title, keywords meta tag, text on the page, and description meta tag. Ideally, the headline of your property listing is the meta title. This not only appears at the top of your advertisement, but also in your property summary that shows up in search results. But for the website you need to insert it to the home page and other pages of your site. Make it short and crisp using words that clearly depict your holiday home and its major selling points.
Now when a person is browsing through the search results, they read the small description that goes with every search result. This meta description thus gives you a 20-second opportunity to convince a person to stay at your vacation rental property. So make sure that you describe your property in such a way that it helps them imagine why staying in your property is best for them.
When it comes to meta keywords choose your keywords list, keeping in mind the audience that you want to attract and the words that they would likely type into a search engine to find the information provided at your site.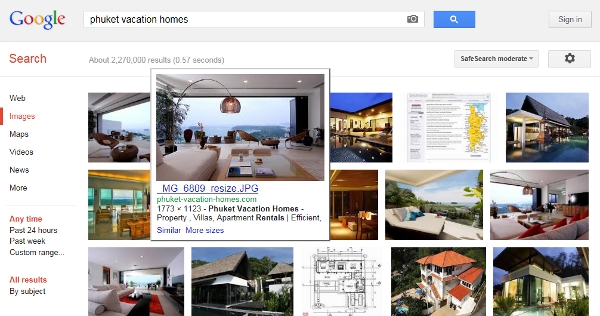 3. Naming images: If you want more travelers to come to your website or property listing, you need learn how to optimize your property images for better search engine rankings. And the first step should be naming the images correctly. Just like keywords in webpages are important, the same is true for images. Using keyword-rich words as your image file name is important for helping search engines determine relevancy. For example, if the name of your holiday home is Maidstone and is located in Phuket, instead of keeping the property image name as 1234.jpg, changing it to something more relevant like maidstone-holiday-home-phuket.jpg can ensure that your image shows up in search results of 'Phuket holiday home' or 'holiday home Phuket'.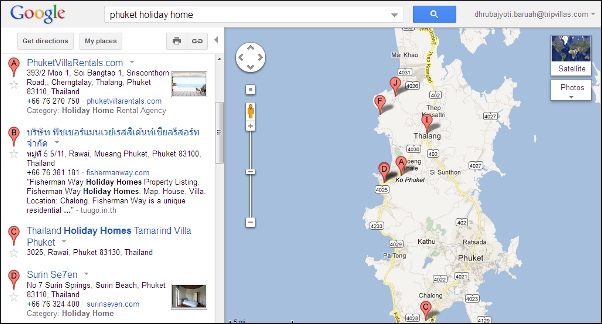 4. Google local: Google local is like the yellow pages we so fondly remember. It is one of the most important things you can do for your website and your holiday home rental business. Since your holiday home has a physical location, which you would want travelers to be able to locate, submitting to sites like Google Maps makes sense. Research says 70% of browsers searching for something end up clicking the local search results, which also appear on Google Maps. Because browsers usually believe that because the results in Google Local are "Google approved" businesses, they give more importance to these results. Moreover Google offers this for free. So grabbing your free local business listing is very crucial to ensure that you are seen by travelers on the internet.
5. Avoiding flash: As far as possible avoid flash in your website. Although a flash website makes a better user experience and can deliver the visual impact that an html website may lack, flash websites do not get indexed well by search engines and cannot be viewed on iPhone or iPad devices. Being a holiday home owner you would definitely rely solely on search engines to drive web traffic, so it's best to avoid having flash content.
To get more information & assistance, please submit the form below and our specialist will get in touch with you at the earliest.