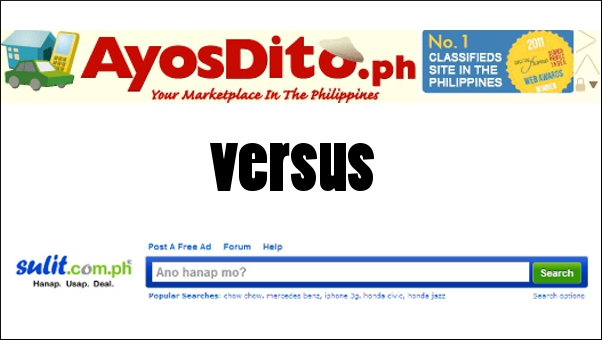 In the U.S., the top real estate classified websites may well be Trulia and Craigslist. These sites have millions of listings of properties on sale. But what if you're an expat looking for a comfy home in the Philippines? Where do you look for property listings? Craigslist may be a good idea, but it's not exactly the best source for buying property in the Philippines. The top two real estate classified websites in the country are Sulit.com.ph and Ayosdito.ph.
But which website is better for searching real estate properties in the Philippines?
I'll leave the answer to you. After you read through this head to head battle, I'm sure you'll know which website will suit your needs.
Introduction
Ayosdito.ph – this website was developed by 701 Search. It was funded by the joint venture of Singapore Press Holdings Limited and Schibsted ASA. Ayosdito is a classified ads website for buying and finding jobs, houses, cars and electronic gadgets. It provides ad listings for every locale or region in the Philippines.
Sulit.com.ph – was established in 2006 by a Filipino couple, RJ and Arianne David. They started with a measly budget of 2,400 Pesos, but they now have an extensive ad listing platform of different products and services, including real estate properties. The website gets more than 450,000 visitors per day.
Number of listings:
Ayosdito has 244,7736 nationwide listings as of August 2012. This includes listings for other categories, such as electronic gadgets, vehicles and clothes for sale.
Sulit has 278,129 listings just for the real estate category.
Website Features:
Home Page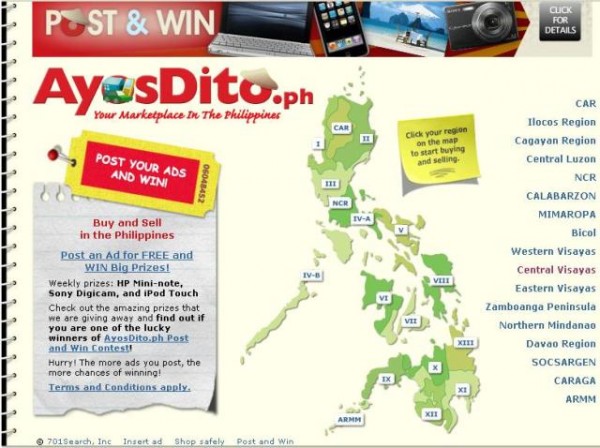 Ayosdito allows you to choose which region you'd like to purchase a property, thus narrowing down your search results.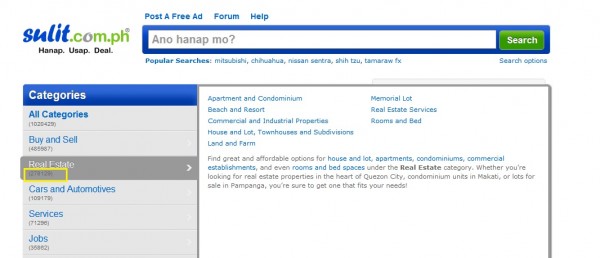 Sulit's homepage doesn't give you the chance to filter by location, but it will allow you to filter your options according to the type of property you're looking for. You can also search for properties using the search bar at the top of the webpage.
Which of the two real estate classified websites provides better search results?
Ayosdito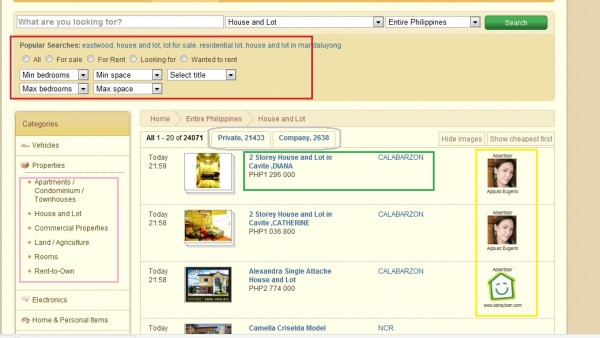 The results page will show you:
If ad is listed by a company or individual

Name and picture of listing owner

Property picture/thumbnail

Short property description

Property's general location

Filter for property searching- see the image, highlighted by the red box.
The search results for Ayosdito is pretty good, considering the amount of information you can get by just glancing at the search result's summary.
Sulit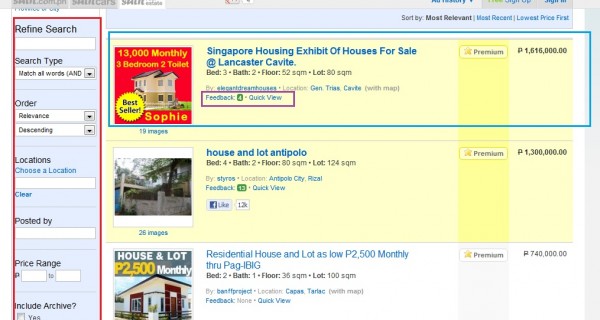 The search results for Sulit show pretty much the same information, with a few additions. Sulit's advanced search feature allows you to filter listings according to your budget, which is very important. On the other hand, Ayosdito allows users to filter the results according to the lot space and number of bedrooms. One thing that Ayosdito doesn't have is the feedback feature. This feature will be very useful in helping you determine if you can trust the legitimacy of the listing owner's ad and his attitude in doing business.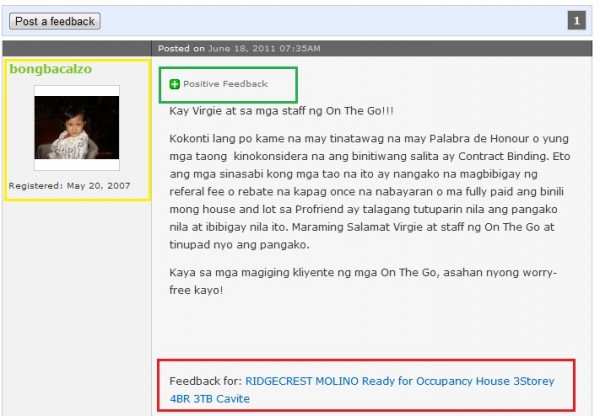 Which website shows more information about the listings and property for sale?
Ayosdito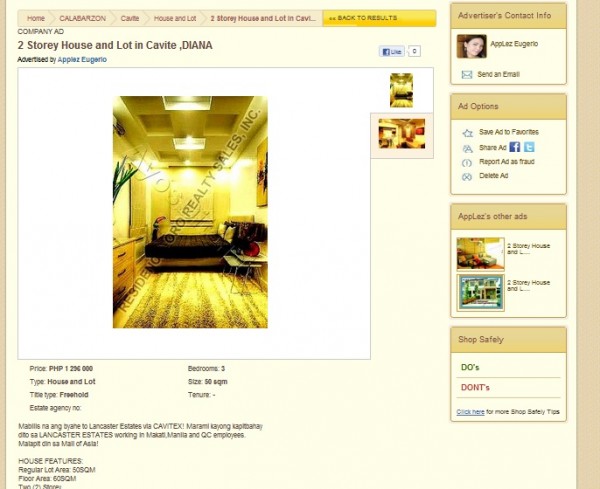 Sulit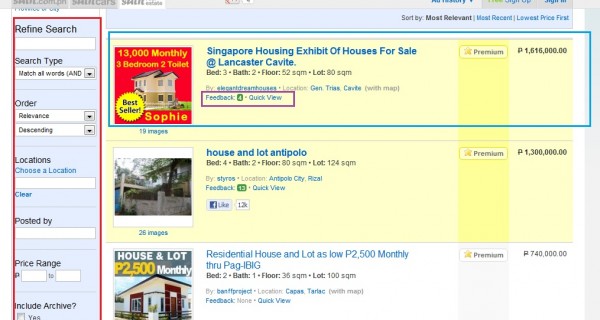 Head to head comparison of information provided in the listings
| | | |
| --- | --- | --- |
| Feature | Ayosdito | Sulit |
| Contact Details of listing owner | / | / |
| Property pictures | / | / |
| House description | / | / |
| Location | / | / |
| Price | / | / |
| Number of rooms, size of property, facilities | / | / |
| Send a message to the listing owner | / | / |
| Chat | x | / |
| Feedback/User experience | x | / |
| Forum | x | / |
| Google Maps | x | / |
Aside from the vast choices of property listings in Sulit, it's also comparably better than Ayosdito in terms of the features it has. Sulit also gives you the option to leave a message for the listing owner, even if you don't have an account. Still, for your own safety, don't agree to wire money to anyone unless legal documents have been signed.
To get more information & assistance, please submit the form below and our specialist will get in touch with you at the earliest.