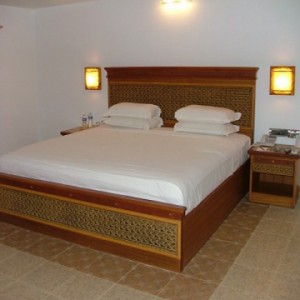 The demand for holiday homes in India is as wired into the country's overall economic performance as every other segment of residential real estate. This was observed by Om Ahuja, CEO – Residential Services, Jones Lang LaSalle India in his latest article titled 'Holiday Homes In India – Perennial Demand' published today in the company's blog.
"That said, it is also remarkably enduring; this has a lot to do with the justified Indian belief that two homes are always better than one, and that the second one should provide what the first one cannot," Ahuja wrote.
He went on to blog: "In India, there are insurmountable limitations on available space and therefore affordable home sizes in the most aspired-for first home locations – those as close to the business districts and workplace hubs as possible. The price tags on residential properties in these locations are extremely steep and the lifestyle quotient low in most cases, especially in cities like Mumbai, Delhi and Bangalore."
"This means that in the final choice of first homes by most Indian property buyers, comfort and natural ambience must invariably be sacrificed in favour of daily commuting distances that are, as far as possible, achievable. By the same coin, it is axiomatic that these limitations must be dispensed with when it comes to second home locations and configurations. Those who buy vacation homes tend to make their purchases in close-by hill stations or other accessible locations with convivial surroundings."
On the category of Indians who are currently investing in holiday home, Ahuja writes: "Indians who buy holiday homes tend to have higher disposable incomes and hail from the middle and top management segments. This buyer segment is usually in the age bracket of 35-45. These buyers purchase such homes either for investment purposes or as weekend getaways. Among many demand criteria for second home locations in India is that they must be within a few hours' of motorable distance from the parent cities."
Ahuja observed that the residents of five Indian metros – Mumbai, Chennai, Bangalore, Hyderabad and Delhi – are the foremost investors in the second home segment. He identified a dozen of locations where most Indians ideally invest in second homes including, Lonavala, Alibaug, Karjat and Goa for Mumbaikars; Pondicherry (Puducherry) and Yercaud for Chennai residents; Mysore and Ooty (Ootacamund) for Bangalore residents; Vizag for Hyderabad residents; and Mehrauli, Bijwasan, Rajokri and Chattarpur for Delhiites.
"For second home buyers in the financial capital (Mumbai), the most preferred locations are Lonavala, Alibaug, Karjat and Goa. Lonavala is by far the favourite with Mumbai residents, and there is a good supply pipeline of row-houses and bungalows by leading players such as Tata, Lodha, Piramal and Kalpataru. There is also a healthy demand for plots in Lonavala. The prices for row houses range from Rs. 1 crore to Rs. 2.5 crore, for bungalows from Rs. 1.5 crore to Rs. 4.5 crore and for plots from Rs. 25 lakh to Rs. 1 crore."
He went on: "Alibaug is a preferred destination for Mumbaikars who have a penchant for the coast. There is greater appreciation potential for this area waiting in the wings in the form of the proposed Nhava-Sewa link, which would vastly increase accessibility. Peninsula, Piramal and Samira Habitat are few of the prominent developers active in Alibaug. Row houses sell between Rs. 70 lakh to Rs. 2 crore, bungalows from Rs. 1.25 crore to Rs. 7 crore and plots from Rs. 2 lakh to Rs. 2 crore."
"Karjat is a new fad among Mumbai's holiday home buyers, offering affordability and serenity as its primary USPs. Not too many reputed developers are active in Karjat at the moment. Row houses sell from Rs. 30 lakh to Rs. 1.5 crore, bungalows from Rs. 65 lakh to Rs. 1.8 crore and plots from Rs. 10 lakh to Rs. 50 lakh."
Ahuja also noted that the state of Goa, which is also known as the beach capital of India, is the most preferred location for holiday home buyers.
"Goa is a perennial favourite and second home paradise for Mumbaikars. This rather unique market primarily offers villas for ready property buyers, these units being priced between Rs. 65 lakh and Rs. 5 crore, depending on how close they are to beaches and other preferred micro-locations within Goa. Plots are also available at prices between Rs. 30 lakh to Rs. 3 crore."
On the buying trend of residents of Chennai, he writes: "Chennai has its own second home hotspots in the coastal Pondicherry (Puducherry) – a unique microcosm that was formerly a French colony and still has much of that era frozen in time – and Yercaud near Salem – the perfect hill station located in the Shevaroys range of hills and perched at an altitude of 1515 metres above sea level."
"Pondicherry is a highly preferred destination among Chennai residents, and it has many second home options available – both by local and national developers. Villas are the predominant second home format and the prices of these range from Rs. 50 lakh to Rs. 2.5 crore. Residential plots are also available in a price range of Rs. 30 lakh to Rs. 1.5 crore."
"Yercaud's peaceful, scenic splendour has of late emerged as a magnet for Chennai second home seekers looking for something different. Because of its relatively recent entry on this market, it still has no reputed developers active with projects; local players are catering to the demand, but it is only a matter of time before this changes. The Yercaud second homes market currently offers villas ranging in price from Rs. 35 lakh to Rs. 1 crore, and plots priced between Rs. 10 lakh to Rs. 15 lakh," Ahuja further writes.
For Bangaloreans, Ahuja noted that Mysore still remained the most preferred location to buy a holiday home followed by Ooty. Both are very popular hill stations in the state.
"Despite competition from many other hotpsots, Mysore has stood the test of time as one of Bangalore citizens' favourite second home destinations. Famous for its overall cleanliness (it was rated the second cleanest city in India and the cleanest in Karnataka in 2010) and spirited festival celebrations, Mysore is Karnataka's second-largest city. Here agin, villas are the most popular second home configuration and are available in the range of Rs. 60 lakh to Rs. 3 crore. Land for personalized residential development is also in demand and plots can be bought for anything between Rs. 25 lakh to Rs. 1 crore."
"Ootacamund (or Ooty) is also an evergreen choice with second home buyers. Property rates in the Queen of Hill Stations range from Rs.60 lakhs to Rs.3 Crores for villas and bungalows, configurations for which there are always the highest number of enquiries."
For residents of Hyderabad, Vizag is a preferred location for their vacation home owing to a pleasant weather and large range of options to choose from, Ahuja noted in his article.
"Vizag is the second home investment location of choice for Hyderabad dwellers. Its USPs include relatively affordable property rates, decent appreciation potential, pleasant weather and the fact that it is a coastal region with many sea-facing property options available. Despite these obvious draws, there are currently still very few reputed developers active in this market."
"Bungalows are the preferred second home configuration in Vizag, and these can be picked up from anywhere between Rs. 45 lakh to Rs. 90 lakh. Plots for residential development are priced between Rs. 5 lakh to Rs. 1 crore."
In the north Ahuja opined that the second home investors from Delhi-NCR prefer farmhouses, a trend not shared by any city in the country.
"In Delhi-NCR, the most favoured second home format is the farmhouse. Farmhouse developments are located in clusters around Mehrauli, Bijwasan, Rajokri and Chattarpur and come in various sizes and configurations. Delhi NCR is unique in the respect of offering a unique farm house culture and temperament which has not found many parallels elsewhere in the country. These properties are available in the price range of Rs 2.5 Crore to Rs. 12 crore," Ahuja added.
RELATED STORY:
Surge in demand for second homes in India: report

A recent media report has said that while residential property sales have witnessed a significant decline in metros due to higher prices and high home loan rates, demand for second homes has picked up in the past couple of years in the outskirts of cities. This is especially seen in the upper end of the market as customers are not […]
Major holiday home projects in India:
Holiday home projects around Mumbai

Chance to own a ocean-view villa in Vizag in India
To get more information & assistance, please submit the form below and our specialist will get in touch with you at the earliest.