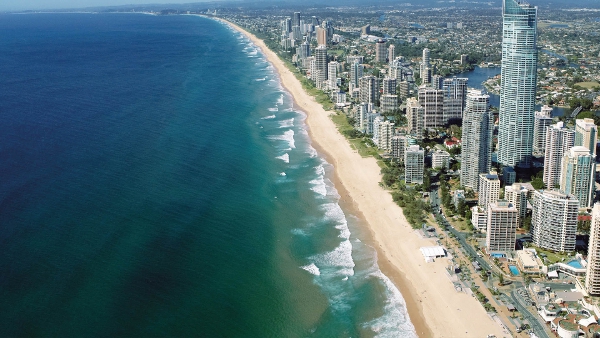 Almost anyone who has visited Queensland fantasies about owning a holiday home there. What is not to love? Miles of pristine, golden beaches, crystal clear water and a beautiful tropical breeze. The Sunshine State has been Australia's premier holiday home investment spot for decades and significant development has occurred along almost the entire coast. This means there is an abundance of properties, and in some places considerable over-supply. As a result, many parts of Queensland have been experiencing low or negative capital growth and constrained rental income in recent times.
But one person's loss is another's gain. Depending upon how you wish to you use your investment, for living in when you retire, for capital growth or just for rental income, there is still something for everyone in Queensland.
This is a summary of some of the main holiday home hotspots and how they are faring.
Traditionally the holiday home hotspot in Queensland, the Gold Coast has experienced significant development with its skyline represented by an endless row of high rise apartments. This has led to a significant over-supply in the market and lower vacancy rates. So if you are looking to make money on an investment property by renting it out, the Gold Coast is not the area for you. However, if you want a beautiful beachside property to live in for a long time, and be close to Brisbane, airports and great infrastructure, then it may be worthwhile considering this part of South East Queensland. With an over-abundance of properties and very few buyers, there is significant opportunity to snap up a bargain here, in some suburbs prices have dropped by up to 40% in recent years.
If you are looking to purchase here, it is critical to do your research to make sure that you get the best deal possible. You can pick up a 2 bedroom unit for $250,000 and a 3 bedroom townhouse walking distance to the beach for about $375,000. It is likely that prices in the region will continue to fall, so doing your sums and bargaining hard is imperative.
Similar to the Gold Coast, the Sunshine Coast was also a developers dream for many years, resulting in a flooded market. Now the number of properties for sale have almost doubled in recent years, and buyers have stayed away due to the limited investment potential in the area. As a result, property prices continue to drop, making it worth considering if capital investment is not your primary objective for purchasing the property. The region is still home to some of the most stunning beaches in Australia, the lifestyle is relaxing and infrastructure is plentiful, making it a great place to live potentially at a fraction of the cost of years gone by. The median house price in the town of Noosa is $635,000.
One thing to look out for both here and in the Gold Coast are the hidden costs, particularly if you are looking at purchasing an apartment or unit. Many of the high-rise properties have exorbitant body corporate and management fees, that may make your investment less of a bargain than you had anticipated. Purchasing free-standing homes or villas may be a lower cost alternative in the long-run.
Far North Queensland:
Another area where high quality beach front homes can be snapped up for a steal are on the stunning coastline that overlooks the Great Barrier Reef in Far North Queensland. From Mission Beach (south of Cairns) to Port Douglas, there are opportunities to find beachside properties at a discount of up to 40% from their 2007 prices. Tourists still flock to this natural wonder of the world, so there are still opportunities to rent the property as well. A 3 bedroom villa can be purchased for as low as $250,000 and the rental value can be between $200-$300 per night, so for an astute investor it is possible to cash in on the market's decline.
Considered one of the growing regions in Queensland's coastal property market, Townsville in North Queensland is certainly worth a look for the savvy investor. Property prices are affordable and the economy is growing relatively strongly driven by tourism, the mining boom and defence. With its reliance in growth industries outside of tourism, Townsville has a relatively strong economy and potential for continued growth, with the local government supporting housing construction and development. Median house prices are around $410,000 but 2 bedroom apartment can be purchased for less than $210,000.
There are plenty of small towns dotted along the coast near the city of Townsville, and generally the further away from the town centre you get, the lower the property prices. So it is worthwhile looking further afield to see how far you can stretch your investment dollar. This region is also a stone's throw away from the Great Barrier Reef, making it a great place for a family holiday and has its own domestic airport, making it easy to reach from any of the international airports in Australia.
Whilst not considered to be a major tourist thoroughfare, Gladstone in Central Queensland, is one that should not be overlooked for those looking for quality investment potential in Queensland. Located on the Coral Sea in between Townsville and the Sunshine Coast, this seaside town is on the verge of an investment boom. Traditionally a port city, Gladstone is a key economic hub with major investment by the Federal government in gas projects (over $100 billion in projects are estimated in coming years) driving its economy and raising the demand for housing. Gladstone has good long-term investment potential, and with its reliance on the energy sector, its industry is unlikely to experience cyclical fluctuations.
Tourism is also another reason to come to Gladstone. With crystal blue waters, dolphin and turtle watching and 280 days of sunshine each year, it is a beautiful place to visit, relax and unwind. A 3 bedroom house in Gladstone can be purchased for around $419,000.
When looking to purchase a holiday home in Queensland, the key is to be clear about what your primary objective is with the property, whether it be investment or lifestyle, and then determine the best location that suits your needs. If you are not sure about which location will suit you best, it is always a good idea to visit ones that you are considering so you can get a feel for the place. Perhaps spend a week or two in a region to see if it suits you. At this link you can find some holiday homes in Queensland that you may like.
Once you have chosen the location, be sure to research the region well, and don't be afraid to look past the main towns, because beautiful coastal properties can be found all the way long the Sunshine State's coast.

To get more information & assistance, please submit the form below and our specialist will get in touch with you at the earliest.