When an expat moves to Chiang Mai, they have to decide what they will call home. Should I Buy, Rent or Move in with a Friend? Some of us, including me, really feel more comfortable buying a home if they are financially able to do so. You can make changes to your house or plant a tree in the yard without seeking the approval of someone else, and that freedom is very valuable to some of us. And that's what I did.
Finding a house to buy in Chiang Mai is a real treat compared to the USA. The price of a new home in Chiang Mai is about 20-25% of the cost of a comparable home back in the States. Plus there is no property tax. Because of the low price, a lot of new expats are able to often buy a house or condo with cash, so there is no loan costs, something almost unheard of back home. The monthly electric bill for my home runs about $12-$15 per month (even with a lot of AC), and homeowner association dues run about $200 per year. These association dues cover the water bill, garbage pickup (at least twice a week), community landscaping maintenance, security guards at the community gates, community swimming pool, tennis courts and a few other benefits for the home owners.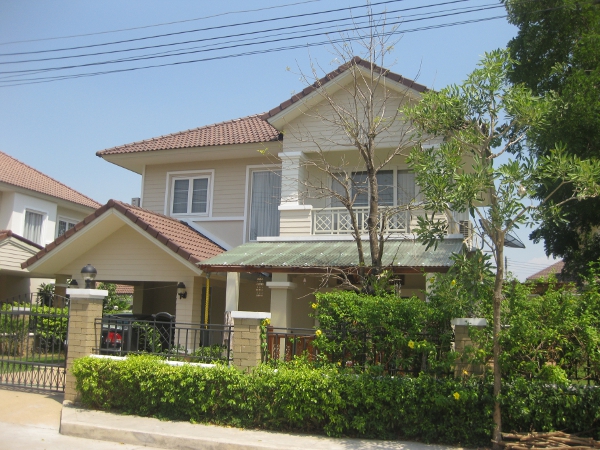 Non Thai citizens cannot own land in Thailand. That means if an expat wants to buy a house, it has to be in the name of a significant other that is Thai citizen, or a Thai citizen friend. There are lots of infamous stories about expats that do this and are swindled out of their house some time later after the relationship goes soar. Thai authorities will always accept the word of a Thai over a "farang" (Western expat) when it comes to contracts and other legal matters. A Thai woman married to a foreigner can buy a house and a land but her husband must sign a declaration at the Land Office, stating that the house is no part of the couple's estate and that if they divorce, the house will not go to him. For my situation, I put my purchased house in my step daughter's name, and then wrote a 30 year irrevocable lease for my wife and I to stay in the house at a rent of 300Bht per year ($10). In that way, when I pass on, there is less of a problem for her to claim possession of the house, and with the lease, my wife and I are protected. This should always be done through a Thai lawyer that can be trusted. This is not a good time to cut corners to save money; make it absolutely legal and correct if you do the same.
Another way for an expat to own a house is to form a Thai corporation (a Thai Limited Company) with real business in the country. This also has to be done through Thai legal channels with a Thai attorney. The expat can own 49% of the corporation, with the remainder being owned by the attorney (a Thai citizen),who will under your contract. and then the corporation (a Thai entity) can own the land portion of the house. The structure (everything about the home besides land) can be owned 100% by the American. Thai lawyers are generally familiar with this scenario, just be sure to get a good attorney (good advise no matter where you are).
Prices around Chiang Mai are very low compared to the US. There was no real estate bubble in the first decade of this century like in America (there was a property bubble in the 90's that went bust, but not as bad as in the US). Most newer homes for expats are built in a protected and gated community (in Thai, a "moo baan") of from about 50 to as many as 500 homes. There is usually a community center which include a pool, perhaps tennis courts, an exercise hall with fitness machines, perhaps a restaurant and convenience store. Gate guards help to insure safety, and this is especially helpful for expats that often leave their houses unattended when they travel back home. HOA (home owner's association) dues are very low; in my moo baan it runs about US$220 per year, and includes community landscaping, the security service (gate guards, etc.) water, sewer and garbage collection (several times per week), along with the usual community center benefits, including a nice pool.
Around Chiang Mai in one of the newer home developments, prices for a 3-bedroom, 2-bath home would probably average somewhere between US $50K to $150K. And, of course, there is always better for those able to step to a higher level.
My two-level home was purchased in 2007, and is a 4 bedroom, 3 bath home on a parcel of land that is about a half-acre in size. The house has a privacy wall surrounding the property, and covered parking for one car. We have a Western style kitchen and a Thai style kitchen, along with decent size living and dining rooms. This home cost us slightly less than US$100K, but with our improvements and real estate appreciation, it would probably sell now for about US$150K.
It is good living in a comfortable home, with no stress coming from taxes, or HOA dues or anything else, and is for sure partially responsible for lowering my blood pressure.
It is easy to find newly constructed homes or newly constructed housing developments in Chiang Mai just by driving around. And the market for second owner homes can be easily plugged into on the internet.
To Buy a Condo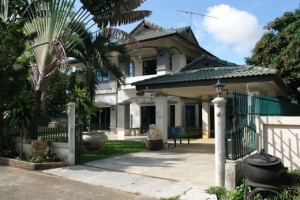 Expats are allowed to purchase a condo in Thailand since the deed does not include land, as long as the majority of the condos are owned by Thais. That is seldom a problem in Chiang Mai, but can be a factor in some heavily expat populated areas like Pattaya and other southern Thai cities. The condominium law of Thailand specifies that foreigners who do not have a Thailand residence permit must show proof that the funds for purchase of the condominium were brought from outside of Thailand. Non-Thais who have legal residence permits are not required to show evidence of funds coming from abroad for the condominium purchase.
Since there are few restrictions on farangs buying condos, the expat market for them is more active than the house market in the area. Condo prices for decent level one or two bedroom condos typically range from US$25K to US $150K. Not all that much difference from the cost of a house.
Most of the condos in Chiang Mai were built for Thai tastes and lack some of the key characteristics favored by Westerners such as larger Balconies, large space and natural light, and American style kitchens. It is a little more difficult to find a condo apartment that fits what the typical American expat is looking for in a home and there would likely be some compromises made on the buyer's part because of this. It will take patience and visiting a lot of properties to find a good fit.
In Chiang Mai, the most popular condos for expats are close to the Ping River (great views) or near Chiang Mai University, near Nimminhemin road (best shopping and restaurants), and along Huay Kaew Road. In the US, it is common to find a real estate agent that will ferry you all over town to familiarize you with the area and see lots of properties. In Thailand, don't expect this, and understand that you will have to research the areas yourself, and make appointments to visit properties pretty much on your own. It is a slower process for sure, and It helps if you can find a local resident to help you along on this.
Try to have a condo that is on the 8th floor or higher, since at that altitude you will be above the "fly zone" for winged enemies like mosquitoes, and it is nice to open the balcony windows with no fear.
Decent Condo apartments in Chiang Mai should have a good pool area (often on the roof), exercise center, parking and good security. Many condo buildings also maintain a concierge to help you get around town.
To get more information & assistance, please submit the form below and our specialist will get in touch with you at the earliest.