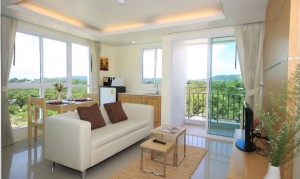 Two foremost reasons that make Thailand a property investor's paradise today is because there are very few restrictions on foreign ownership in the country compared to other nations in the region and secondly, because the tourism industry of Thailand is growing substantially each year with more and more people choosing the country as a holiday and residential destination.
Although last year's floods in some places have had an impact on the property market, and saw corrections in real estate prices, experts are of the opinion that the situation opens a whole new opportunity for buyers to invest in property now.
Thailand is today a popular tourist destination and foreign investors are become increasingly interested in its emerging property market. With tens of thousands of tourists visiting the country each year, most locations have a good buy-to-let market and experiences high rental yields. That's not all! The country has a pro-landlord rental market which is good for investors wishing to rent out their property.
The country's rental market is currently experiencing a major boom because of the increase in incoming tourists. Major cities and tourist destinations of Thailand are experiencing high rental yields with investors getting good rental returns in their beachfront villas during peak tourist seasons.
Here are some property investment hotspots in Thailand which are not only just major tourist destinations, but also gives good rental returns on one's investment.
Phuket: With tremendous opportunities for astute investors, the range of property options in Phuket is staggering. From affordable dwellings to top-end accommodation, Phuket is what real estate experts aptly term as the 'there's-something-for-everyone' market. The city offers a good choice of villas and condominiums and the marinas on the island also offer luxurious and striking accommodation for sale.
Koh Samui: The booming property market of Koh Samui offers investors villas, apartments and condominium with stunning ocean view. From small western style bungalow villas, houses, studio condos to condominium duplexes and beachfront penthouses, beach houses and large beach front Thai Bali style villas, the island has everything for the intending investor. Just less than an hour's flight from Bangkok, makes the island a perfect place to purchase one's retirement or holiday home.
Pattaya: Pattaya is today one of the most preferred retirement and second home destinations in Thailand. There is growing demand from expatriates for rental condominiums apartments and houses which has created numerous property investment opportunities from luxury or high-end beachfront condominium and villa developments to mid-range condos and houses which can be located close to the beach. It is regarded as one of Asia's top beach resorts and is home to more than 30 international-standard golf courses making it a tourist's dream destination. Property developments are at par with international standards and trends and unlike Bangkok, land is readily available in Pattaya, thus providing property investors with huge opportunities of buying affordable stand-alone houses or investing in a housing estate.
Bangkok: Bangkok is the capital city of Thailand and is one of the most visited cities in the region by tourists. People prefer to stay in the city not only because of the numerous tourist spots, but also because of the city's reputation for being a shopper's paradise, thus making it a major city to invest on a holiday home.
Chiang Mai: Another property investor's destination. Owing to its emergence as a major tourist destination attracting over 5 million visitors each year, of which between 1.4 million and 2 million are foreign tourists, Chiang Mai has seen the launch of various premium residential projects in the last couple of years.
To get more information & assistance, please submit the form below and our specialist will get in touch with you at the earliest.