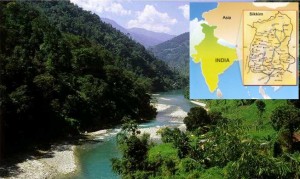 A recent media report has said that the tourism department of the Indian state of Sikkim has decided to set up a village homestay locale in Lingee Payong village which is gaining popularity among the domestic as well as international tourists.
The report published in the News Track India website says that the homestays are deliberated as a great opportunity for the villagers as it would create a sustainable source of income and provide a market for their produce. The youth from the village have involved themselves in various training sessions to inspire the village tourism.
The report quoted a local trainee, Gompu Tshering Bhutia as saying: "Everyone does not come to stay in urban areas; there are some people who wish to visit villages also. They want to enjoy their holidays and they want to rejuvenate their body, mind and soul. For this, village is the best place to go and to be in a home stay with their people, with their tradition, with their culture, eating together and sharing knowledge. All these things indirectly or directly boost state tourism."
The students who visit the village undergo training sessions in home stay locale, which provides them an insight to the ethnic culture by interacting with the locals as well as the homestay owners, the report further stays.
The district authorities said that all the arrangements had been made to facilitate the visitors in the town. Around 10 homestay locales have been constructed in the village, which are attracting a large number of tourists from across India.
OTHER TOP STORIES OF THE DAY:
Tips to pick the right real estate agent to buy your home

What type of property should I buy for holiday home rental?
To get more information & assistance, please submit the form below and our specialist will get in touch with you at the earliest.