Whether it's you and your family who come to enjoy a vacation or you are running a vacation rental business, new-age technology today offers a wide variety of solutions to ensure that your home is not only safe, but also adds value.
With several appliances and electronic gadgets being introduced in the market every other day, here are some gadgets that could make your home not only cool, but also functional.
Burglar alarm: This device could be one of most efficient ways to prevent unwanted intrusion into your home. Several branded and unbranded burglar alarms – wired and wireless – are available in the market. When sensors recognise intrusion in the absence of homeowners, alerts are sent to the concerned people – either the police or the owners or the call centre of the security company. This gadget is among the most preferred security product for the home segment. A burglar alarm is ideal for homes when the homeowner stays away for most of the time. The price starts from $ 200. A three-bedroom house may require four sensors. Sensors could set you back anywhere between $ 19 and $ 30.
Wireless router: A wired internet connection and a laptop don't really go with each other. Despite having the option of moving around with your laptop, you may be restricted to one particular area because of the wired connection. However USB (universal serial bus) modems can solve this problem to an extent. A wireless router will enable complete mobility inside your home. You can initiate up to four wired connections and operate virtually any number of wireless devices using the router. Your GPRS (general packet radio service) – enabled mobile phone will connect to the internet faster than ever. However if you are offering an internet facility to guests, you need to choose a plan accordingly from the choices offered by the Internet provider. Accordingly calculate an average daily usage rate and add it to the rental. You can also charge your guests separately for the Internet usage. Your local electronics specialty store might have numerous options of wireless routers that start at about $ 30.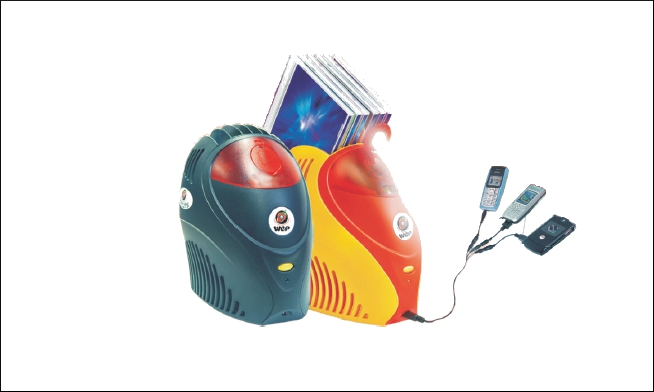 Multi-functional UPS (uninterrupted power supply): This is one of those one-solution-for-all-problems product. Most multi-functional UPS are trendy tabletop devices with integrated digital clocks, space to store CDs (compact discs) and DVDs (digital video discs), a universal mobile phone charger that can be used to charge all major brands and an emergency lamp. They come in various colours and shapes and can be placed on the bedside table. The cost of a multi-functional UPS starts from $ 30 and goes up to $ 100.
Scene Controller: The controller is used to activate up to four scenes. A scene is a predetermined group of actions consisting of lights on/off, dim up/down, curtain up/down, and air-conditioning on/off. Lights get turned on automatically for you when the automatic switch detects your presence. More than just controlling a set of lights, the automatic switch can also launch a scene or be controlled as part of the scene. The cost of this gadget starts from $180 to $ 1000 and upwards, depending on the features and number of gadgets integration.
To get more information & assistance, please submit the form below and our specialist will get in touch with you at the earliest.