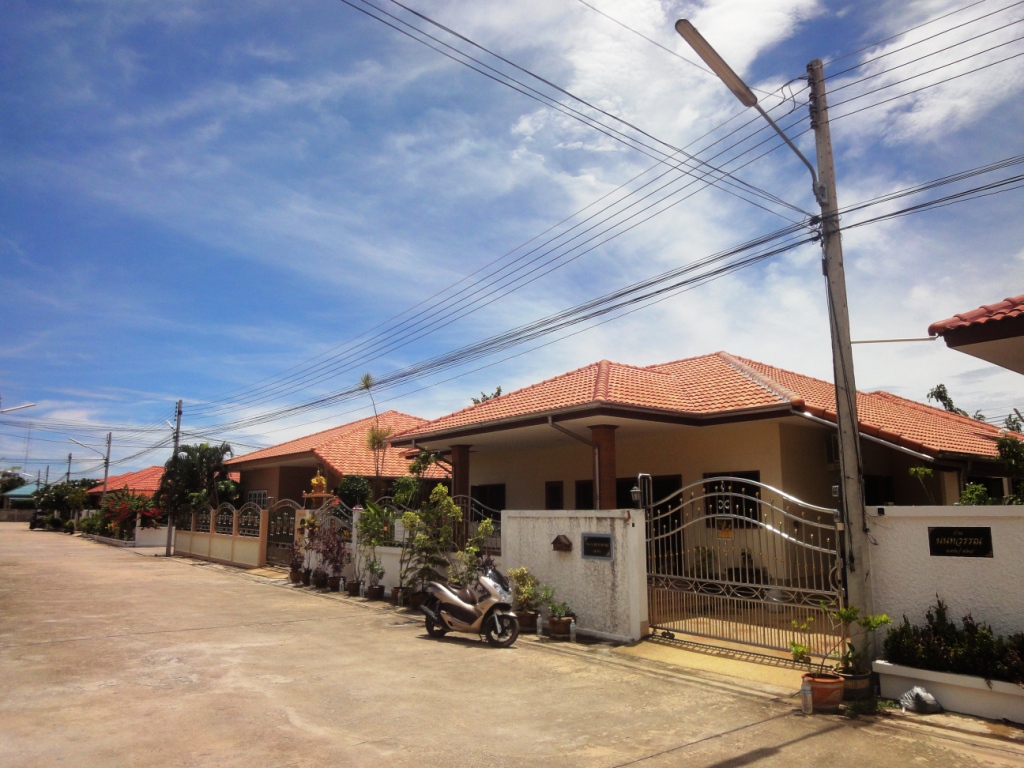 For a retiree whose main motive to leave the comfort of a home where he was born and had spent most of his life, uprooting himself in search of an overseas destination where the daily stress of life is minimized, or living amidst beautiful climes with having to spend half his income, may take him to places where his needs for a security ring is even more magnified. And Thailand, which is a leading destination for foreigners to retire, moo-baans or moo-bahns are a perfect answer to the security needs of a retiree.
Though in Thai, meaning 'village' moon-baans are everything but villages which we might otherwise visualize. These are in actuality developed residential areas where the developer has set up a gated community, with security arrangements to keep the community safe and secured.
So, what can you expect in a moo-baans (moo-bahn):
Most moo-baans (moo-bahns) are very safe but, like anywhere, you can occasionally be unlucky. So precautions like decent locks, padlocks, not leaving your house with the front door open, etc. are usually recommended. Ideally every moo-baans (moo-bahn) is a gated community with several security guards manning the gate and denying access to anyone who doesn't belong there. The security guards will walk or cycle around the moo baan several times an hour, so many residents living here are sometimes with keeping doors and windows open.
If we talk of the facilities in a moo-baans (moo-bahns), it will be different from one another, but as a wider norm, it will have a couple of places to eat, a place to get your laundry done, sometimes a gym and often a swimming pool. A bakery, a coffee shop and a place to get a massage is also not uncommon; in many places actually run by Westerners.
For most expat retirees who have lived their entire lives in a bust city apartment, moo baans are a great place to live if you're looking for a bit more space. Plus, you get the opportunity to meet a lot of new neighbors. Because Thais are in general very friendly, the neighbors you will make here will be the most helpful people you will ever meet, happy to keep an eye on your house while you're away – thus taking care of most of your apprehensions.
And what about the choices of properties in a moo-baan? Most have a choice of either small or medium-sized townhouses or detached houses with one, two, three or more bedrooms. Since Westerners are not allowed to own houses, unless they are married to a Thai, moving to a moo baan means you will need to rent one (you can own the house but not the land the house sits on). Your choice in a moo baan depends on the area you're thinking of moving to and what each individual moo baan has to offer.
Having said that if you're thinking of moving to a moo baan though, it's best that you choose the moo baan wisely. In many moon baans you may only have the choice of old-fashioned, Thai-style cement townhouses that often have dark interiors and only the basic facilities. Sometimes the proximity of the properties of your neighbors from yours may make your house a little noisy from your neighbors' partying. So keep in mind these pointers before you move to your moo-baan.
To get more information & assistance, please submit the form below and our specialist will get in touch with you at the earliest.