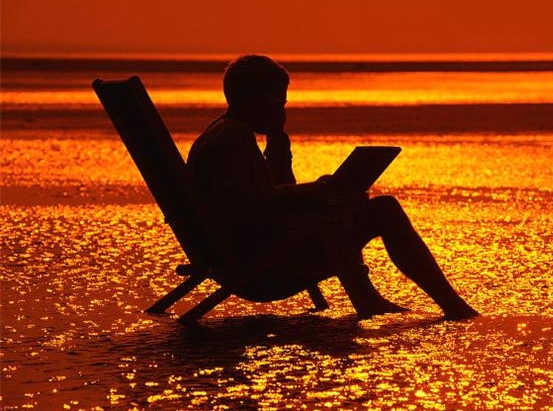 For long you have been planning your relocation to an overseas location and finally you feel you are ready. Really? While most of our concerns on relocation are many a time restricted to accommodation, finding like-minded people to extend our social life, etc. we leave the most important aspect of this big move to chance – creating an income when you start living in a new tropical island.
You may have some money saved for your retirement, but unless you have a steady flow of income, you will find this amount fast depleting. It's good to know that when you are setting up house in a new place, you will have unaccounted expenses which you can't plan or foresee beforehand.
No matter how affordable a particular destination may be, the simple fact is: You can't live anywhere for free! So what if you had the freedom you need to just pick up your job and go anywhere?A job that could give you an income that goes along with you.

So what's the way forward:
1. Income from property: If you own a house are you going to fund your retirement with the profit you make by selling it. Ideally expats sell their house back home, buy one in the new place for less and the surplus fund their retirement – not a bad idea I would say. But before you take this route, find out how much surplus will you have in hand after buying a new property in your retirement location. If it's not substantial, then it's wise to have a steady income by renting it out. Plus if you don't have savings and thinking of starting your retirement based on the money you make from disposing your house back at home, it is not time to make the move yet.
2. What are you good at: In our earlier article we had discussed how you could earn money when you start staying in your new tropical island. But before you leave the shores you need to find out who would be paying for your work. For instance if you are good at travel writing or photography, use the last couple of days connecting with magazines and websites which pays instead of corresponding with them after you reach your new home. It will give you peace of mind when you have a job in hand before reach your new retirement destination.
3. Business opportunities: There are actually several business opportunities which you must have overlooked earlier. For instance, each country has something unique to offer which is not available back home. It could be handicraft items, a simple spice, textiles, etc. which can have potential customers. So when you are planning your relocation do a recce of things that could have potential buyers back home. Once done, meet a couple of export-import businesses in the city and discuss about you being their local agent there or work on a commission with them. Many expats have made huge profits from the export-import business, so you could easily do so too. All you need to know are the legal aspects of the respective countries. And the best part is it doesn't take much time.
4. Update yourself beforehand: If you have decided to take a part-time job in your retirement destination, update your professional side based on the opportunities in the country. If you are relocating to an Asian destination, there is a good demand for English language teaching or call centers. If you are inclined towards these professions, get yourself a certification related to the job.
5. The ideal relocation plan: Finally understand that your relocation plan should ideally be such that you could earn an income from back home while you go live someplace where the cost of living is much more affordable. That way you put dollars in your pocket, but you spend in a place where those dollars really stretch.
To get more information & assistance, please submit the form below and our specialist will get in touch with you at the earliest.