The state of Uttarakhand, along with the other parts of India, is now slowly catching up with this novel concept of homestays. While, the homestay accommodation is not a new phenomenon in the West, where people offer their houses for guests to stay in and breakfast is served in the morning, either in the bedroom or more commonly, in a dining room or the host's kitchen.
In India, after the government came up with the Bed and Break-fast Scheme, these kinds of accommodations are simply referred to as Bed and Breakfast (B&B).
In Uttarakhand under the state government's initiative, the Uttarakhand Tourism Development Board (UTDB) had launched a Home Stay Development Scheme in 2009 along the trekking routes in upper Himalayas to promote tourism and provide employment to local communities in the region. The scheme was later broaden to include other areas too.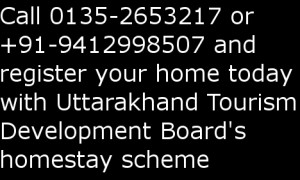 Under the scheme, locals can provide their homes for tourist accommodation. UTDB had also initiated the process of asking banks to provide loans to homestay stakeholders in the region. As a result, house owners can refurbish their homes according to accommodation unit standard.
Today with some hundreds of homestays across Uttarakhand providing their guests with just as much comfort as a reputable hotel, tourists are having better access to popular tourist spots which otherwise may not be located at a convenient distance from the city where hotels are usually situated. Uttarakhand homestays are also found in places where most large lodging competitors do not establish a guest accommodation.
With tens of thousands of tourists coming to Uttarakhand, hotels are finding it difficult to cope up with the pressure. Moreover, there are many beautiful and exquisite tourist spots in the state where building hotels and other forms of lodging options may not be permitted or are not economically viable.
This is where homestays of Uttarakhand come to the rescue! So homestays are perhaps the best option that visitors can opt for. Not only do they provide one with affordable accommodation, they also offer a unique opportunity to experience Indian culture firsthand in all its richness. It goes without saying that there's no better way to experience the diversity and charm that Uttarakhand is known for than at a homestay.
The situation has undoubtedly opened up a huge opportunity for locals to open the doors of their homes to visitors too. Homestays have now proved as a good option for owners to get a steady income.
"We always welcome new applications for registration of new homestays in the Uttarakhand region," Mr. Yogesh Kumar Gangwar, Regional Tourism Officer, Uttarakhand said in an exclusive interview to Holiday Home Times.
"The following four things are required to register a homestay in Uttarakhand:
(i) Land owner certificate
(ii) Residence map
(iii) Three photographs of the applicant and
(iv) A fully filled application form."
"The form for registering one's home with the government's homestay scheme has to collected from our regional office in Dehradun," Gangwar told HHT on phone today.
"There is another condition for the registration, which is, the owner must be staying at the given address mentioned in the form," he added.
For more details intending owners who are eager to convert their homes into a homestay can contact him at: 0135-2653217 or his Mobile: +91-9412998507.
To get more information & assistance, please submit the form below and our specialist will get in touch with you at the earliest.