It goes without saying that videos can be a great marketing tool for your holiday home. You can add more credibility to your vacation rental business by offering potential guests the opportunity to view videos of your property instead of just photographs. Even if your vacation rental website doesn't allow you to upload a video, it is still a good idea to take a video of your vacation rental and add it in your website.
WHY CREATE VIDEOS OF YOUR VACATION RENTAL:
Video tours are top requests from travelers who want to have a virtual tour of your property.

By having a video you can engage travelers further subsequently compelling them to book your home.

A video will answer most of the questions of a prospective, which means you will be spending less time answering to queries from prospective renters about the layout of the house, the size, etc.

A video can have a greater impact than the description and photographs of your property. So with a couple of videos of your holiday home website, travelers might be more inclined to book.
While, adding a video in your website could be a good way to attract travelers, creating a YouTube channel and adding videos there can ensure that more people find and see your videos. That's not all! Adding your YouTube video to your website is easy and almost as simple as child's play. Plus YouTube has outperformed Yahoo and Bing in terms in the number of daily searches so you can perhaps understand the importance of adding YouTube videos to your holiday home website. Providing content on your website that search engines are likely to index is how you increase your search engine rankings and video can be an important traffic builder for your website especially if you video is hosted on YouTube. So why not take this opportunity?
But, before we go to adding a YouTube video in your website let us see how to create a channel and upload videos in YouTube. Here are the steps to create your channel, upload videos and change the look of your channel:
Go to the YouTube website and sign in with your gmail username and password. If you don't have an account you can click here to create one.



Once you are logged in with your username and password, you can now Click the "Upload" button to add a video to your account.

If you have more than one video, you can upload them by clicking on the "Upload Multiple Files" button.



If you are using background music, make sure that the one you use is not subject to copyright. YouTube will remove any music you use that is seen as copyright infringement. If you are not sure, choose from the range of music available with YouTube.

Choose a theme that best suits your videos.
CREATING YOUR CHANNEL NAME: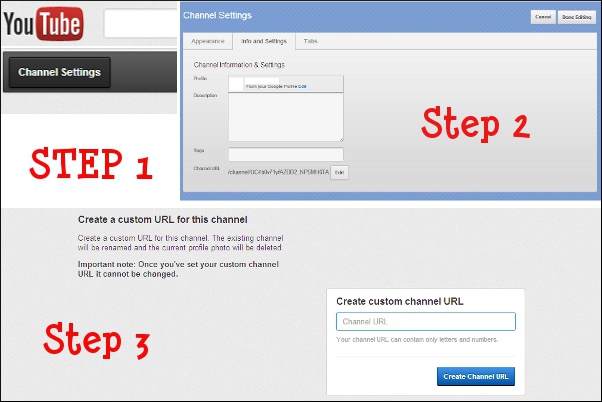 The channel name of your holiday home in YouTube is very important, because viewers will associate the videos with it. However once you have changed the channel name once, you will not be able to change it later on. So carefully choose a name that best identifies you holiday home, maybe the name of the property, etc.
By default, the channel name will be the same as your name which you had provided while creating the account. To change the channel name to something of your choice click on the 'My Channel' button and go to the 'Info and settings' tab. At the end of the tab you will see an 'Edit' button near the temporary channel url. Click on the Edit button and give the channel name of your choice and hit the 'Create Channel URL' button. Once done you will now have an easy url to share with friends and travelers who inquire about your vacation rental.
SHARING YOUR VIDEO(S):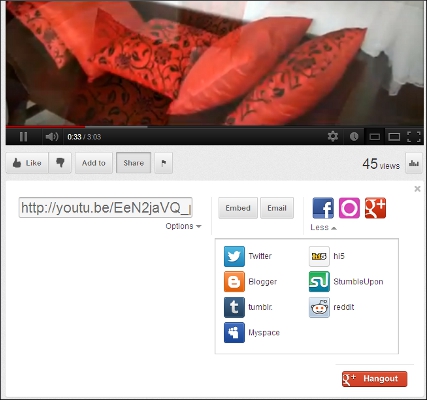 If you want to share all the videos of your channel with travelers inquiring about your property, you can send them the link easily. However if you want to share individual videos you have uploaded, you can do so in various easy ways. You can use the link to use in the emails you send or share the video in the popular social networking websites like Facebook, Twitter, etc.
NOW TO ADDING A YOUTUBE VIDEO TO YOUR WEBSITE: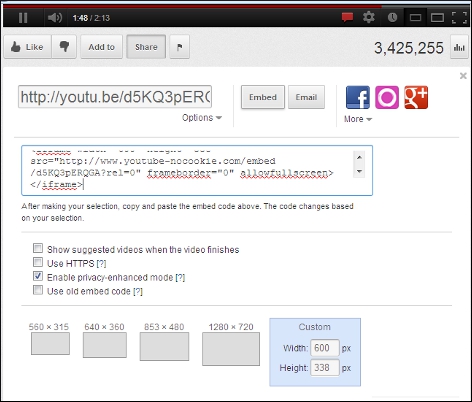 Just below the video, when you click on the 'Embed' button and you will get a code which can be copied. You can also choose the size of the video screen you want based on your website template. Once you select these, copy the code and paste it in the area where you want to display your video in your vacation rental website. If you are not sure about where to put it let your designer or developer do it, to avoid and distortion of the website.