The website, namastay.in, run by a small team has listings of homestays, guest houses, heritage houses and plantation homes across the country. The same team also runs the online network of accommodations named Travacco.com. But how different is it from the other websites that cater to travelers looking for alternative accommodation to hotels.
Here are some things which I liked about the website:
1. They have a good list of accommodations. They have some homestays in several off-beat places too.
2. They have kept the website simple.
3. The images and some of the videos give a good overview of the properties.  
Having said that, I feel the website does not do enough justice to the properties listed on its website. Here is what we have to say about the website:
FOR OWNERS:
1. There is no way to register and list your property. All you can do is send the details to an email and the namastay.in's team creates the listing from their end.
2. They charge 15 percent from the owner for each booking which I think is pretty much at par with the market standards.
3. When contacted, although we were told that we can give 5 to 6 images of a property, I have seen a couple of properties with more than 8 images. There is no clarity on this issue.
FOR TRAVELLERS:
For a traveler wanting to book an accommodation, it takes time to figure out the website, thus making it a really time consuming.
1. On the homepage I choose the destination of my choice and the dates and now I'm hunting for the 'Go' or 'Search' button. I hit the enter key in my keyboard, nothing happens. At last I figured out that the '>' is the search button.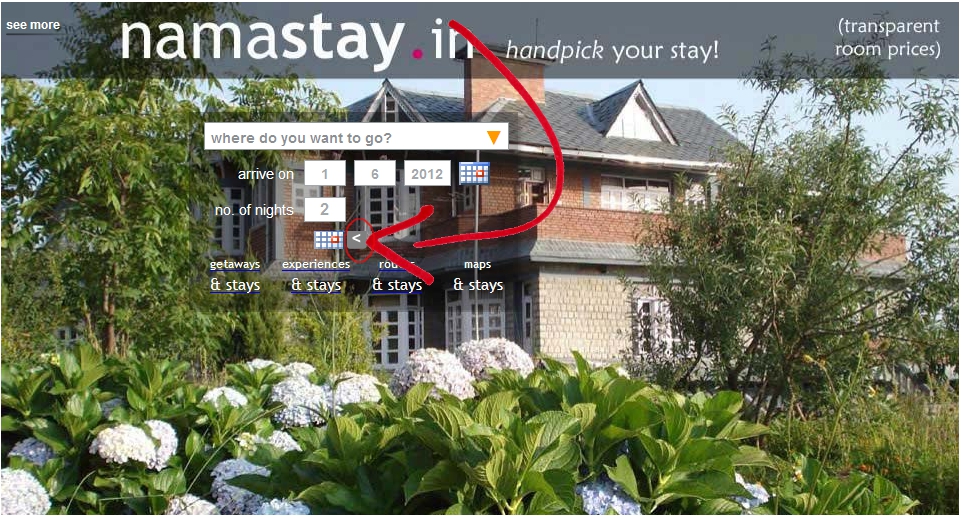 2. The property image on the homepage takes up so much space that I didn't realize that there many links below. And once you are inside the website, coming back to the homepage is quite impossible, because there is no link to come back to the homepage and the logo is not clickable, which should ideally be.
3. For each property they have maximum 6 images which I think are very less to get an overview of the homestay, if there are no videos.
4. Now on the property description page I see a note saying: "namastay.in does not maintain real-time availability. Availability will be re-confirmed on receipt of your inquiry/booking."This means that the availability calendar may not updated, and even if my make a payment, it is not a guarantee that the booking is confirmed. So if I make any sudden plans of a vacation booking through namastay.in is not a right option.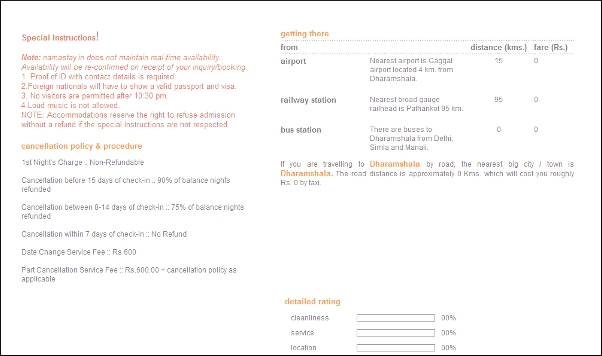 5. Then they take Rs 10 non refundable booking charge.
On the homepage when I saw the links to articles, tips, opinions, etc. I thought I would be able to get some good information before I go to book an accommodation. But most of the sections have not been updated for a year now.
If you have ever booked an accommodation or if you are an owner whose property is listed with namastay.in, tell us about your experience.