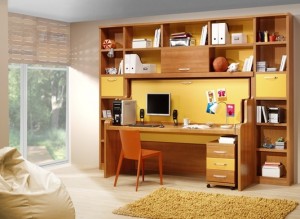 For a home owner, one thing that always plays on his mind while designing the house, is optimizing space. Even for a holiday home owner, accommodating an extra bed without having to compromise on the chic interiors, is also very vital. Perhaps in the world of optimizing space, one of the most practical inventions ever made, is the wall or pull-down bed.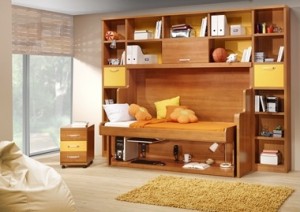 There are several options available today in the market from sofa-cum-beds to murphy beds however they hardly help in optimizing space. Invariably what a home owner wants is something that is aesthetic, practical, organized and cosy, all the while not adding to the clutter.
However luck is now on the home owner's side with Hafele's revolutionary hidden bed! The leading hardware manufacturers have come up with an idea which is a different concept altogether. It has two functional pieces of furniture rolled into one. During the day a workstation can accommodate a monitor, keyboard, accessories, etc. But come night, it is transformed when the desk descends and a cleverly concealed panel is pulled out to reveal a bed.
However what sets Hafele's hidden bed apart, is the range of bonuses it has on offer. No extra work is required for the shift to happen. Bed sheets and pillows can retain their place. Apart from homes, Hafele's hidden bed lends itself to any number of applications, from yachts and motor homes to college dorms and spare beds for hospital interns. It can even be used as a home office that converts to a spare bedroom when needed.
Hafele provides the hidden bed with their Tavoletto's Combi fitting for an effortless switch. The mechanism is available in black powder-coated steel with two bed width: 900mm and 1,400mm. The patented balancing mechanism, currently allows for 10,000 cycles (about 30 years) without maintenance.
For more details one can contact: www.hafele.com