Pura Vida (Pure life), a more typical Costa Rican saying you will not find elsewhere! Used in every form and shape by the warm and life loving people from Costa Rica called "Ticos" for short.
It can be used for greeting, showing your appreciation about someone or something, saying goodbye, and just giving off a good vibe.
If Latin America had a heart, it would definitely be Costa Rica. Due to its geographical location, Costa Rica bridges the northern and southern most points of the two American continents. This makes Costa Rica the meeting point of a variety of cultures and a density of plants and animal species said to be unlike any other country in the world.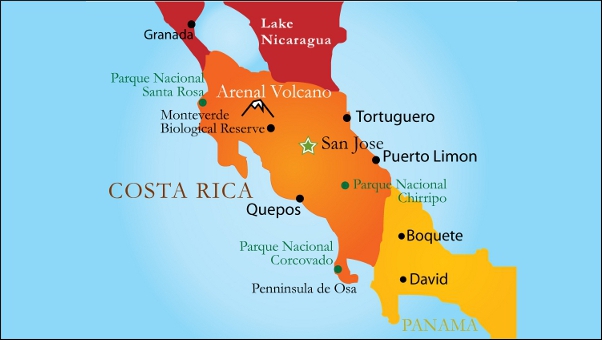 Some interesting and fun facts of Costa Rica:
Costa Rica hosts more than 5% of the world's biodiversity even though its landmass takes up only 0.03% of the planet's surface. The whole region is just teaming with life!
Costa Rica's marine area reaches 580,000 square kilometers, approximately 10 times larger than its land area of only 52,100 square kilometers. Cocos Island being one of the world's top scuba diving sites where you can see everything from huge schools of hammerheads sharks or dive with the majestically giant Mantas!
There are about 52 species of hummingbirds in Costa Rica, making Costa Rica a true hummingbird capital.
Monkeys are one of the most common mammals in Costa Rica – next to bats. The four common species are the Howler, Spider, White-Faced and Squirrel.
10% of the world's butterflies live here, more than the entire Continent of Africa!
Costa Rica is one of the most valued environmental destinations. Approximately 25% of the country has protected forests and reserves. There are more than 100 different protected areas to visit. Costa Rica has plans to become the first Carbon Neutral country in the world by 2021!

There are 801 miles of coastline in Costa Rica, an absolute heaven for beach lovers. You can wake up with the sunrise in the Caribbean which is just six hours drive and witness the sunset in the Pacific – few places in the world have these privileges.
There are more than 121 volcanic formations in Costa Rica, and seven of them are active. Poas Volcano has the second widest crater in the world and Arenal is one of the ten most active volcanoes in the world.

Costa Ricans have again been voted the happiest people in the world ranking number one on Happy Planet Index! You will feel that the moment you touch down on Costa Rican soil!
Costa Rica is one of the longest standing democracies in Latin America and abolished their military in 1949, deciding to invest their resources in education and public services instead. Today, Costa Rica has a literacy rate of 97% and English is considered the second language, widely spoken by all. Costa Rica is also one of the countries with longest longevity in the world with a life expectancy for Ticos being 79.3 years!
Although the country is small and it covers only 0.03% of the surface of the globe, it proudly shelters a 5% of the existing biodiversity of the entire world! About 25.58% of the country is composed of conservation and natural protected territory – Costa Rica introduced "Eco Tourism" making it a major destination for conservationists.
Costa Rica is also an attractive country for investment and it offers great potential for the establishment of important multinational companies, thanks to the outstanding academic level of its population, as well as the high standard of modern services and social and political stability.
So what makes this small country of Central America so unique? Perhaps the answer lies in the passion for life and downright happiness of the 'ticos." Or is it the natural beauty that covers the country? Or perhaps is the amount of biodiversity of flora and fauna? Or the beauty of the ocean! Whatever the answer may be, we know Costa Rica is unique and that is why many people from different parts of the world make Costa Rica their new home. Let's take a tour through Costa Rica: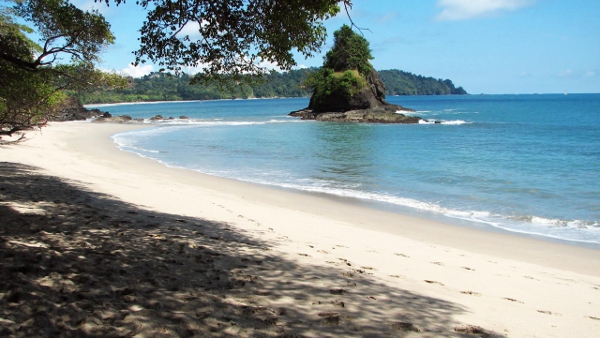 The beach: Costa Rica has the coastline on both sides of the country where the Pacific and the Caribbean marvel every visitor with the natural beauty of their pristine beaches and hidden coves. The beaches are extraordinary and cater to all kind of tourists, from families that want to enjoy water sports and activities, to honeymooners who are looking for a romantic and a secluded holiday, to surfers who want to ride the waves. Costa Rica also has some of the best sport fishing destinations in the world and is every fisherman's dream!
The reason why people keep visiting the beaches of Costa Rica is simple: it has year-round waves, pleasant weather, warm water, friendly people and reasonable prices and you are within driving range from both the Pacific and Atlantic Coast lines. You can actually dive or surf in 2 different Oceans in a single day!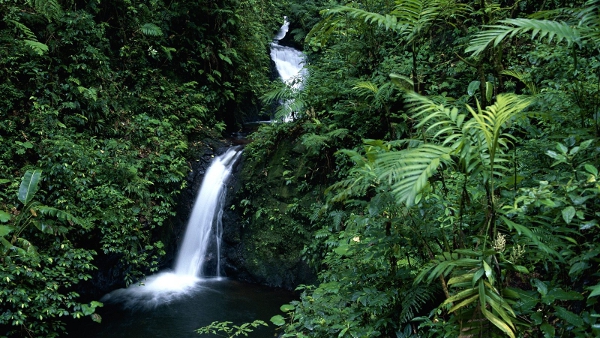 Rain Forests: Costa Rica has been setting an example to the rest of the world with their strong environmental ethics and approach in conserving their environment and natural heritage. More than a quarter of the total land has been set aside to establish National Parks, Biological Reserves and Wildlife Refuges. It is not surprising that this country has over 10,000 different species of plant and trees.
If you are a nature lover, Costa Rica is the ideal destination to enjoy the evergreen jungles that play host to a varied mix of insects, birds, amphibians, mammals and reptiles.
Costa Rica has some of the most productive ecosystems in the world, each creating truly unique habitats that have microclimates all of their own. You can explore the rainforest with rain all year round with its lush vegetation or visit a cloudy forest with the mysterious fog and thick growth of bromeliads, ferns and moss, all while doing a canopy tour and witnessing some of the most amazing ecosystems from the top of the trees!
The "ticos" are very proud of the natural beauty of their country and they are a testimony of sustainability in their everyday life – everybody recycles in Costa Rica and there is an acute awareness from young to old to help protect the environment.
Tourism companies and operators have to maintain and follow strict policies of eco-friendly tourism laws and guidelines. This is why Costa Rica has become one of the worlds prime Eco Tourism Destinations.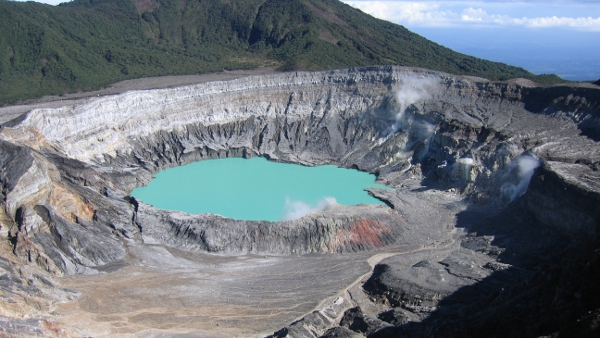 Volcanoes: Costa Rica is located on top of the Pacific Ring of Fire having in total 121 volcanic formation and 7 active volcanoes. You can find the volcanoes throughout the country and access the craters either by car or walking. These beautiful volcanoes are unique in a display of turquoise lagoons with their hot water and mud springs, and are fast becoming very popular as a spa treatment! The highest volcano of the country is 11,260 feet above sea level and once you reach the peak you can see the Caribbean and Pacific Coast.
So, why we choose Costa Rica? Pura Vida…pure life…you will feel it in your entire essence, there are no artificial ingredients. The perfect place with the perfect balance of adventure and relaxation to help you unwind and feel alive again!
Come experience Pura Vida with no artificial ingredients!
For more information about our new Tripvillas hot spot destinations, please contact Maria Jose Mora, General Manager Tripvillas Costa Rica at Mariajose@tripvillas.com.
Looking for an accommodation in Costa Rica?

Click here

to choose from some of the best holiday homes on our website.
To get more information & assistance, please submit the form below and our specialist will get in touch with you at the earliest.