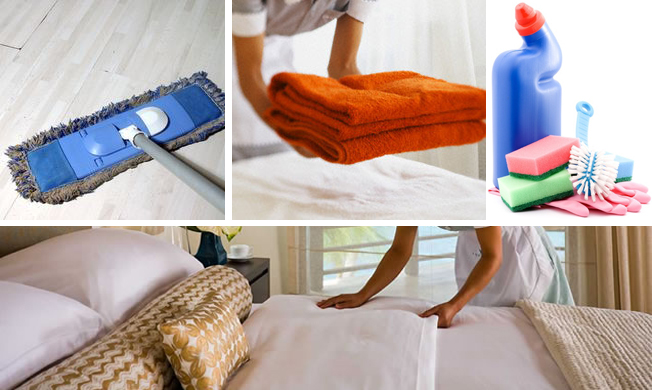 It is very important that when guests come to stay in your property, they enter a clean and organized home. After a long tiring journey entering a dirty or dusty home is the least that's in the mind of guests.
It is a fact that if spotless on arrival, guests generally take more care and leave the property in better condition. A well prepared property attracts repeat bookings from delighted guests and also referral advocates for you. It also reduces incidence of complaints and dissatisfaction from guests.
Since you will not always be stationed at the property to look after the cleaning and the preparations of the property for the forthcoming guests, it is imperative to advice the cleaning person or your caretaker on certain basics. Possibly a simple checklist can help him better.
First of all, the best time to clean the property is immediately after a group of guests checks-out. Same day cleaning ensures that wet linen or towels (if any) don't turn mouldy and emit foul smell. Food and other perishable items thrown in dustbins can decay if kept for long and the smell thus emitted can spread to the entire house and is very difficult to get rid of.
Secondly, if the linen are to be washed by the cleaner at the premises, ensure that they are washed, dried and ironed when guests are not there. It gives a very bad impression on the guest when he sees hanging linen in the backyard. I would in fact advice owners to send the linen and towels to the dry-cleaners because they can do a better job than washing them in-house.

Thirdly, if you have a lawn the cleaning person should ensure that all dry leaves are removed and the outdoor furniture is wiped thoroughly and arranged neatly.
Now the checklist:
Sitting/ Dining area:
Vacuum/ broom and mop the floor

Vacuum the sofa/ couch

Vacuum cushions. If any stains are seen sent it for dry-cleaning or wash it. Ensure that they are ironed

Dust bookshelves, furniture, wall hangings, TV and DVD player. Place remotes of these appliances at a designated area near them

Remove old magazines and newspapers

Wipe dining table and chairs thoroughly

Check the table mats for any food stains and if required change with a new set.
Bedrooms:
Strip beds of their linen

Dust and wipe headboards, frame and foot-boards of the beds

Dust lampshades, drawers, shelves of wardrobes

Check drawers and cupboards for any items left behind by guest. If found should remove and inform you immediately.
Bathrooms:
Wash the toilet in and out with a good toilet cleaner.

Remove used toiletries, toilet paper rolls and replace with new complimentary ones

Thoroughly clean soap holder and washbasin.

Wipe mirror and drawers thoroughly and ensure that there are no water marks on them

Replace used bath and hand towels with new clean ones, neatly folded and stacked on the towel rack


Wash the floor thoroughly.
Kitchen:
Wipe all kitchen electrical appliances

Open the oven and clean it from the inside

Wash the sink thoroughly and check the outlet for any clogged food

Remove all perishables from the fridge

Empty the garbage can and wash and dry it. Place a new waste-bag and keep it in its designated area

Open all the cupboards and check the crockery. If anything is broken, remove them immediately and make a note to be replaced with new ones

Wash the cutlery and glassware. Dry them clean and keep them in their designated place.
Outdoors:
Sweep and mop the balconies

Wipe the window glasses, window panes and doors and door knobs.
To get more information & assistance, please submit the form below and our specialist will get in touch with you at the earliest.