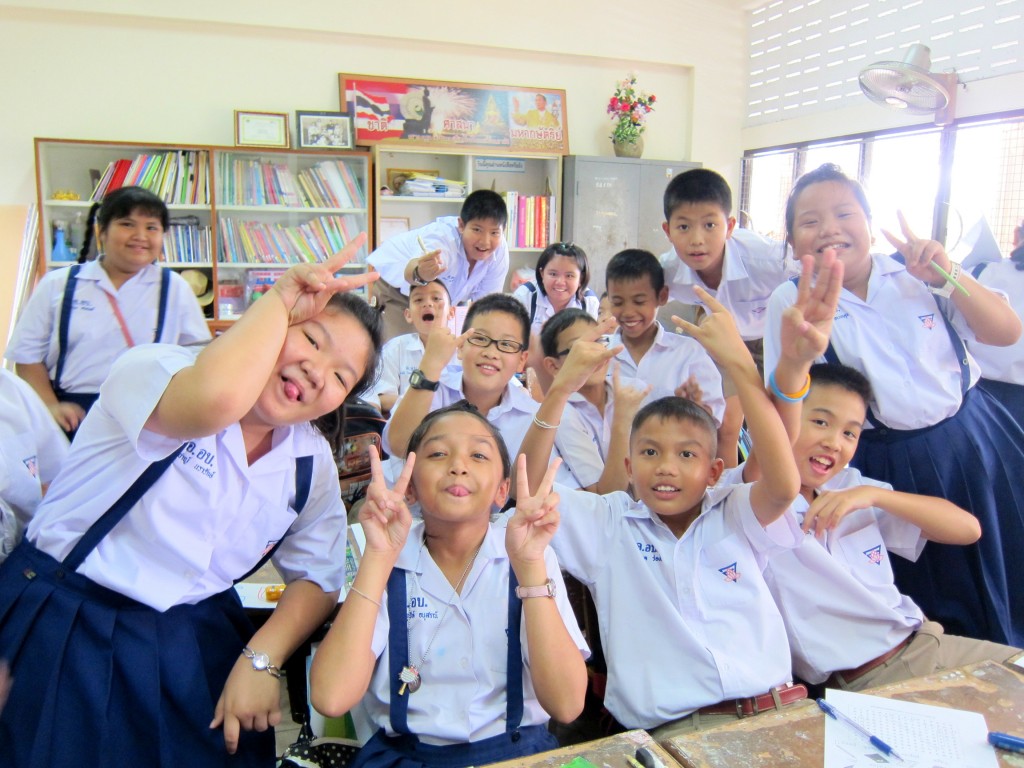 You may not realize it, but if you are a native English speaker and looking to engage yourself in a flexible, yet reasonably paid job when you move to Asia, you already have one qualification you need to get steady pay cheque at the end of the month – by teaching English.
The standard of English teaching at primary and secondary school level in several Asian countries in general and especially in South-East (SE) Asian nations, like Indonesia, Thailand, Vietnam, Philippines and Cambodia is generally still low. Teachers in most schools have only rudimentary knowledge themselves, especially in English, and thus lack in conversational abilities because they don't actually have experience themselves of conversing with native English speakers.
With the tourism industry flourishing considerably in these countries, owing to cheap accommodations and lower travel expenses; and an increasing number of Westerners making these nations their second homes, there is a huge requirement for the local populace to be fluent in English language to be able to interact socially and professionally with the native English-speaking population. In fact, in many areas the fate of one's business is determined by how fluent you are in the language, because their businesses run on the patronage of the newly relocated foreigners and travelers. And with booming economies in these countries, learning English is taken very seriously and there is extremely high demand for qualified English teachers.
These factors have resulted in a mad rush for locals to enroll in English speaking employability courses and also in the primary and secondary education levels, thus pushing a high demand for English teachers.
How do you prepare yourself as an English language teacher in Asia:
Although you might be asked for a degree in English, teaching experience and ESL teaching certificate in some high-paying institutions, by and large if you can fulfill the basic requirement of being a native English speaker, you don't need experience or training to get started in most cases. Depending on where you want to work, you might need a university degree of some kind or a certification for teaching English as a foreign language. There are many different programs available that offer a certificate and are easily accessible.
There are many international schools in Asia, majority of which are staffed with foreign teachers. So if you are looking for a job as an English teacher in international schools there are good number of openings. Although schools have stringent requirements which you have to fulfill to be accepted.
Having said that, as a potential teacher, your chances of finding employment are greatly improved if you already have or get an English teaching qualification (like a TEFL Course) from an accredited facility – the pay is then usually better too.
Benefits of teaching English in Asia:
(i) One of the major benefits of teaching English is that you can almost go anywhere, knowing well that you have the skills to fund an amazing life.
(ii) A teaching job means, even if it's full time, you get a lot of holidays. For instance if you are relocating to Thailand and intend to teach English in a school, one of the best things about it is the three months of holidays you get every year – so just travel around Thailand or to its neighboring countries like Laos, Cambodia and Malaysia.
(iii) There are vacancies for part or full time teachers and age is not a barrier. In fact many institutions prefer teachers in their fifties or more! So according to your needs you can take up a job.
(iv) The students in most Asian locations are usually polite and well-behaved and have grown up with respect for age and authority. So teaching these kids means a satisfying endeavor.
How much can you earn as an English Language Teacher in Asia:
Generally speaking, first-time English teachers in Asia can expect to make between $1,500 and $3,000 per month depending on where you decide to teach. For instance, in Thailand, wages can be as high as $1,660 per month in Bangkok and averaging around $1,000 in more rural areas. Meanwhile if you are a TEFL graduate and looking for a high package, earning up to $4,000 dollars a month, plus accommodation and 10 weeks paid holiday a year is not unheard of. Moreover, giving private lessons to local business whose staff need to improve their English can earn you anywhere from $10 to $30 per hour.
So, being a native English speaker, you already have the number one qualification you need to fund your retirement. And if teaching English is in your mind, you will definitely be surprised at how far your native language can take you.
To get more information & assistance, please submit the form below and our specialist will get in touch with you at the earliest.