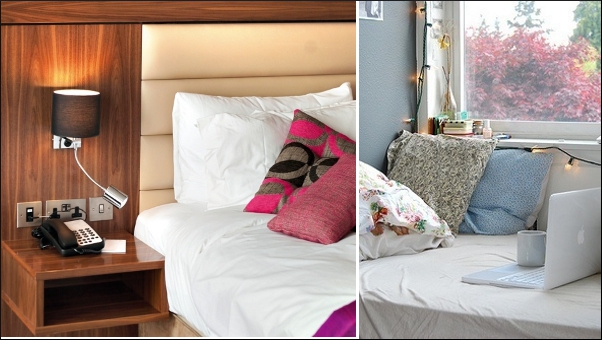 Last week, we looked at entertainment electronics in the guestroom. Homestays today are more than just holiday stay options – in cities, they are increasingly popular with business travelers who're tired of the same old business hotels. Business travelers have their own special needs, and communication – telephony and internet – is top of the business traveler's list.
Let's look at the internet options first.
Internet
The best and the easiest way for you to offer internet services is to have a DSL connection. A DSL connection gives you broadband internet access over your telephone line. Several landline operators offer DSL services in India, and you can choose from among them depending on the packages they offer.
A short check-list of things to look for in your DSL operator is below:
Unlimited plans: All operators offer this, but be careful. Most "unlimited" plans offer you a specific amount of data transfer, beyond which they drop in speed considerably. For example, an 1 mbps "unlimited" connection may offer you 5GB data transfer, and then downgrade your speed to256 kbps. This is not a good idea for a homestay, as you can't predict how much your guests would use. Try to get truly unlimited plans, even if you have to pay a slight premium.
Bandwidth: Go for the highest bandwidth you can afford. I'd recommend not going below 4mbps. The more rooms you have, the more bandwidth you'd need to provide for. Of course, not all guests will use the internet at the same time, so you do not need to provide a fixed amount for all rooms. You could start off by subscribing for a lower bandwidth, and increase it if your connection's saturated constantly.

Get a postpaid connection. Prepaid connections are good for the operator, as they get their money first, but if you forget to renew, you'll get cut off without warning. Postpaid connections have a grace period for payment, and they also call to remind you!
Once you have the DSL connection into your homestay, how do you give your guests access to use it? You can either offer them a common workstation, or allow them to use a wireless network from their own devices. To setup the wireless network, you'd need a wireless router. Get one that supports the new Wireless N standard, and has three antennae. These routers offer better bandwidth over a longer distance. If you'd like recommendations, ask in the comments or send us an email.
If you're setting up a common workstation, our recommendation is to use a "Live CD" version of Linux. This is Linux on a CD that boots up your computer, and allows your guests to use the internet. When you restart the computer, it boots up clean again, removing any changes, viruses or malware that your guests may have downloaded.
As an aside, you should be aware that the Government of India now mandates strict rules for internet usage in commercial hospitality. You have to maintain a file of the identity documents of every user, and you should also have a proxy server that stores the address of every site that your guests visit. While this may seem like a lot of work just to offer internet connections, remember that you have to keep the identity documents of every guest for the bookings even if they don't use the internet, so the only additional work is the proxy server. You can get a local vendor to set-up and maintain the proxy server. If the proxy server allows you to set a password for every user, that is the ideal solution. If it does not, then remember to change the wireless password every day.
Voice
Internet access takes care of a major part of your communication needs, but what about voice telephony? This is tricky. On the one hand, with mobile telephones everywhere, people use landlines lesser and lesser every day. On the other hand, as a homestay, you may have people from other countries who want to avoid the high roaming costs, and haven't got a local connection yet. Business travelers may prefer a landline for the clearer voice quality and for ease of use in a long conference call.
The problem is that to monitor and bill landline calls requires a private branch exchange, otherwise called PBX, EPABX or key telephone system. These tend to be expensive, so they may not make sense unless you have several rooms in your homestay. Installation is also complicated, as wires need to be run to every room. Of course, once they're installed, you also have an intercom, which allows you to offer room service if you choose.
Before we end this story, some essential tips to keep you safe:
Locate a local mobile vendor and ensure that you have a list of requirements that you can pass on to your guests. Also identify a photo studio where they can get passport-sized photographs taken.

Never buy a mobile connection in your name and give it to someone you don't know extremely well.

If your guests request you as a reference on their mobile application forms, politely refuse. Say that, legally, homestay owners cannot be a reference for their guests, as they do not know them personally.
Next week, electronic for guest services and infrastructure.
To get more information & assistance, please submit the form below and our specialist will get in touch with you at the earliest.