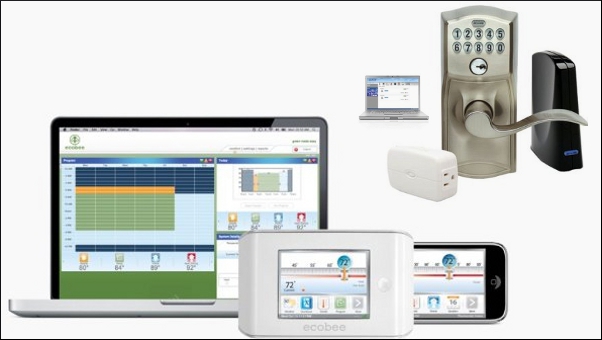 For owners of vacation rentals who are not stationed in the property, gaining a peace of mind that their property is safe is of utmost importance. So what if one could stay in touch with one's home from nearly anywhere – you can lock and unlock the door, adjust the thermostat and set up alerts if windows or doors are opened, all from a PC or a compatible smart phone? I strongly feel that considering the nature of the vacation rental business, a home monitoring and control system is almost a necessity and worth the investment because these wireless home security locks allow you to deadbolt your front door from the driveway or via the internet.
Why I recommend installing one is because it's easy to customize a home monitoring and control system and can easily fit any property type. The equipment is easy-to-install and can be controlled remotely as long as you have an internet connection even when you are far away and not near the property.
Ideally with wireless thermostats and door locks, owners of vacation rentals can adjust their thermostat while away from home or by remote control when guests are in your home. It also gives you the ease to lock or unlock doors for guests and get alerts when doors or windows are opened or closed.
WHAT YOU NEED:
The remote access and thermostat control kit consists of a wireless keypad lock, a wireless bridge, a light module, one internet cable, and batteries. And with a high speed wi-fi or wired internet connection you are good to go.
HOW IT WORKS:
In simple terms, the remote access and thermostat control creates a wireless network within your home that connects the wireless keypad lock to the internet through the secure bridge. So depending on the system, the company will provide you a secure website through which you can create an account and register your wireless lock. You can then access this site remotely from your PC or from your mobile phone. The website and software trigger the bridge, sending the proper command to the electronic lock. Similarly for wireless thermostats, the same process is used to increase or decrease the temperature of your home. Easy, isn't it?
COST:
Based on the features you go for a wireless door lock can cost $ 250, while a wireless thermostat can cost around $ 260. For remote access you need to pay a monthly subscription.

WHERE TO BUY:
Some of the best models of Wireless Thermostats and Door Locks are easily available on Amazon. Installation of these systems are very easy and can successfully be installed by your local engineer.
If you have installed Wireless Thermostat and Door Lock share with us your experiences.

To get more information & assistance, please submit the form below and our specialist will get in touch with you at the earliest.