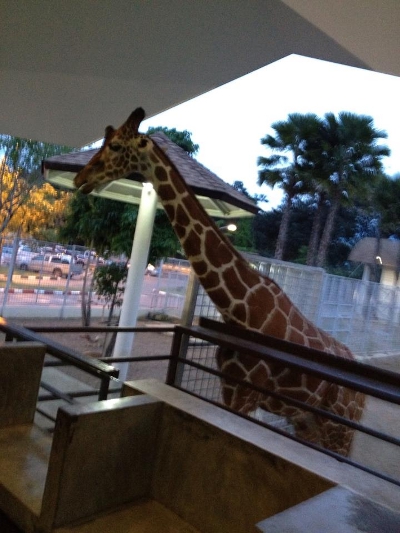 Next to the mountains to the West of central Chiang Mai is the Night Safari, a natural theme park. I have actually passed the big highway sign directing people to this park, but have never visited it, always thinking of it as a family-oriented tourist attraction, and most tourist attractions with loads of tourists have not been my cup of tea. But I must say that I was pleasantly surprised, and can now say I recommend this place.
We were invited to a dinner at the Night Safari at the Giraffe Restaurant. True to it's name, we were greeted at the entrance by a very friendly giraffe. He encouraged us to give him a few greens and carrots that the Park people have available to feed the tall guy, and this friendly critter ate right out of our hand. Some of the kids there went crazy, and it was loads of fun.
The restaurant itself is quite nice, with open air windows overlooking the large yards with wandering lions, tigers, zebras and other jungle animals as we ate. The food was excellent Thai cuisine, and in the evenings they have a good band playing American '60's era R & R. The staff was great. It was a fun evening, and I can recommend this place for one of those special family evenings, maybe celebrating a birthday.
After dinner, you can wander down in the pavilion to take in the evening cabaret show with dancing girls and magicians, and later a laser light presentation in the lake nearby.
There are lots of unusual aquariums and large display areas for roaming albino porcupines, giant pythons and other wild animals. There is no entrance fee required to take all this in, so really it is a family activity that won't cost you anything beyond dinner.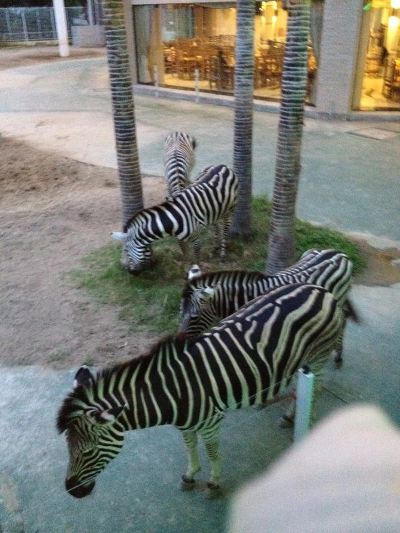 If you wanted to make this a complete adventure, you can purchase tickets to go on the actual Night Safari, which is a tram with English speaking guides that drive around the park where the animals are free roaming. You get a change to hand feed many of them, which always goes well with the kids. I have been told it is good to get to there an hour or two prior to dark to be able to wander around in the daylight meeting up with the animals.
The Night Safari is beautifully landscaped and extraordinarily clean. We found the staff to be very much into their animals and very pleasant to talk with about those under their care.
The Night Safari was built by the Thai government in '05, so consequently they are obligated to provide for Thai citizens. A lot of American tourists have objected to the big difference in pricing for Thai residents and visitors, but the big discount is given to those that pay the taxes to make parks like these. If an expat has a Thai driving license, they can get the discounted resident's admission price. For visitors, the park entrance and Safari tour is 800Baht. There are a few websites that can offer discounts, and I can as well.
To get more information & assistance, please submit the form below and our specialist will get in touch with you at the earliest.