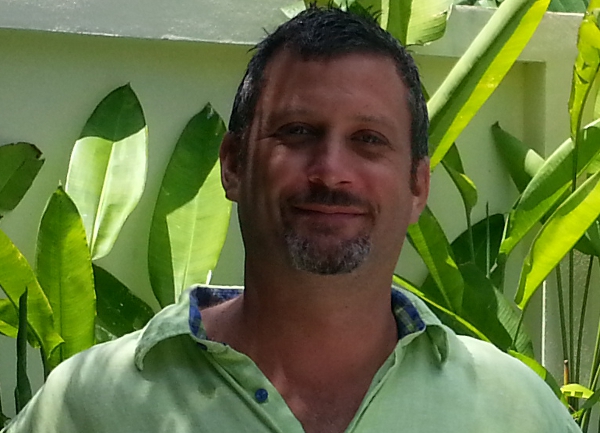 With two decades of experience in the Koh Samui market, Go Samui Villas (GSV) is not just about real estate. Its varied interest in other businesses including marketing, communications, web marketing and SEO makes the organization a leading entity on the island. Run by a team of professionals with years of experience in villa purchase and rental, the company has seen the changing face of Koh Samui from being a slacker in the paradise-island business to quickly transforming itself into an affluent property seekers' happy hunting ground. With an eye on other global markets including Vietnam, Bali and Sri Lanka in order to take the 'Go' brand to newer heights, GSV today strives to utilize the experience of each of its team members in offering its clients a bigger range of rental and sales properties.
This week we spoke to Kirk Stucker, Director of GSV, who gives us an insight into Koh Samui's real estate market and tells us what buyers can look forward to in this tropical paradise.
The interview…
What is the current status of the Koh Samui's real estate market?
Till the late 1970s, Koh Samui was nowhere in the radar of affluent travelers, leave alone holiday home buyers. With no proper roads it was only Western backpackers with an adventurous spirit who frequented the island. However it was in the 80s that tourists started coming in hordes. The early game-changer can be attributed to the opening of the island's only airport in 1989, with which Koh Samui's tourism industry took a staggering turn. The Island is now Thailand's second most popular destination, after Phuket, and it has much more to offer in terms of property investment. Today buyers are spoilt for choice of properties and being a resort island it only means that holiday homes rule the roost of Koh Samui's property market. The island's holiday home market generally falls into four main categories – high-end luxury hotels, middle range hotels, budget hotels and private villas.
What are the choices holiday home buyers have in Koh Samui and what is the current status of the categories of holiday homes you had mentioned?
The choices of properties in the island are numerous. Well, the upper end of the market that mostly comprises of units in high-end luxury hotels have performed well. Meanwhile private villas in gated communities continue to attract very good response from buyers. I would say this is because of the current trend of developers tying up with specialist companies providing both management and marketing services. This helps owners to rent out their properties without any hassles and also becomes attractive for vacationers.
Why, according to you, should one buy property in Koh Samui? How do you compare the island with other destinations like Phuket?
Samui is a stunning island with all the facilities and infrastructure required for high-end living including top-end schools and hospitals, supermarkets and of course stunning beaches. The island is still on the increase and as an investment opportunity it is hard to pass up if you are looking for a long term return.
If I have to compare Koh Samui with Phuket then I would say Samui is significantly cheaper to buy and offers excellent rental returns due to the influx of Asian, Russian, European and Australian travelers wanting to rent villas with groups and families and stay for a longer period of time. Since it is located in the Gulf of Thailand, buyers here enjoy a protected oceanfront landscape and even with all the development, the island is still a stunning natural destination.
According to you where in Koh Samui should one look for a property? Why do you recommend these locations?
Location is truly up to the individual. Chaweng for instance is a busy tourist mecca with loads of shops and restaurants as well as bars, whereas the south of the island is less inhabited and there is more opportunity for uninterrupted views of the sea and the surrounding islands. Of late we get a lot of interest in the North East of the island where Bangrak, Cheong Mon, Bophut and Maenam are located.
There are also a number of high-quality villas available here, from the quieter south and west to the busier areas of Chaweng, Lamai and the Bophut Hills. With most people wanting to be near a beach and at the same time not too far from places to dine and party, the beaches of Chaweng, which are highly commercialized and Lamai and Choengmon which is relatively much quieter are preferred. This is also because these locations tend to attract both higher rates and higher occupancy. So buyers mostly feel that they can get maximum returns on their investments.
What is the buyer profile that you usually see in Koh Samui? Are they largely expats? From which country/ region do you ideally see buyers inquiring or investing in a property here?
The buyer profile is varied and we get worldwide interest on properties in the island. More recently there has been a surge in interest from Russia, India, China and Australia for rentals and for sales more expat-based clientele living in the Asean region.
Are most of these buyers just investors or they are buying to stay? What is the rough ratio between investors to residents?
Again this comes down to the buyer, their lifestyle and base location. Some investors spend a lot of time in their Samui property whilst others hardly ever come to visit. It really is case by case.
What are the property types that most developers in Koh Samui are currently offering?
The majority is villas, but more recently we have seen an increase in low-rise apartment and condominium living which we are seeing a lot more interest in (both in terms of rentals and purchases) from inquirers.
For a buyer, what are the things one should keep in mind while choosing a property to buy?
Do your research and get to know your developer well as of course it is pertinent to consult with good legal counsel. Also be clear on the reason for buying a property here, whether it is purely an investment, or a vacation home with holiday lettings, or for your retirement. Choose a property based on what your reason is. Also make sure you understand the visa requirements. This will ensure that you are able to make full use of your property as and when you need to.
Can you name some good developments which are worth investing in? Do you think it's a good idea for a buyer to approach the developer directly rather than going through a real estate consultant/ agent in terms of discounts or offers?
There are a variety of quality developments on the island with various entry-price points which are definitely worth looking at. Most agents and developers in Samui know each other and converse frequently. Because we have a good rapport with the developers and sellers and also know all the ins and outs of property buying and renting, we are best placed to get the buyers the best possible price. But either way you take will have its own benefits. Just do your research and make sure you are comfortable with the developer or agent.
Other than the property, what are the facilities/ amenities should a buyer look at when short listing properties to buy? What is Koh Samui as a place to live in contrasting with say Bali or Singapore?
If you are purchasing a property on a tropical island, it is well worth considering your potential tenants for renting your property and what they would like in a vacation villa such as a pool, maid service, in-house chef, etc. Places like Bali, Phuket and Samui all share a relaxed daily living environment with each offering slightly different perks depending on what the individual is looking for. Singapore on the other hand is more expensive and more hectic than Samui. Well, if I have to go shopping than Singapore will definitely be my first choice. But for a vacation I would come to Samui.
What are the residency rules for foreign nations to stay in Thailand? What are the different visas available for long stay?
The most common visa for people wanting to stay longer than 30 days in Thailand is the tourist visa. That allows them to stay 90 consecutive days. That visa can be obtained at any Thai embassy or consulate. People who are 50 years and older can apply for a retirement visa. This allows them to stay the whole year round. The visa must be renewed every year.
However I would highly recommend consulting a reputable Law or Accounting Firm for any changes in the laws. There are many legal experts in Samui and Bangkok, who can advise you of the best visa options to suit as there are many options available.
What is the current villa rental market of Koh Samui look like? Are there any rental villa properties your company is currently managing? How are the rentals priced? What can a renter look forward to in these properties?
Yes, our main business is actually on villa rental. We have a lot of properties listed on our website from 1 bedroom villas to those with 10-15 bedrooms. Samui is on the rise with many rental opportunities available from beachfront, to sea view, to garden view and more, ranging from high-end luxury to resort villas. The rentals are priced according to location, season and services offered. Just to give you a fair idea, returns on investment can be significant, in the range of 30% to 100% (on property appreciation), while on the rental side a healthy 6% to 10% net return on investment is normal.
In brief please tell our readers about your work in Koh Samui? How should any of our readers get in touch with you in case they are interested to buy a property in the island?
Go Samui Villas can also help you purchase a slice of paradise! We offer a range of Samui Villas available for purchase and we can help find you a property to suit your budget and requirements. So be it for a permanent shift to island life, as a second home or for investment purposes we can help buyers. We are easily accessible via our website www.gosamuivillas.com or directly via email on bookings@gosamuivillas.com.
To get more information & assistance, please submit the form below and our specialist will get in touch with you at the earliest.