Established in 2002, Exotiq is much more than just a real estate agent in Bali. They are brand that is focused on helping people establish a lifestyle in paradise. Dominique Gallmann knows just how to do this because he did it himself. Settling in Bali in 1993, he founded Exotiq in 2002 and is now responsible for its property division. I spoke to Dominique recently about his observations of the property market in Bali.
What are the major changes you have seen in Bali over the past 20 years?
Bali has developed so much over the past two decades. Tourism has increased every year and it is now becoming more popular for people to live or do business here. The infrastructure and communications are now much more sophisticated, which makes it even more attractive for people to live here now or stay for extended periods of time.
How has the property market changed over that time?
About 20 years ago the first westerners started building villas for themselves and discovered by accident that there is a profitable villa rental market. The first well known product in the villa segment was built by an Australian investor with just a couple of houses. Nowadays The Villas is still a popular property here.
People who built villas for their own personal use soon realized that profits were good on rentals, and it didn't take long for local developers to start selling their own properties and offering to manage them for the new owners to raise capital for future developments. So a new market segment was born.
In this way, Bali pioneered the villa market and it has now been picked up by 5 star hotels here and around the world, creating a new type of holiday experience.
What type of rental returns can someone expect from a property they purchase in Bali?
The returns that investors have received on their property in Bali have been unheard of in other parts of Asia. I believe it has been said that Bali may even be the best real estate market in the world. In the early days, it was common for returns on a villa rental to be as high as 25%. Nowadays, returns are lower but still good with 8-10% return on investment still possible on a rental property.
How have land values appreciated in the region?
The appreciation on land values in Bali are still very good by international standards. Whilst specific land values and appreciation rates would need to be considered on a neighborhood by neighborhood basis, let's take a look at Seminyak as an example. Seminyak still has the most expensive land in Bali.
If you took out a 25-year lease in 2001 you would have paid about Rp400,000 (USD44) per 100sqm per annum. So for 1,000 square meters it would have cost Rp 4 million (USD444) per year, with the lease paid in full for 25 years for Rp100 million or about USD11,000. Twelve years later the same land would now be worth about Rp 3.75 billion or USD386,000. That is a return of over 3,500% in twelve years.
Whilst not all returns are this high, it does demonstrate just how dramatically land values have risen in Bali in recent years. Nowadays, an increase in land value of 20-25% per annum is not unheard of, with land in growing areas such as Brawa even tripling last year.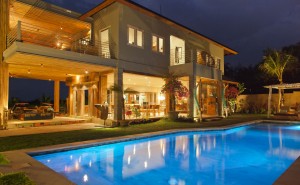 It certainly sounds attractive, so how much money would I need to enter the market now?
Prices differ across the island and depend upon the type of property you wish to purchase. If you are looking at a premium property you can purchase one anywhere from USD200,000 to USD5 million. A Premium property focus starting from US$200,000 – $5 million.
For USD200,000 you could purchase a lovely one bedroom villa in Seminyak that is in a compound with 10 to 15 other properties, all under management. The rental returns on such a property would be around 8-9% per annum on a 25 year leasehold, with a guaranteed extension.
If you wanted to spend USD5 million, you could have a property with absolute beach-frontage, 4 − 5 bedrooms, a gymnasium, private pool and almost every amenity that your heart desired.
What kind of people are choosing to purchase property in Bali?
The expatriate population here is small but growing. There are quite a few Europeans and Australians who have chosen to settle in the country. I also see many people who purchase holiday homes because it is convenient to them. This includes local Indonesians, expatriates who have settled in nearby Singapore and Malaysia and of course Australians.
Bali really is a melting pot, with a mix of people choosing to purchase and holiday here. I call it an international village.
The Indonesian property laws can be challenging for a foreigner wishing to purchase, what advice would you give someone considering purchasing in Bali?
The risks of investing in Indonesia are actually not as bad as the perception. The political risk here has improved dramatically in recent times, and purchasing property rights, particularly leasehold rights is quite safe and cannot be challenged by anyone. Whilst owning freehold title is not possible for a foreigner, they can own a Right of Use title which are relatively inexpensive and can make good investment sense.
So if someone is interested in purchasing a property in Bali what should they look out for?
If they are looking at buying a holiday home in Bali, I would suggest taking a good look at the track record of developer or operator. This would include understanding what villas they have produced over time and getting realistic information on how they have performed. This is where a good agent is important, because they act as a local expert who knows what the operator has done previously and can also interpret the numbers they show you. Understanding the "real deal" behind that great villa you are thinking of purchasing is really important.
Secondly, make sure that all the paperwork for the sale is correct. Making sure you have done enough due diligence, seen the contracts and had them reviewed by a professional is important. At Exotiq we do this before we even a list a property so that we know it represents true value for the buyer.
What advice would give a new property owner who is looking at renting out their investment?
The most important thing is to make sure that you have specific permits required to actually rent out your property legally. You really should check this before purchasing the property, because a specific license will be required to enable you to operate small scale tourist accommodation.
Another major issue is taxation. There will be tax consequences in Indonesia if you are earning rental income and it will be important to have a good accountant or tax professional to help you navigate these. If you are remitting your income to another country for example, you will incur a 20% withholding tax.
A final point, if you are hiring someone to manage the property for you, make sure you read the fine-print and have researched them carefully. Otherwise you may find your rental income being eaten up by corporate charges and other fees.
Exotiq also has offices in Thailand, what do you see are the differences between the two markets?
The Thailand and Bali property markets have traditionally been in competition with each other, but really they are quite different markets. The political issues in Thailand have benefited Bali over recent years, but the situation is now stablizing and the Phuket market is coming back strongly. The main difference I see between the two markets is that type of properties available, in Thailand the developments are much bigger, whereas in Bali they are still small and more private.
There are of course cultural differences between the two markets. Thailand also has some better infrastructure, particularly in the medical field, but Bali's infrastructure is improving.
Exotiq seems to go beyond just selling and renting property, what other services do you offer?
From a property perspective, we service the entire island of Bali. However Exotiq is a lifestyle company and we also offer holidays and living products. We will be launching are living range soon, which includes decorations and furniture that people can use to furnish their villas here, or their homes overseas. The online store is very exciting and has some great products from Bali.
You can find out more about Exotiq on their website or Exotiq Property . If you want to find out more about investing in Bali, you can find plenty of information on our website here.

To get more information & assistance, please submit the form below and our specialist will get in touch with you at the earliest.