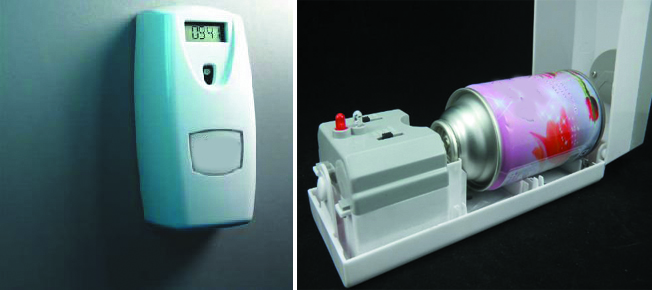 It's a fact well agreed by all that a home that smells good, emits positive vibes too. For ages, several techniques have been employed to keep one's home smelling good and to eliminate airborne bacteria and unpleasant odour. A variety of compounds have been tried and tested in the past for their abilities to create pleasant aromas or eliminate unwanted odour. However after the introduction of the modern air freshener in 1948, the entire market of pressurized sprays experienced tremendous growth. Till a couple of years ago, the manual air freshener was the order of the day. Wherever there was odour at home, one was required to spray the air freshener.
Meanwhile, in India, the commonly used alternative to the air freshener is still incense sticks. While incense sticks in the country are usually associated with religious beliefs and norms, nevertheless they were used to make the home smell good. Having said that, incense sticks are by large cumbersome and risky.
Compared to incense sticks, today's air fresheners are automatic and require negligible human involvement – thanks to technological advances in this sector. These automatic air fresheners for the home are now a part of the essential list for any home owner.
For holiday home owners who have guests coming to their homes quite often and when they are not around to welcome their guests, automatic air fresheners can come very handy. There may also be instances where the holiday home owner may be based in another city and the responsibility of maintaining the holiday home may rest on a caretaker. When you are not sure whether the house would smell fresh when the guests arrive, the automatic air freshener dispenser can be the next best thing! All you need is to mount the air freshener dispenser on the wall of your choice and set the frequency at which the dispenser needs to spray the liquid.
On many occasions, travellers who opt to stay in a holiday home usually complain that the house had a mouldy smell, which was unbearable. So what better option can be than to have an automatic air freshener dispenser in place?
And what's more…These beautifully designed automatic air freshener dispensers are not only economical and durable, they are environment friendly too. Battery operated, along with a clock that is already set with local time, the interval time between sprays of the automatic air freshener dispenser can be easily adjusted from 5 to 30 minutes. It will also indicate when it is low on freshener and thus indicates that a refill is required.
Also, with an assortment of fragrances to choose from, the holiday home owner can give her/ his home a fragrance that she/he feels can positively boost the ambience of a room or surrounding effectively enough to make guests wanting more!
To get more information & assistance, please submit the form below and our specialist will get in touch with you at the earliest.