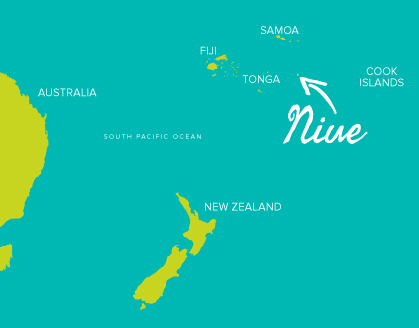 Key Facts:
Climate – tropical; modified by southeast trade winds
Population (2018) – 1,620
GDP (PPP) (Per Capita) (2003) – $5,800
Official language – English, Niuean
Major religions – Christianity (96.4%)
Ethnic Groups – Niuean (66.5%), Part-Niuean (13.4%) Others (20%)
Government – parliamentary democracy
Currency – New Zealand Dollar (NZD)
Taxes – The Niue Legislative Assembly passed the Niue Consumption Tax on 5 February 2009. The bill imposes a 12.5 percent tax on goods and services, effective on 1 April 2009. Income tax has also been lowered, and import tax may be reset to zero except for "sin" items like tobacco, alcohol and soft drinks. Tax on secondary income was also lowered from 35% to 10% with the stated goal of fostering increased labour productivity.
Residency by Investment:
An application for a permanent residence certificate may only be made by a person in Niue holding a valid temporary permit to the Chief Immigration Officer. Complete an application and submit it together with the application fee. The application will be reviewed by the Chief Immigration Officer and once approved he will issue the Permanent Residence Certificate.
Citizenship by Investment:
To be Updated.
Why it makes sense?
To be Updated.
To get more information & assistance, please submit the form below and our specialist will get in touch with you at the earliest.